In the Kitchen with Sigona's Featuring: Tomatillos
Chicken & Spinach Enchiladas Suizas with a Creamy Tomatillo-Poblano Sauce
Flavorful, simple and delicious. These creamy enchiladas are delicious with a simple, tomatillo-based green enchilada sauce. If you wish to leave out the chicken, you can use mushrooms to make this a vegetarian-friendly dish. Inspired by Hilah Cooking. Makes 8 to 10 enchiladas.
1 onion, divided
About 5 oz. fresh spinach, washed well and chopped
2 chicken breasts, or the equivalent in white and dark meat, cooked and shredded (poached or slow-cooked chicken works well for shredding)
Salt, to taste
10 corn tortillas
1 cup grated cheese, such as queso fresco
Suiza sauce:
4 medium-large tomatillos, about 12 ounces, husks removed under cool running water
1 poblano pepper, charred*
1/2 to 1 jalapeño or serrano pepper, split and seeded (or leave the seeds in for more heat)
3 cloves garlic, peeled
1/4 cup packed cilantro leaves and stems, plus more for garnish
Salt and pepper, to taste
1/4 tsp. ground nutmeg
1 cup Mexican crema or sour cream
Optional garnish:
Sliced avocado
Additional crema
Sliced radishes
Sliced green onion
*To char the poblano, place it in a broiler-safe dish or skillet and place it in the oven under the broiler, with the rack positioned closest to the element. Broil for about 5 minutes a side or until it has blackened. Remove the stem before adding to the suiza sauce mix. You can leave the seeds or remove them; seeds add a bit more heat.
Directions: Heat the olive oil in a large skillet over medium heat. Dice half the onion and add it to the pan with a little salt; cook about 4 to 6 minutes, stirring, until translucent. Add the spinach and cook until wilted, stirring, about 4 minutes. Add the chicken and toss to incorporate. Allow the mixture to warm about 3 minutes and then remove from heat. Set aside.
Place the peeled and rinsed tomatillos and the remaining half onion in a sauce pan. Cover with water and bring to a boil over high heat. Boil about 5 minutes then remove from heat.
Use a slotted spoon to remove the tomatillos and onion from the cooking water. Place tomatillos and onion in a food processor or blender; discard cooking water. Add the charred poblano, peppers, garlic, cilantro, salt, pepper and a little nutmeg. Pulse until smooth. Stir in the crema and pulse to incorporate.
Preheat the oven to 350 F.
Soften the tortillas by warming in an oiled skillet or griddle for about 30 seconds a side (this will help them not to rip when rolled). Spoon a couple tablespoons of the chicken mixture into each tortilla and roll the tortillas up. Place them in a 9×13 baking pan.
Once all the tortillas are filled, rolled and placed in the pan, pour the suizas sauce over the entire pan. Sprinkle the top with shredded cheese.
Bake the enchiladas for about 15 minutes to get everything warm together. If desired, broil them for about 3 minutes to melt and brown the cheese. Garnish with additional cilantro if desired. Serve immediately.
Tomatillo, Watermelon, Jicama and Strawberry Salad with Basil and a Balsamic Vinaigrette
Sweet and savory, crisp and juicy. All the flavors and textures work well here when drizzled with a simple vinaigrette of our olive oil and traditional balsamic. It is a delightful salad for a springtime brunch or when dining al fresco. Inspired by Pickled Plum. Serves 4 to 6.
About half a mini watermelon, rind and seeds removed, cut into 1/2-inch cubes (about 3 cups)
4 large strawberries, hulled and cut into bite-sized pieces (about 3/4 cup)
3 to 4 tomatillos, husks removed under running cool water; fruit sliced and cut into bite-sized pieces (about 1 cup)
About 1/2 cup diced jicama
1 shallot, finely diced
6 to 8 large basil leaves, julienned
2 Tbsp. Sigona's Fresh Press Extra Virgin Olive Oil (Mix it up! Use Sigona's Basil Oil for more basil flavor.)
1 1/2 Sigona's Balsamic Condimento Tradizionale (Check out our infused balsamics for more flavors from which to choose.)
Sea salt, to taste
Directions: In a large bowl, combine the watermelon, strawberries, tomatillos, shallot and basil. Gently stir to mix.
In a small bowl, whisk together the olive oil and balsamic until the mixture thickens a little. Drizzle the mixture over the fruit salad and gently stir to coat.
Sprinkle individual servings with a little sea salt.
Fire Roasted Salsa Verde
This versatile salsa is great for dips, toppings, or sauces served with grilled meats or stirred into tortilla soup. Recipe and photo courtesy of our friend and local chef Luisa Ormonde of Luisa's Catering.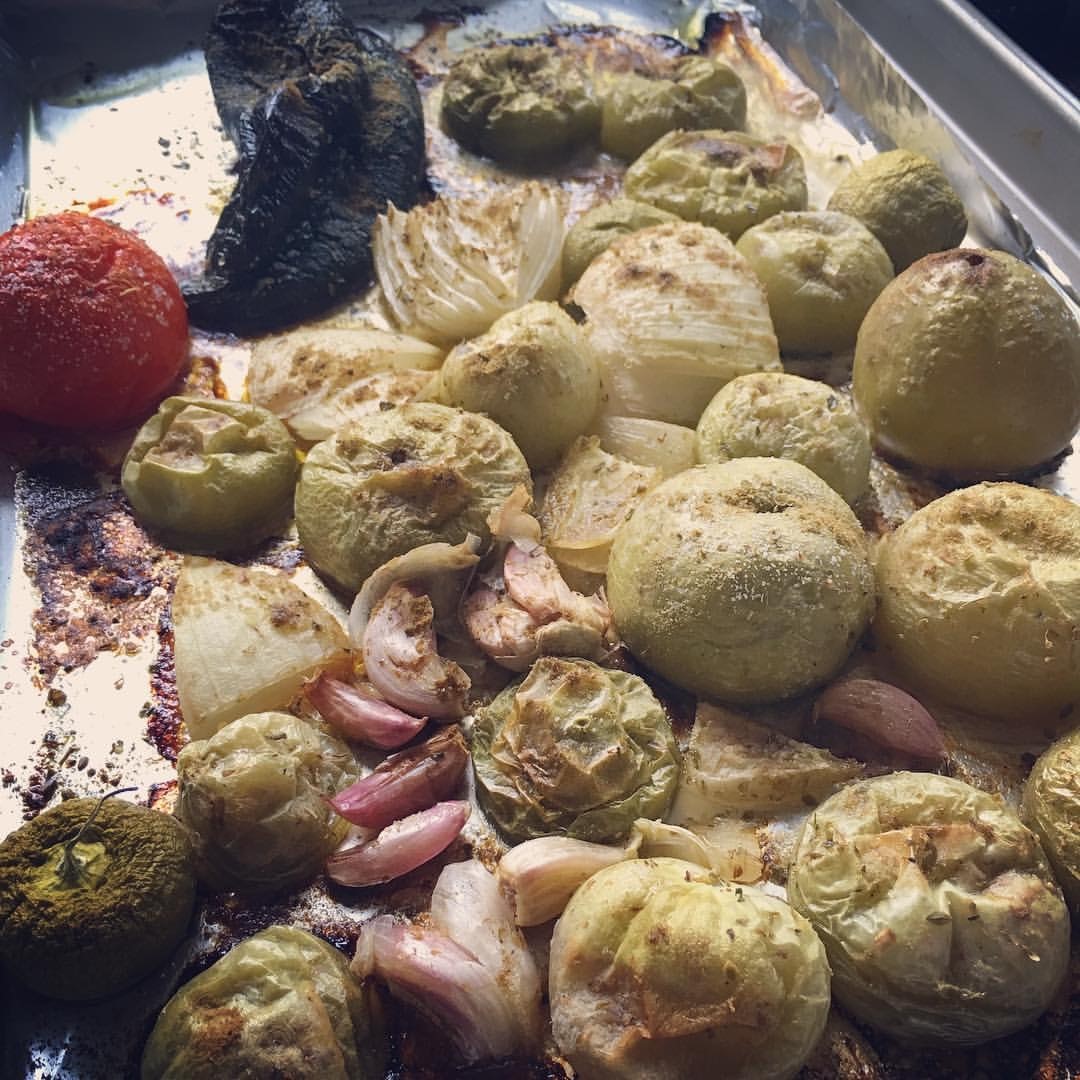 For the grill:
1 1/2 lb. fresh tomatillos, husks removed under cool running water
1/2 a large onion, peeled and sliced thick
1/2 large jalapeño pepper, seeds removed
1/2 a small green bell pepper, seeds removed
Kosher salt
Sigona's Fresh Press Extra Virgin Olive Oil, for drizzling
3 cloves garlic, unpeeled, wrapped in foil with a little more olive oil
Seasoning, to taste (a few shakes):
Mexican oregano, crushed with fingers
Ground cumin
Ground coriander
Fresh cilantro, chopped
Kosher salt
Directions: Preheat an indoor or outdoor over high. Place ingredients for the grill into a large bowl. Drizzle with olive oil and season with salt. Grill everything (place foil packet of garlic on the grill too) until everything gets charred and tomatillos just begin to slightly burst (it was about 5 minutes per side for me on propane grill at high heat).
Transfer back into bowl and let cool.
Remove skin from the peppers, scraping off with a knife. Remove garlic from foil and squeeze out of their casings. Coarsely chop everything and place back into bowl. Add seasonings and cilantro. Taste and adjust seasoning to your taste. Pulse in a blender or food processor if you desire a sauce that is more thin than chunky.
Let cool then transfer to jars or tupperware container to go into the fridge.