Summer Bounty Flatbread with Heirloom Tomatoes and Fresh Mozzarella
Baking pizza at high temp helps keep the bottom of the naan crispy instead of soggy from the tomato juices. This simply, delicious flatbread pizza is perfect for appetizers or for dinner, when paired with a salad. Serves 2 to 4.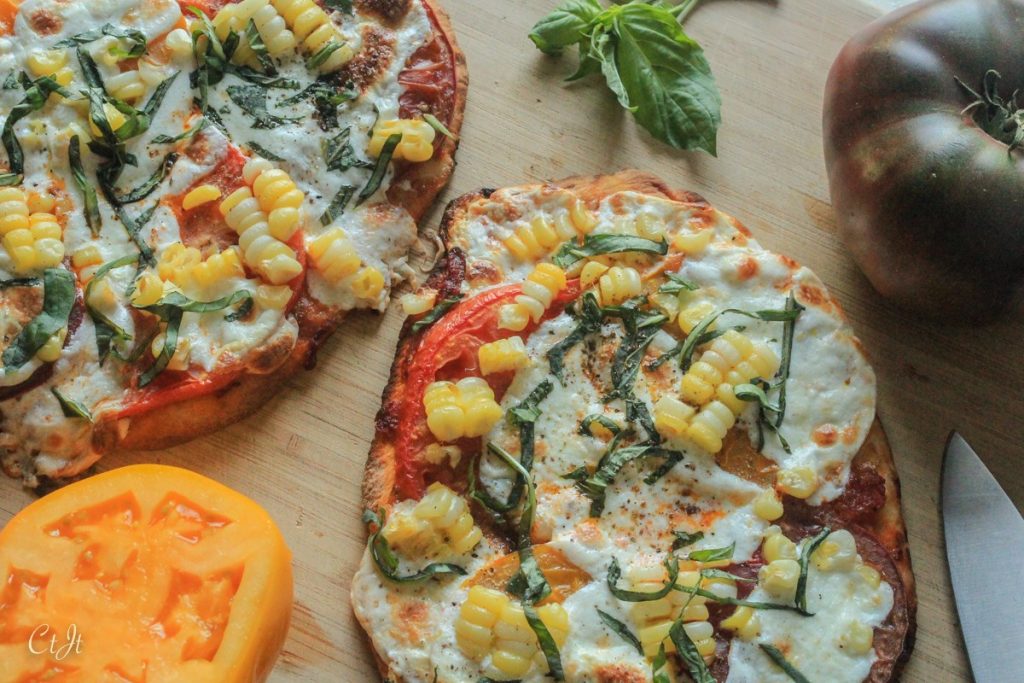 Ingredients:
2 pieces large naan bread
1/4 to 1/2 cup Sigona's marinara (any will do; we used Spicy Sicilian to give it a little kick)
2 heirloom tomatoes, a few slices of each
1 medium ear of corn, kernels sliced off
About 3 to 4 oz. fresh mozzarella cheese, torn or sliced
Salt and pepper, to taste
About 1/4 cup loosely packed basil leaves, thinly sliced
2 Tbsp. freshly grated Parmigiano Reggiano
Directions: Preheat oven to 500°F.
Spread an even layer of marinara on the top side of each piece of naan. Add a couple of slices of tomato to each, followed by pieces of torn or sliced mozzarella. Sprinkle the corn kernels on top of the cheese.
Place prepared naan on a baking sheet and place in the oven. Bake for about 15 minutes or until cheese is melted and lightly browned.
Sprinkle basil on top of the naan. Allow to cool about 5 minutes before slicing.
Heirloom Tomato Pie with Sweet Onions and Gruyere
The Dijon spread on the dough gives another layer of flavor to this simple, yet seriously delightful dish. It's best served slightly warm, if not at room temperature. Adapted from a recipe submitted by a Sigona's fan. Serves 6 to 8.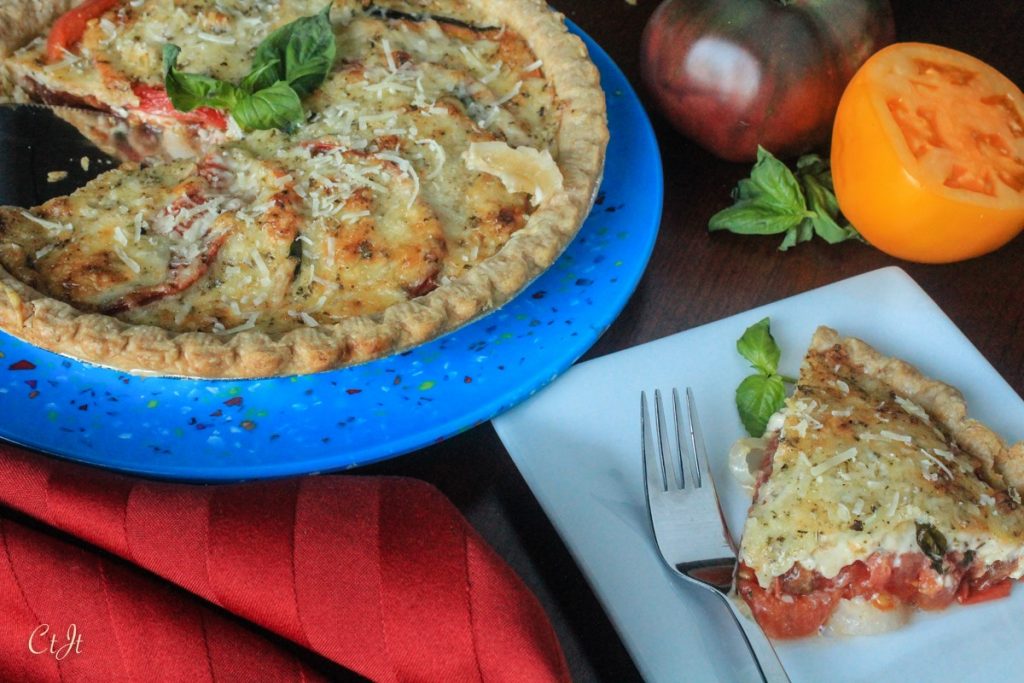 Ingredients:
1 pie shell, such as Wholly Wholesome 9" shell, available at Sigona's, or make your own dough
2 or 3 medium heirloom tomatoes, a few 1/2"-thick slices of each
2 Tbsp. Dijon mustard
1/2 a small sweet onion, sliced
About 12 basil leaves
1 cup grated Gruyere or Swiss cheese
1/4 cup mayonnaise
1/2 tsp. dried Italian herbs (such as a mix of oregano, basil, thyme, garlic)
3 Tbsp. freshly grated Parmigiano Reggiano, plus more for garnish
Directions: Prepare pie shell or dough as directed. Preheat oven to 400°F.
Lay the tomato slices on a few layers of paper towels to drain some of their juices while you prepare the other ingredients.
Spread the Dijon on the dough/shell and up on the sides. Separate the rings of the onions and add a layer of rings on top of the mustard. Working in a pattern of tomato, basil, tomato, lay the tomatoes and basil in a circular pattern inside the pie.
In a separate bowl, mix together the Gruyere, mayo and Italian herbs. Using a spoon or your fingers, spread the cheese mixture over the top of the tomatoes. If desired, season with a little salt and pepper, but don't salt the tomatoes directly. Sprinkle with a couple tablespoons Parmigiano Reggiano.
Bake for 30 to 35 minutes or until cheese is melted and pie is bubbly throughout.
Allow to cool a while before serving. Serve warm or at room temperature, sprinkled with additional Parmigiano Reggiano, for garnish.
Heirloom Tomato Salad with Nectarines, Fresh Mozzarella, Crumbled Bacon and Arugula, Tossed in a Summertime Peach and Basil Vinaigrette
This recipe, adapted from Sunset magazine, is what Sunset calls a beach-ready spin on Caprese salad. You'll love the flavor nectarines bring to these traditionally paired ingredients, and your friends will ask for your peach balsamic source. Serves 4 to 6.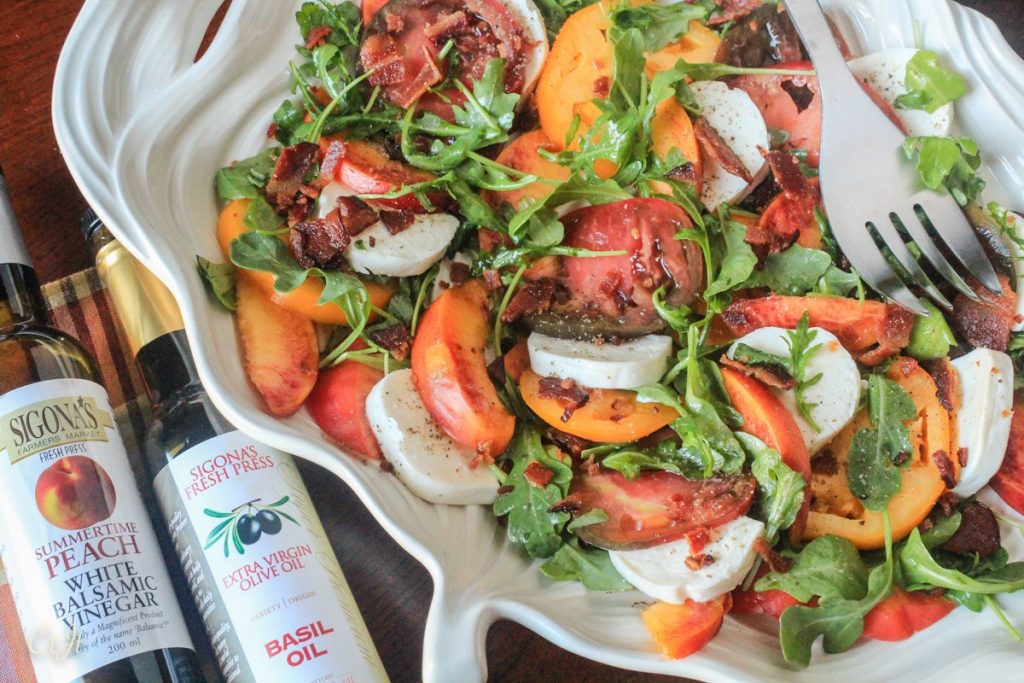 Ingredients:
About 2 cups baby arugula (more less, as you wish)
2 tsp. Sigona's Basil Oil
2 or 3 heirloom tomatoes, a few 1/2"-thick slices each
1 to 2 large nectarines, sliced into 1/2"-thick wedges
4 to 6 oz. fresh mozzarella, sliced and halved
Salt and pepper, to taste
3 or 4 slices cooked bacon, crumbled, optional
Directions: Toss arugula in a large bowl with the balsamic and basil oil. Set aside.
On a large platter, arrange the tomatoes, nectarines and mozzarella in a pleasing pattern. Season with a little salt and pepper. Sprinkle the arugula around the top, tucking some down between and underneath the other ingredients.
Top the salad with crumbled bacon; serve.