October 2021 Olive Oil & Balsamic Sale Recipes
We feature different infused olive oils and balsamics each month so customers have an opportunity to try new flavors at a great price. These items are available in the store and online. Featured for October 2021 are
Gravenstein Apple White Balsamic
NEW Cilantro & Roasted Onion Infused Olive Oil
Roasted Sesame Olive Oil
Baklouti Green Chili Olive Oil
Try these recipes below or search our blog for other inspiration!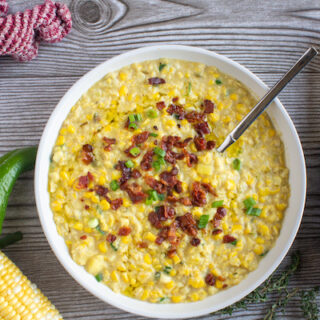 Corn Chowder with Hatch Chiles, Bacon and Cilantro & Roasted Onion Infused Olive Oil
This is a hearty, dairy-free chowder that's great any time of the year. Including the cobs infuses even more corn flavor into the chowder. The drizzle of our roasted onion & cilantro infused olive oil adds a nice savory flavor to the dish. Serves about 4.
Ingredients
Ingredients:
4

ears fresh corn

1

bunch green onions

4

slices

bacon

cut into 1/2-inch pieces

1

Tbsp

plus more for drizzling, Sigona's Cilantro & Roasted Onion Infused Olive Oil (see note)

1/2

cup

finely diced Hatch or Anaheim chile

seeded

1

tsp.

kosher salt; more to taste

Freshly ground black pepper

to taste

3-1/2

cups

low-salt chicken broth

2

Yukon Gold potatoes

10 to 12 oz., peeled and cut into 1/2-inch dice (about 2 cups)

1

sprig of fresh thyme

Optional: 2 Tbsp heavy cream
Instructions
Husk corn and cut off kernels into a bowl. Use the back side of a knife to scrape the cobs, catching the liquid in the bowl. Discard all but two of the cobs. Trim and thinly slice the green onions, separating the white and light-green from the dark parts; set aside.

Cook bacon in a large soup pot over medium-high heat until browned and crisp. Use a slotted spoon to transfer the bacon to a plate lined with a paper towel. Discard all but 1 tablespoon of the bacon fat. Return pan to medium heat; add 1 tablespoon olive oil, the white and light-green green onions, chile, salt and pepper. Sauté, stirring, until the onions are very soft, about 3 min.

Add broth, corn, corn cobs, potatoes and thyme. Bring to a boil over medium-high heat then reduce to medium low; simmer until potatoes are completely tender, about 15 to 20 min. Discard the corn cobs and thyme twig.

Transfer 2 cups of the mixture to a bowl or blender. Use an immersion blender or standard blender to puree the mixture; return it to the pot. Stir in half of the reserved dark-green onions. If using, stir in the cream. Simmer, stirring occasionally, for a couple of minutes to wilt the onions and blend the flavors. Season to taste with salt and pepper.

Ladle chowder into individual soup bowls. Sprinkled with bacon, reserved green onions and drizzle about 2 teaspoons olive oil over each serving.
Notes
Sigona's infused olive oils and balsamics are available in both our markets and online at www.sigonas.com.
---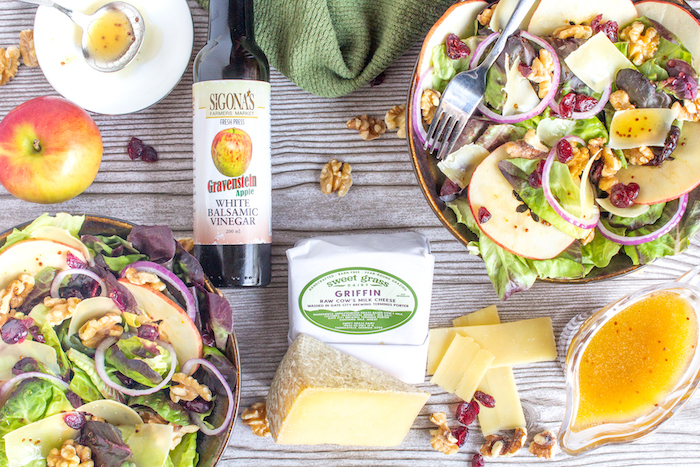 Apple & Walnut Harvest Salad with Sweet Grass Dairy Griffin and a Gravenstein Vinaigrette
Sweet Grass Dairy describes its porter-soaked Griffin cheese as having aromas of malt, earth, maple syrup and coffee beans – all of which can be considered flavors of fall – making this cheese an appetizingly appropriate addition to our apple & walnut harvest salad. The hints of porter in the Griffin perfectly compliment the Gravenstein apple balsamic vinaigrette. Makes about 2/3 cup vinaigrette; serves 4 to 6.
Gravenstein Apple Vinaigrette:
1/4 cup Sigona's Gravenstein Apple White Balsamic (up to 1 Tbsp more, if desired, to taste)
1 Tbsp honey, such as Honey Hole Honey Co., raw, local, unfiltered honey, available only at Sigona's (up to 2 tsp more, if desired, to taste)
1 Tbsp grainy mustard
Salt and pepper, to taste
A pinch of allspice or nutmeg
For the salad:
Red butter lettuce
Thinly sliced apple
Raw, shelled walnuts
Thinly sliced red onion*
Dried cranberries
Shaved Sweet Grass Dairy Griffin cheese
Directions: In a medium bowl, whisk together the vinaigrette ingredients until emulsified. Taste; adjust as desired (aim for a sweet-tart flavor that finishes with distinct, lingering notes of the Gravenstein apple balsamic).
Arrange the lettuce and remaining salad toppings on individual dishes. Allow guests to drizzle on the vinaigrette just before eating.
*Chef's note: to take some of the heat out of red onions, soak slices in ice water for at least 5 minutes. Drain and pat dry.
---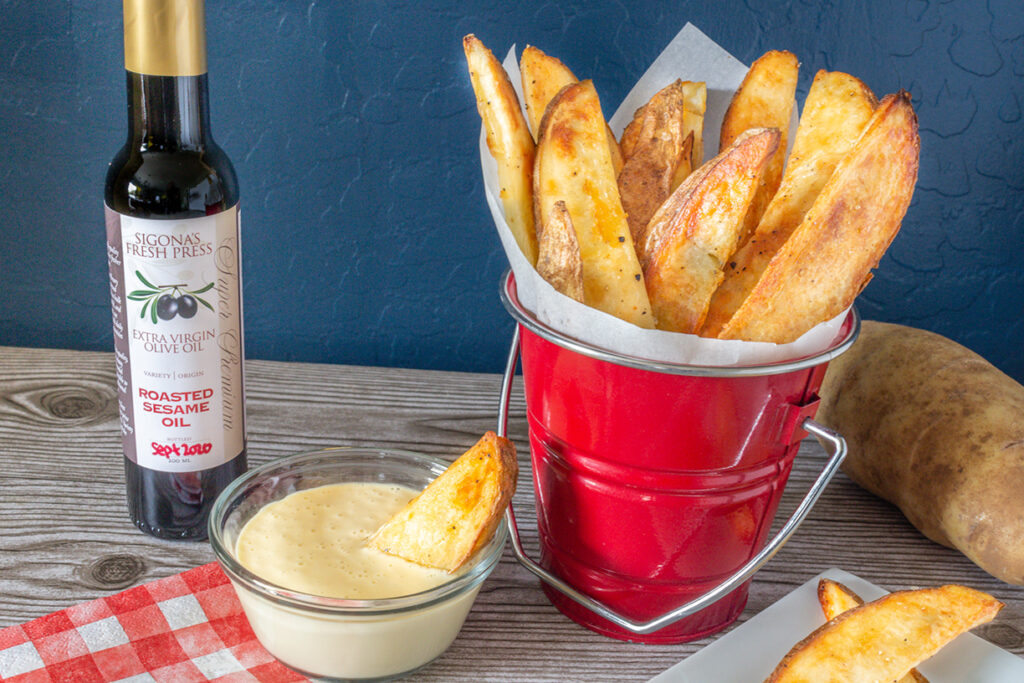 Sesame-Roasted Steak Fries
Steak night just got a whole lot more exciting! Simply roasting wedges of potato in sesame oil presents a whole new layer of flavor – you might be surprised by how a simple oil can make such a difference in taste! Make sure you eat them right out of the oven, dipped in your favorite dipping sauce or our sesame aioli (recipe follows). Inspired by Real Simple. Serves 4.
Ingredients:
Serve with Sesame Aioli (recipe follows)
Directions: Preheat oven to 425°F.
Slice potatoes in half lengthwise, then slice lengthwise into wedges about 3/4-inch thick. Place wedges in a bowl and cover with cold water. Allow to soak for 5 minutes; drain, rinse and pat dry.
Place wedges on a parchment-lined baking sheet. Drizzle with oil; season with salt and pepper. Toss until wedges are well coated, then spread out in a single layer.
Roast wedges for 50 to 60 minutes, flipping once at 30 minutes. Fries are done when tender inside with a crispy, golden-brown outside (check at 50 mins). Serve immediately.
---
Sesame Aioli
This is rich and tart, creamy and nutty aioli is simply delicious with sesame-roasted steak fries right out of the oven. It's also good with crudités, on a cabbage, veg & shredded chicken salad or alongside with seafood. Store remaining aioli in the fridge and use within 3 days. Makes About 1 1/4 cup.
Ingredients:
Directions: Place all but the oils in a blender or food processor and pulse to incorporate. With the blade running, slowly drizzle in the oils and blend the mixture until emulsified and smooth. Taste; add more honey or salt, if needed.
---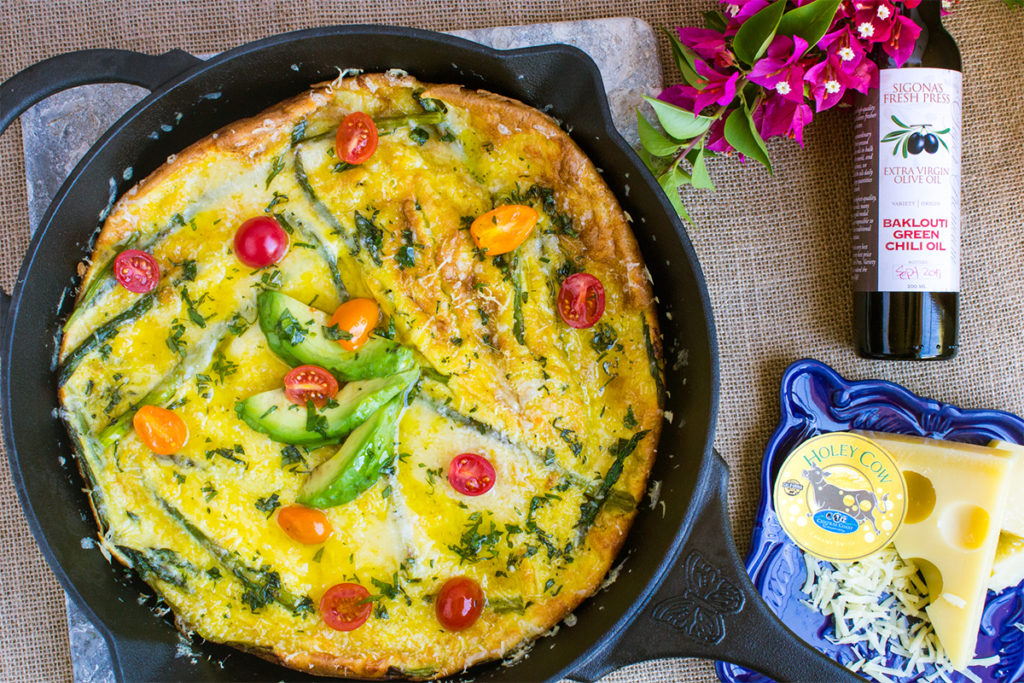 Cheesy Asparagus Popover with Basil-Infused Baklouti Green Chili Oil
This is a work of art when it comes fresh out of the oven! It's light and fluffy, yet flavorful and filling. Holey Cow cheese, made locally by Central Coast Creamery, is an excellent melting cheese that has a smooth, creamy texture and a crisp, buttery finish; it adds excellent flavor to this dish! For more layers of flavor, consider adding sautéed bacon and/or onions and bell peppers to add in with the asparagus. Adapted from Food Network. Serves about 6.
For the oil:
3 Tbsp Sigona's Baklouti Green Chili Oil (warning, this is HOT! If desired, cut the Baklouti with another of Sigona's regular olive oils)
1 Tbsp minced fresh basil
Salt and freshly ground pepper, to taste
For the popover:
Kosher salt
8 ounces asparagus, ends trimmed
Optional: Chopped sautéed bacon or lardons, onions and/or bell peppers
4 to 6 large eggs
1/2 cup whole milk, at room temperature
1/2 cup all-purpose flour
Freshly ground black pepper
1 ½ cup coarsely shredded Holey Cow cheese, divided
2 Tbsp butter
1/4 cup freshly grated Parmigiano Reggiano
1/2 cup sliced grape tomatoes
1 avocado, sliced
For the oil: In a small bowl, mix together the oil/oils and minced basil. Season with salt and pepper, mix well and set aside to allow the flavors to meld.
For the popover: Preheat the oven to 425°F. Place a 10- or 12-inch cast-iron skillet in the oven to heat. Add about 3 inches of water to a medium pot of water and bring to a boil. Meanwhile prepare an ice bath in a medium bowl. When water is boiling, add salt and the asparagus. Parboil the asparagus for 1 to 2 minutes, depending on the thickness of the asparagus. Use tongs to transfer the asparagus to the ice bath. When chilled, drain and pat dry. Set aside.
Whisk together the eggs and milk in a large bowl until smooth. Slowly whisk in the flour and whisk until smooth; season with salt and pepper. Stir in 1 cup of the Holey Cow cheese.
Use oven mitts to carefully remove the hot skillet from the oven. Add the butter to the skillet and stir until melted. Arrange the asparagus (and any additional sautéed add-ons) in the bottom of the skillet, season with salt and pepper. Slowly pour the egg mixture over the top of the asparagus then bake the mixture until puffed and golden brown, about 15 minutes.
Carefully remove the hot skillet from the oven. Sprinkle the remaining Holey Cow cheese and the Parmigiano Reggiano on top. Carefully return the skillet to the oven to bake another 3 minutes or until the cheese is melted, then use oven mitts to remove the skillet from the oven for the final time.
Top the popover with the tomatoes and avocado, then drizzle the top of the popover with 1 to 2 tablespoons of the basil-infused baklouti oil. Serve immediately with the remaining infused oil on the side.