In the Store with Sigona's Featuring: Grapefruit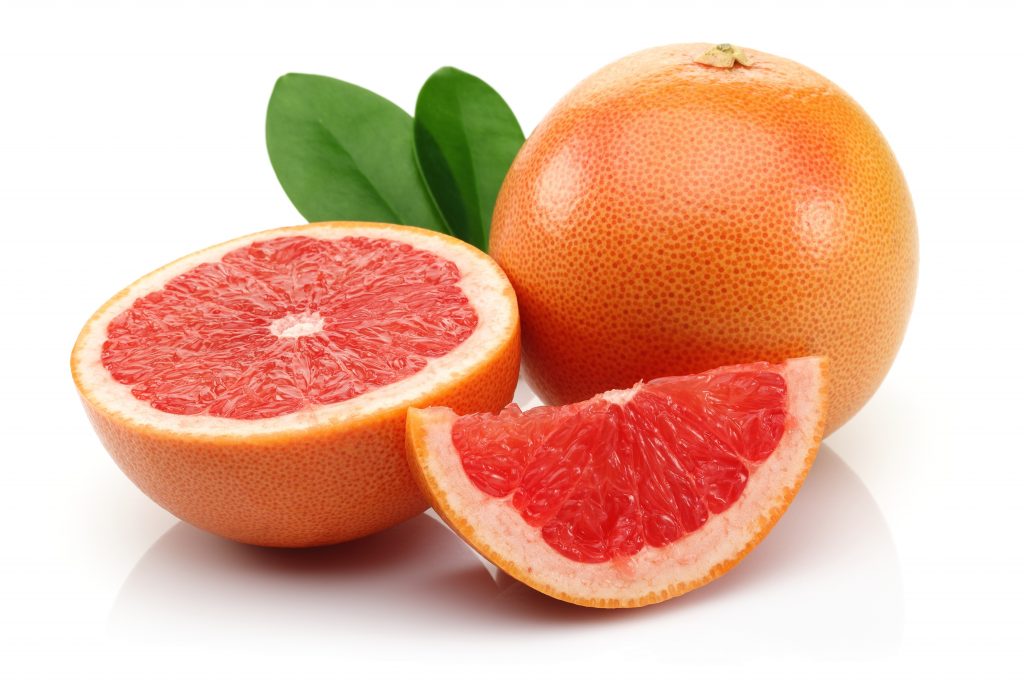 A Sweet, Healthy Choice
for Your Post-holiday Feasting: Grapefruit
Diane Rezendes, food writer
Back in the day, grapefruit was the traditional go-to accompaniment to breakfast: sprinkled with sugar and presented with a serrated spoon designed to dig out the juicy pulp. Then, grapefruit choices were more limited. Its taste was more sharp, less sweet. With today's sweeter varieties, sugar isn't needed.  More than ever, people appreciate its versatility in salads, sauces, smoothies and more.
It's in season. Which means we have an extensive selection of juicy, sweet grapefruit in store for you. And next week's coupon is for free grapefruit with your in-store purchase of $30 or more.
Happy accident
First developed in the 1700s, the grapefruit is an accidental cross between a pummelo and orange. In the 1820s, Florida growers started cultivating it from stock imported from the Bahamas.  But it was grown as an ornamental.  Not until the late 1800s was it commercially developed for fruit.
A grapefruit by any other name…
Its name came from the fact that the fruit grew in clusters, like grapes. Horticulturists were so annoyed by what they considered a misnomer that they tried to change its name to pomelo. But that only invited confusion with its ancestor, the pummelo.  In 1962, a growers' association tried again to change the name in an attempt to boost sales.  The outcry from the public was so vociferous they dropped the idea.
Grapefruit prefers a warm, subtropical climate, though it can also thrive in cooler, drier areas such as Arizona and California.  Weather affects the resulting fruit. For example, it tastes less acidic when grown in subtropical conditions such as southern Florida and Texas's lower Rio Grande valley.  Fruit grown in drier areas will have relatively less juice and a thicker peel.
Here's a sample of the varieties we have in store for you.
Developed in the 1970s, Star Ruby's characteristic pink blush hints at its vibrant, deep pink pulp inside. It's high in both sugar and acid, making it a favorite of people who like a strong balance of sweet and tart.
Texas Rio, or Rio Red, is newer to the scene. First discovered on the branch of a Ruby Red tree in 1976 and commercialized in 1984, growers say this grapefruit is even sweeter and juicier than the Star Ruby.
Oroblanco, introduced to the market in 1958, has pale pulp. It's tender, juicy, and not bitter.  Some people may notice a clean, astringent aftertaste.
Choosing and using.
The heavier the fruit is for its size, the more juicy it will be. Grapefruit can keep well 2-3 weeks in the refrigerator. For better flavor, bring it to room temperature before serving.
A refreshing starter is a simple composed salad:  lay out alternating pink or red grapefruit sections with slices of avocado, topped with toasted slivered almonds and dressed with simple vinaigrette. Light and clean, it offers beautiful contrast in color, texture and flavor. See our recipe section for this and other delicious grapefruit dishes. 
In our house, we peel them like an orange, remove the membrane around each section, and just eat the delicious fruit.