In the Kitchen with Sigona's Featuring: Fresh Sweet Mango
Sweet Mango & Strawberries Tossed with Fresh Tarragon
This simple serving suggestion is great for breakfast or an afternoon snack. Tarragon packs a strong, licorice-like herbaceous flavor that pairs deliciously well with fresh mango and sweet strawberries. A little tarragon goes a long way, so start with just one tablespoon, adding more to taste. Serves 2.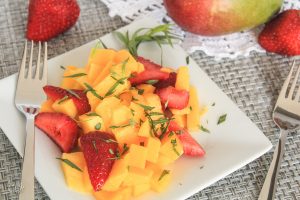 What you need:
1 Haden mango, peeled, sliced and diced into 1/2-inch cubes
4 strawberries, stemmed and quartered
1 to 2 Tbsp chopped tarragon, to taste
Directions: Toss the mango and strawberries with a bit of the chopped tarragon. Taste; add more tarragon if desired. Plate and serve.