In the Kitchen with Sigona's Featuring: Fresh Sweet Mango
The much sought-after Kent mango is one of the least fibrous of all mango varieties and they are in season now, beginning in late May. The flesh is both tender and juicy; the flavor is intense and sweet. It's no wonder that customers come in just for Kents when they're in season!
Robbie Sigona's produce tips for Kents mangos:
The outer skin of Kents is mostly greenish; sometimes they can have a red blush. However, don't focus on color as it is not the best indicator of ripeness. Kent mangos don't always have that red blush. Even green Kent mangos could be ripe inside.
Make sure the fruit feels heavy for its size.
Ripe mangos will be slightly soft to the touch just like avocados and peaches, but not soft of mushy.
If you do not plan on eating the mango for a few days, choose a mango with firmer skin and allow the mango to ripen at room temperature. To slow down ripening, put the mango in the refrigerator.
Check out this step-by-step tutorial for slicing, scooping and dicing fresh mango:
---
While mangos are delicious to eat on their own, they also add great flavor to many recipes. Here are a few of our favorites: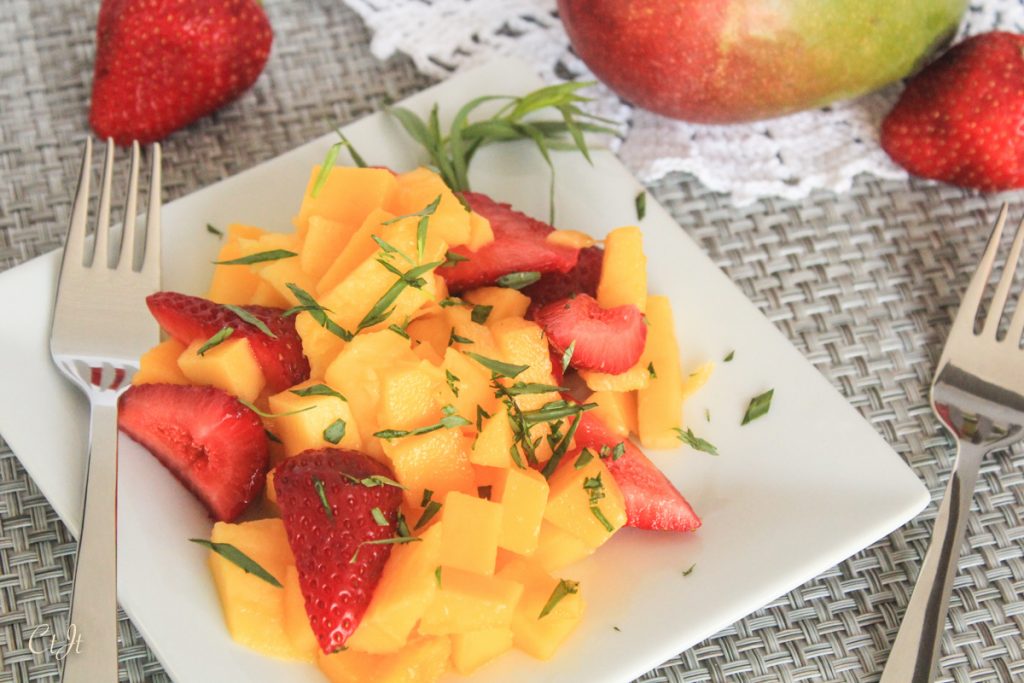 Sweet Mango & Strawberries Tossed with Fresh Tarragon
This simple serving suggestion is great for breakfast or an afternoon snack. Tarragon packs a strong, licorice-like herbaceous flavor that pairs deliciously well with fresh mango and sweet strawberries. A little tarragon goes a long way, so start with just one tablespoon, adding more to taste. Serves 2.
What you need:
1 Haden mango, peeled, sliced and diced into 1/2-inch cubes
4 strawberries, stemmed and quartered
1 to 2 Tbsp chopped tarragon, to taste
Directions: Toss the mango and strawberries with a bit of the chopped tarragon. Taste; add more tarragon if desired. Plate and serve.
---
Mango & Grilled Pineapple Salsa
Baklouti oil perfectly potent, in terms of spiciness, so just a 1/2 tablespoon will add the right amount of heat and flavor to this salsa. The coconut balsamic balances it all out, adding a little zip to each bite. Makes about 4 to 5 cups.
Ingredients:
1 pineapple, peeled, cored and sliced into strips about 2" thick (watch this video for tips on preparing a pineapple)
1/2 a sweet onion, chopped
2 large mangos, such as Hadens or Kents, peeled and chopped
1 Roma tomato, seeded and chopped
1/3 cup chopped fresh cilantro
3/4 tsp salt
3/4 tsp lime zest
3 Tbsp fresh lime juice (about 1½ limes)
1/2 Tbsp Sigona's Coconut Balsamic
1/2 Tbsp of Sigona's Baklouti Infused Olive Oil
Directions: Preheat grill to medium-high heat (350° to 400°F).
Grill pineapple and onion 5 minutes or until well-marked but not cooked through. Chop and place in a large bowl.
Add mangos, pineapple and remaining ingredients; toss until well coated. Cover and chill at least 30 minutes before serving.
Suggested Uses:
Spoon over fish tacos
Serve with glazed chicken wings
Pile on warmed Brie or Camembert-style cheeses
As an accompaniment to seared scallops
Garnish grilled salmon
---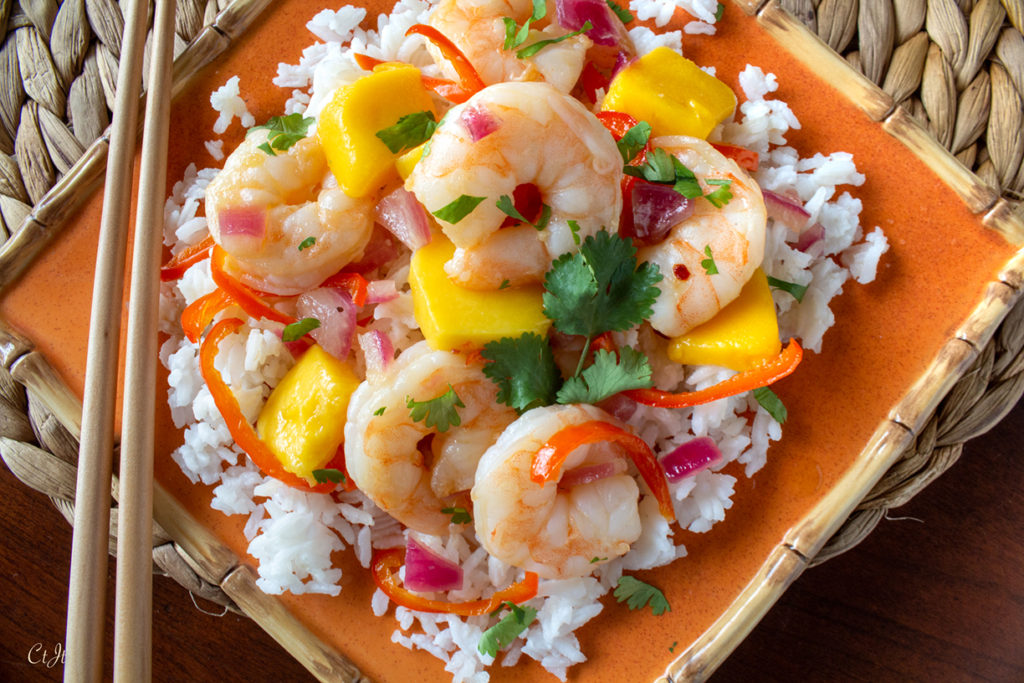 Tropical Coconut & Lime Shrimp with Mango and Mini Sweet Peppers
The enticing and tropical-vacation-type scents of coconut and lime that waft through the house while cooking this dish will bring the whole family to the table. This is a quick weeknight meal that's dairy-free and gluten-free, and you can easily use cauliflower rice for the base if you're grain-free! Adapted from The Olive Oil & Vinegar Lover's Cookbook. Serves 4.
Ingredients:
1 lb. wild Patagonian red shrimp (about 20-24 shrimp; they come shelled and deveined)
Sea salt, to taste
A Pinch or two red pepper flakes
1/2 cup Sigona's Coconut Balsamic
3 mini sweet peppers, seeded and julienned
1/3 cup chopped red onion
1 mango, peeled and chopped
Chopped fresh cilantro, for garnish
Cooked rice or cauliflower rice, for serving
Directions: In a large bowl, toss the shrimp with the olive oil, salt and red pepper flakes. Allow to sit for about 5 minutes.
Heat a large skillet (non-stick preferred) over medium-high heat. Add the balsamic and bring to a boil. Add the mini peppers, red onion and the contents of the bowl with the shrimp to the skillet; spread out the shrimp in a single layer. Cook shrimp for about 1 ½ to 2 minutes a side or until pink, opaque and curled.
Add the mango and stir to combine. Allow to cook about 1 minute more. Remove the pan from the heat. Serve the mixture over rice; garnish with chopped cilantro.
---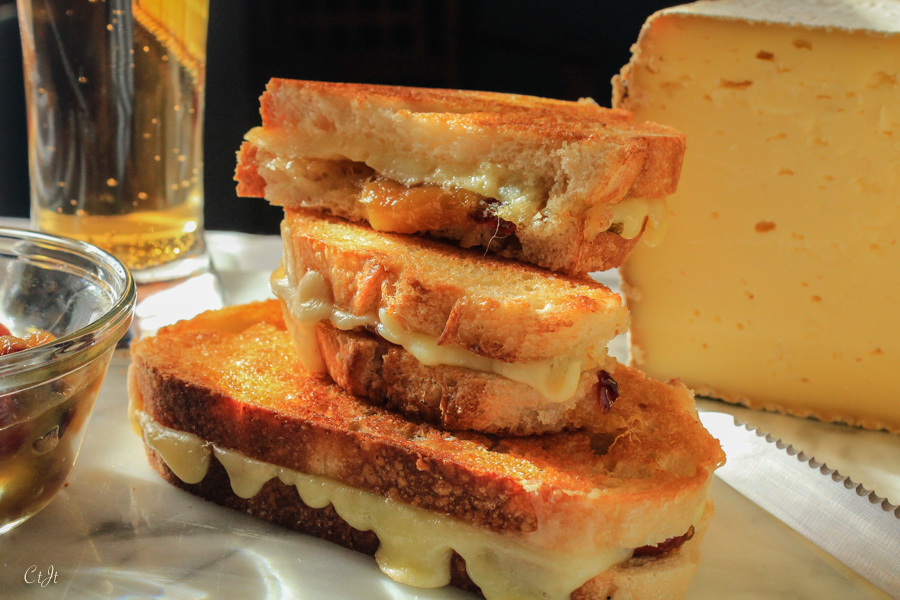 Gooey Grilled Cheese with Thomasville Tomme and Mango-Cranberry Chutney
Thomasville Tomme cheese from Sweet Grass Dairy is a fantastic melting cheese. It makes for a beautifully gooey grilled cheese. Adding some mango-cranberry chutney takes a basic grilled cheese up a notch, adding a sweet-savory factor. Tomme has a subtle, yet complex, earthy flavor that's liked by kids and grown-ups alike. Serving size: one sandwich.
What you need:
Sliced bread (we like sourdough)
Butter, for brushing
Sweet Grass Dairy Thomasville Tomme cheese, sliced, as much as your heart desires
Mango Chutney with Cranberry Pear Balsamic (recipe follows)
Directions: Heat a skillet or griddle over medium-low heat.
Brush butter on one side of each slice of bread, place them butter-side-down. Top half of the slices with cheese, spread about 2 tablespoons of the chutney on the remaining slices. Place the chutney-chutney-spread slices, butter-side-up, upon the slices with cheese.
Add the sandwiches to the skillet to toast for a couple minutes on each side, flipping once. Pro tip: tent the sandwiches with foil to help the cheese melt without over-toasting your bread. Your sandwich is done when the cheese is melted throughout and the bread is toasted to your liking. Serve with extra chutney, if desired.
Mango Chutney with Cranberry Pear Balsamic
Sometimes all your turkey, sandwich, toast or cheeseboard needs is a good chutney. This is a simple, delicious chutney that takes little time to create. The combination of flavors is savory-sweet, and can be enhanced by a pinch of ground cinnamon or ginger, if desired. Adapted from The Olive Oil & Vinegar Lover's Cookbook. Makes about 1 1/2 cups, depending on mango size.
Ingredients:
2 Tbsp Sigona's Meyer Lemon Olive Oil
5 green onions, white and light green parts chopped
2 mangos, peeled and chopped
1/3 cup dried East Coast cranberries (look for them in our dried fruit & nut section)
2 Tbsp honey, such as raw, local, unfiltered honey from Honey Hole Honey Co., available only at Sigona's
Optional: a pinch of ground cinnamon or ginger
Directions: Heat the olive oil in a medium skillet or frying pan over medium heat. Add the green onions and cook, stirring occasionally, until tender and soft, about 3 minutes.
Add the mango, cranberries, honey and balsamic. Bring the mixture to a gentle boil, stirring occasionally, then reduce heat to a simmer and cook until the mixture has thickened and the cranberries have plumped a bit, about 7 to 10 minutes.
Allow to cool a bit before serving. May be used warm, chilled or at room temperature. Will keep, sealed and refrigerated, for up to a week.
---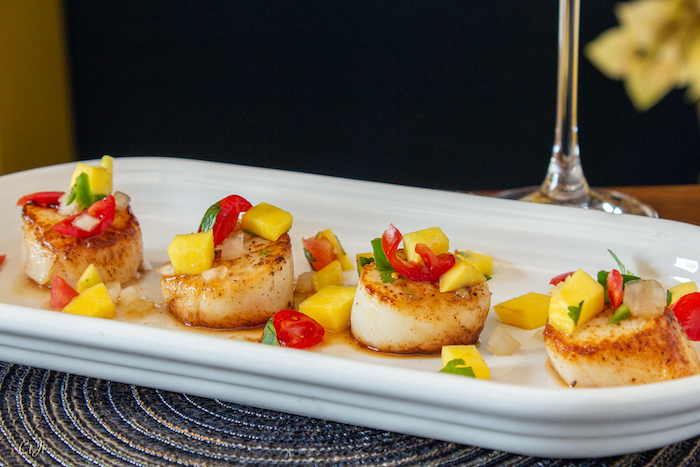 Harissa-Seared Scallops with a Mango Balsamic Salsa
This dish packs a sweet heat made from a combination of our spicy red chili oil and our mango white balsamic — a combination inspired by the mango con chili treat. This would also work with shrimp or prawns. Serves 4.
Ingredients:
1 large tomato, diced (about 3/4 cup diced)
Half an onion, diced
Half a jalapeño, seeded and diced
1 Tbsp Sigona's Red Chili Harissa Olive Oil (it's spicy!)
1 Tbsp butter
8 large dry-packed sea scallops
Salt and pepper, to taste
3 Tbsp Sigona's Mango Balsamic
1 large mango, such as a Hadens or Keitts, peeled and diced (at least 1 cup)
2 tbsp chopped fresh cilantro
Directions: Stir together the tomatoes, onion and jalapeño in a bowl. Set aside.
Rinse and pat dry the scallops. Season both sides with salt and pepper. Set aside.
Add the harissa oil and butter to a large skillet over medium-high heat. When the butter has melted and the combination is just starting to smoke, add the scallops, being careful that they don't touch. Cook for just 1 minute 30 seconds each side, flipping once. Scallops should have a nice golden-brown sear that is about 1/4 inch deep on each side, and the middle should still be slightly translucent. Use tongs to transfer just the scallops to a plate; set aside, keeping warm.
Reduce heat to medium and add the balsamic to the skillet to deglaze. Use a wooden spoon or rubber spatula to scrape up the brown bits from the bottom of the pan as the balsamic reduces. After 2 minutes, add the tomato and onion mixture; cook, stirring, for another 2 minutes. Transfer mixture to a bowl and stir in the mango and cilantro.
Serve the scallops with the mango salsa, either on the side or spooned over the top.
---
Mango and Chia Pudding Parfait
Chia pudding is so easy, you'll ask yourself why you don't make it more often. This is a simple, delightful dessert that, when layered as a parfait, is aesthetically impressive, too. Serves 4.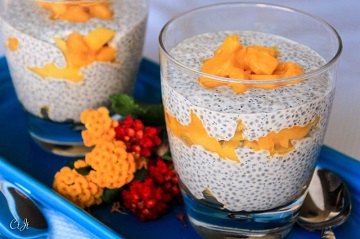 Ingredients:
1 can (about 13.5 oz.) unsweetened Coconut milk, such as Thai Kitchen
6 Tbsp chia seeds, such as Bob's Red Mill
A splash of vanilla extract, about 1/2 tsp.
A pinch or two of cinnamon
2 Haden or Kent mangoes, peeled and diced
Directions: In a medium bowl, whisk together the coconut milk, chia seeds, vanilla and cinnamon. Allow the mixture to rest at room temperature for 20 minutes. Cover and refrigerate for a minimum of 3 hours (can chill overnight).
Meanwhile, prepare the mango. Keep it chilled.
To serve: Divide the diced mango into thirds. Distribute one of the thirds evenly among 4 small juice or parfait glasses. Use half of the chia pudding to top the first mango layer. Repeat the layers, ending with mango on top. Serve chilled.
---
Mango & Blackberry Smoothie Bowl with Almonds and Chia Seeds
Smoothie bowls are all the rage among breakfast enthusiasts and brunch bunches. This dish is simply what the name implies: a smoothie in a bowl. Top these creamy concoctions with additional fruits, seeds and flavors as you wish. Inspired by Eating Well. Serves 2.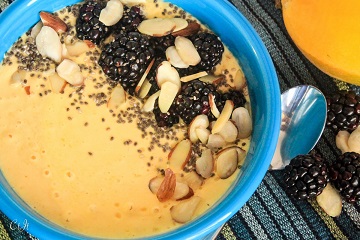 Ingredients:
1 large Kent mango, peeled and chopped (about 1 cup)
3/4 cup plain Greek yogurt
1/4 cup milk (try almond or coconut, if desired)
1 tsp. vanilla extract
1/3 cup blackberries
1 Tbsp. sliced almonds, toasted if desired
1 tsp. chia seeds
Directions: Chill the chopped mango in the freezer for about 10 minutes, if desired.
Combine mango, yogurt, milk and vanilla; puree contents until smooth using an immersion blender or standard blender. Divide the puree between two bowls and top with blackberries, almonds and chia seeds.
---
Kent Mango, Jicama and Crisp Apple Salad
You'll fall for the sweetness of the mango, bright flavor of the lime and the crunch of both the jicama and Granny Smith apple in this perfect summer salad. Adapted from Cooking Light. Serves 4.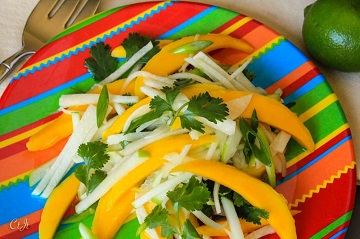 Ingredients:
2 Tbsp fresh lime juice (from about 1 lime)
2 tsp. honey
Salt, to taste
About 4 oz. jicama, peeled and sliced into matchsticks, totaling about 3/4 cup
About half a Granny Smith apple, cored and sliced into matchsticks, totaling about 3/4 cup
1 Kent mango, peeled and sliced into 1/4-inch thick wedges
1 to 2 green onions, sliced on a bias
1/4 cup chopped fresh cilantro
Directions: Whisk together the the juice, honey and salt in a large bowl. Add the jicama, apple, mango, onion and cilantro. Toss to coat well. Serve immediately.