September Olive Oil and Balsamic of the Month
Grape, Arugula and Gouda Skewers with a Walnut-Thyme Drizzle
It's grape season! Don't miss an opportunity to get a taste of incredible flavor of local, in-season grapes. Grapes and Gouda make for a sweet & savory combination, which pairs perfectly with peppery arugula. The smooth, herbed finish of our walnut oil with thyme brings the whole thing together. Serves 6 to 8.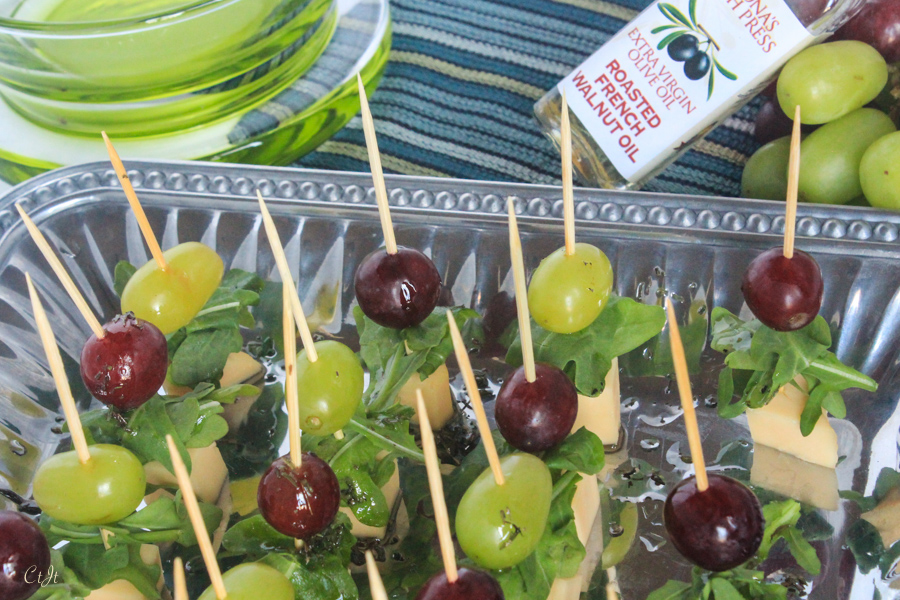 What you need:
24 grapes, such as black sapphire, Thompson, gum drop, flavor pop or a combination red and green grapes, which adds more color to the presentation
48 leaves of baby arugula
About 4 oz. Beemster Vlaskaas Gouda, sliced into 24 cubes (1/2-inch in size)
1/4 tsp. dried thyme or 1 tsp. fresh thyme
1 Tbsp. Sigona's Roasted French Walnut Oil
Equipment:
Small skewers or toothpicks, about 4-inches long
Directions: Slide a grape halfway onto a skewer. Gently bend two arugula leaves in half and thread them on the skewer. Finish by threading on a cube of cheese, then stand or lay the skewer on a serving tray. Repeat with all remaining ingredients.
In a small bowl, mix together the walnut oil and thyme. Drizzle the oil mixture around the dish and lightly over the top of the skewers. Serve.
Chopped Apple Salad with Gorgonzola and a Gravenstein Balsamic Vinaigrette
Tuck this recipe away for your Thanksgiving contribution! Crisp apples with greens and blue cheese is a delicious combination. You'll love the sweet-tart kick of the Gravenstein balsamic in our vinaigrette. Inspired by Food Network. Serves 4 to 6.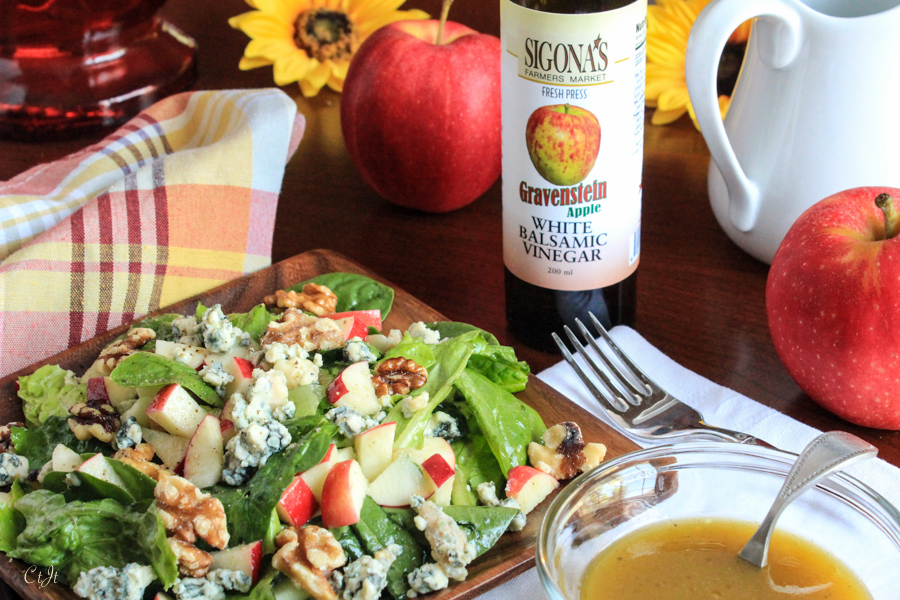 Salad Ingredients:
3 apples (Gala, Fuji or Gravenstein), core removed and cut into 1/4-inch dice
3 cups roughly chopped baby spinach
2 cups chopped romaine
1 cup, coarsely chopped walnuts (toasting optional)
About 1 cup crumbled Italian gorgonzola Dolce or blue cheese
Salt and freshly ground black pepper, to taste
Gravenstein Balsamic Vinaigrette
1/4 to 1/3 cup Sigona's Gravenstein Apple White Balsamic
About 2 Tbsp honey, such as Honey Hole Honey Co., raw, local, unfiltered honey, available only at Sigona's
1 Tbsp Dijon mustard
Salt and pepper, to taste
A pinch of allspice or nutmeg
Directions: Add the apples, spinach, romaine, walnuts and cheese together in a large bowl.
In a medium bowl, add the balsamic, honey and Dijon. While whisking, drizzle in the olive oil and whisk until emulsified. Season to taste with allspice or nutmeg, and salt and pepper, to taste.
Add 2 to 3 tablespoons of the vinaigrette to the bowl of greens. Toss well to incorporate. Divide among serving plates, season with pepper and serve with extra vinaigrette on the side.
Salted Caramel Apple Tart
Simple, trendy and delicious! This apple tart is perfectly delightful for dinner guests. Best served with a scoop dollop of homemade whipped cream or a scoop of vanilla gelato and drizzle it with a Sigona's Red Apple Balsamic reduction. Makes two tarts. Serves about 8.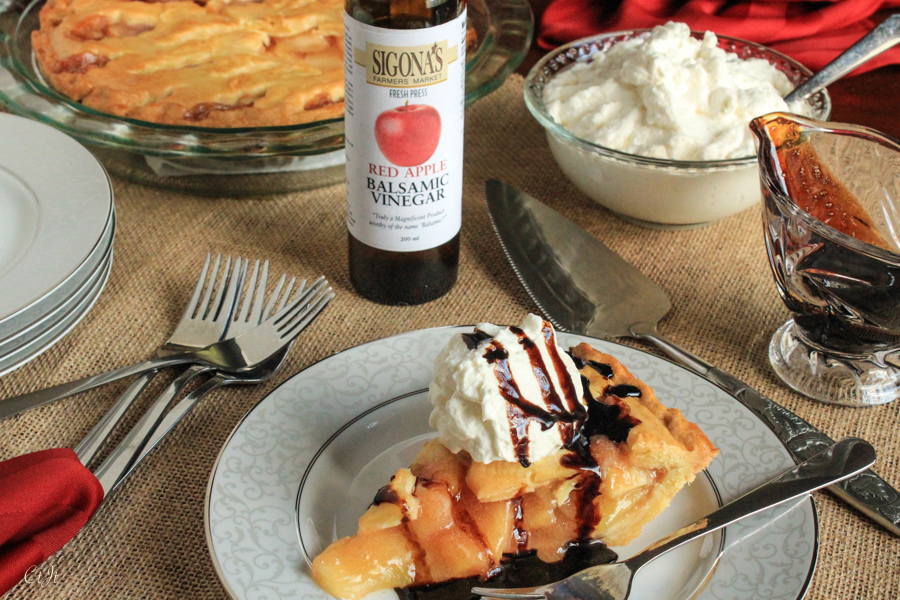 Ingredients:
2 local Gala apples, cored and very thinly sliced (a mandoline set to 3mm works well)
1 sheet puff pastry
Cinnamon, for sprinkling
3 Tbsp. brown sugar
About 2 Tbsp. butter, at room temperature, for dotting
Caramel sauce, for drizzling,
Sea Salt, for sprinkling
Directions: Preheat oven according to package directions or to 400°F.
Prepare a baking sheet with parchment paper or grease with a bit of oil. Lay the pastry halves on the baking sheet and lightly sprinkle a little cinnamon over both halves. Use a sharp knife to score a half-inch border around the pastry, being careful not to cut all the way through.
Lay the apple rings, overlapping, in a straight line down the center of both pieces of puff pastry; trim the apple slices if they go beyond the scored edges. Dot the apples with a little butter.
Bake the pastries for 18 to 22 minutes or until the edges are a nice golden brown.
Drizzle each tart with a couple tablespoons of caramel sauce and immediately sprinkle with a few pinches of ancient sea salt.
Slice and serve while warm. We like ours with a scoop of gelato.