Recipe Roundup: Black Truffle Oil
This late fall to early winter truffle is used in the making of this savory Black Truffle Olive Oil. A "tea method" is utilized, in which the ripe truffles steep for extended periods of time in olive oil. The process makes for a heady, complex oil featuring no extracts or chemicals. It's fantastic in cream-based soups, risotto or mashed potatoes.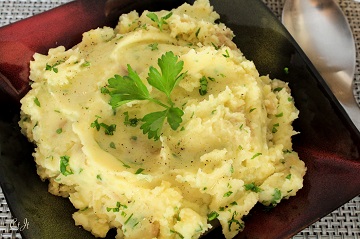 Black Truffle Oil Mashed Potatoes
Mashed potatoes make the perfect side to many dishes. They can be doctored up in a number of ways, and our favorite as of late is to mash them with our black truffle oil. Truffle oil is strong; a little goes a long way, so you don't need much to give these potatoes incredible flavor. Serves 4 to 6 as a side.
Ingredients:
2 lbs. Yukon Gold potatoes, quartered
1/4 cup milk
At least 2 1/2 tsp. Sigona's Black Truffle Oil, divided
Salt and pepper, to taste
2 Tbsp. minced parsley, optional
Directions: To a medium pot, add potatoes and cover with cold water by about 2 inches. Add salt to the water and bring to a boil over high heat. Reduce heat and simmer over medium-low for about 20 to 25 minutes or until fork tender. Drain.
Return potatoes to the pot with milk, 2 teaspoons truffle oil, salt and pepper. Using a potato masher, mash the ingredients together to reach the consistency desired. Stir in all but about 1 teaspoon of the minced parsley. Taste potatoes; season with additional truffle oil, salt or pepper if needed. Transfer potatoes to a serving dish.
Drizzle the remaining half teaspoon of truffle oil over the top of the mashed potatoes, sprinkle with remaining minced parsley and serve.
---
Fiddlehead Ferns and Whole Wheat Pasta
This is an exquisite recipe including fiddlehead ferns, which are a hard-to-find spring favorite—fiddleheads add a touch of wildness to the overall flavor. Recipe courtesy of Emeril Lagasse.
Ingredients
1 pound fiddlehead ferns
1 pound whole wheat pasta
3 tablespoons Sigona's Fresh Press Extra Virgin Olive Oil
2 green onions, thinly sliced
1 teaspoon red pepper flakes
1 tablespoon Sigona's Black Truffle Olive Oil
Salt and freshly ground pepper
Grated Parmesan, for garnish
Directions
In a large pot of boiling salted water, blanch the fiddleheads until they are crisp-tender, about 3 to 5 minutes. Remove the fiddleheads from the water and shock them in a bowl of ice water (unless you are going to use them immediately).
Drop whole wheat pasta into the same pot of boiling water used for fiddleheads. Boil for 3 to 5 minutes or until al dente.
Meanwhile, in a large skillet, heat olive oil. Sauté fiddlehead ferns, green onions, and red pepper flakes for 2 minutes and lightly season. Drain pasta and add to skillet. Toss with truffle oil and salt and pepper. Divide pasta among 4 plates and garnish with grated cheese.
---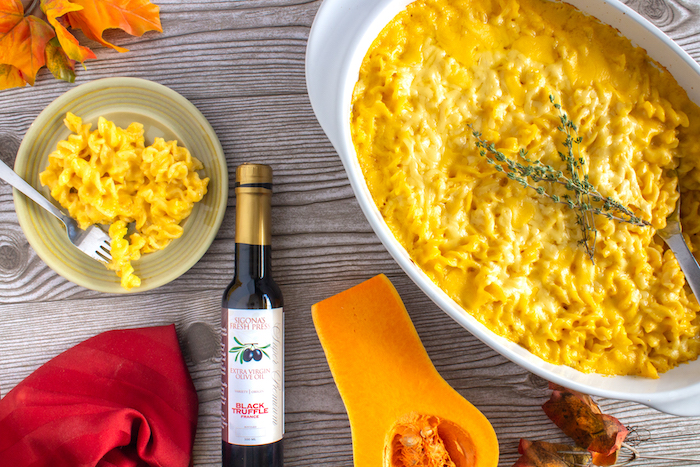 Truffled Butternut Macaroni & Cheese
This dish will fool even the most adamant squash haters. Trust us, we fooled one! There are three different cheeses in this deliciousness, but it's the butternut squash that adds the amazing orange color. There is just a hint of the truffle oil in every bite, which is as it should be. A little of the oil goes a long way! It would make a fantastic Thanksgiving side dish. Inspired by Monadnock Oil & Vinegar. Serves about 8.
Ingredients:
2 cups cubed butternut squash (about 1/2-inch cubes)
16 oz. dry macaroni or pasta shape of choice, such as fusilli
1 Tbsp Sigona's Black Truffle Oil, plus more for serving, if desired (remember, a little goes a long way).
3 Tbsp Sigona's Garlic Oil, plus 1 additional Tbsp for greasing
2 Tbsp butter
1 large shallot, minced
1/2 cup all-purpose flour
3 cups milk
1 cup heavy cream
2 cups, divided, shredded soft, young Gouda, such as Young Farmdal
2 cups shredded white cheddar, such as Moo-Net, found only at Sigona's
1/2 cup grated Pecorino Romano
Fresh black pepper, for finishing
Fresh thyme, for garnish
Directions: Preheat oven to 375°F. Grease a 13×9 inch baking dish; set aside.
Place butternut squash cubes in a medium pot and cover with water. Bring to a boil; cook for 7 to 9 minutes or until fork tender. Drain, set aside.
Cook pasta to al dente in a large pot of salted water. Drain, transfer to a large bowl, toss with 1 tablespoon of truffle oil and set aside.
In the same large pot, melt butter with 3 tablespoons garlic oil over medium heat. Add shallot and cook, stirring occasionally, until translucent. Whisk in flour, creating a paste-like texture. Slowly whisk in the milk until combined, then whisk in the heavy cream. Heat, stirring constantly until the sauce thickens; don't allow it to boil. Reduce heat to low, season with salt and pepper.
Add 1 cup of cream sauce to a blender or food processor. Add squash and puree until smooth. Add puree to remaining cream sauce, then stir in 1 cup of the gouda, all the cheddar and the Pecorino Romano.
When cheese is melted, add the pasta to the pot, scraping any remaining truffle oil from the bowl. Gently fold the pasta into the cheese mixture then transfer to the baking dish. Sprinkle remaining Gouda on top.
Bake for 25 to 30 minutes or until heated through and bubbly. Finish with freshly ground black pepper and garnish with fresh thyme, either as sprigs or stripped from the stem and sprinkled over the top. Allow guests to dot their servings with additional truffle oil, if desired (reminding them a little goes a long way).