Heirloom Blenheim Dried Apricot Energy Bites with Cashews and Chia Seeds
Whether you're busy working from home, heading to or finishing a workout, or just need a little something for yourself as you're hustling kiddos out the door to school, these little energy bites come in handy. They keep well in the fridge for at least a week!
Our Medjool dates are fantastically rich and delicious. They're grown in Bard Valley, California, by a farmer we've worked with for almost 20 years.
Some nutritional facts about Medjool dates:
High in fiber! Medjools have (6) grams per three oz. serving
Good source of potassium, iron and copper
Excellent source of Magnesium (10% per three oz. serving)
Medjool Dates consist of 2% protein
Our heirloom Blenheim apricots are truly unique and special. The Blenheim is treasured for its flavor, quality and color. They're naturally sweet, yet pleasantly tart, and just plain fantastic! It is a delicate apricot that doesn't travel well, so growers began drying them and we are sure glad they did. We've worked with Gibson Farms in Hollister, California, for about 45 years to bring in these outstanding, hand-split, locally grown gems.
Medjool dates are incredibly versatile! Check out a few of our other recipe suggestions, too!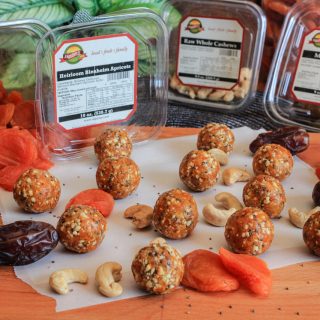 Heirloom Blenheim Dried Apricot & Medjool Date Energy Bites with Cashews and Chia Seeds
(Vegan || Gluten-Free || Paleo) The heirloom Blenheims and dates are naturally sweet enough that no added sugar is needed to give these a sweet, yet pleasantly tart, taste. They're also gluten-free, vegan and paleo-friendly! They're great to keep in the fridge to pop into a lunch box or for a quick pick-me-up. Makes about 2 dozen bites.
Ingredients
Ingredients:
1

cup

local dried heirloom Blenheim apricots

see note

1

cup

raw cashews

see note

1/2

cup

pitted medjool dates (5 to 6 dates)

see note

1/2

cup

shredded coconut

unsweetened

1

Tbsp

chia seeds

1/2

tsp

vanilla extract
Instructions
Place all ingredients in the bowl of a food processor. Pulses then process until the ingredients are all about the same size, like a course crumb. You may need to stop and use a spoon to rearrange some of the mixture from time to time.

Portion out tablespoon-sized scoops and roll into balls. Place the bites on a baking sheet as you work to roll all the mixture.

Store in an air-tight container in the fridge for up to 1 week.