Recipe Roundup: Sigona's Wild Mushroom & Sage Olive Oil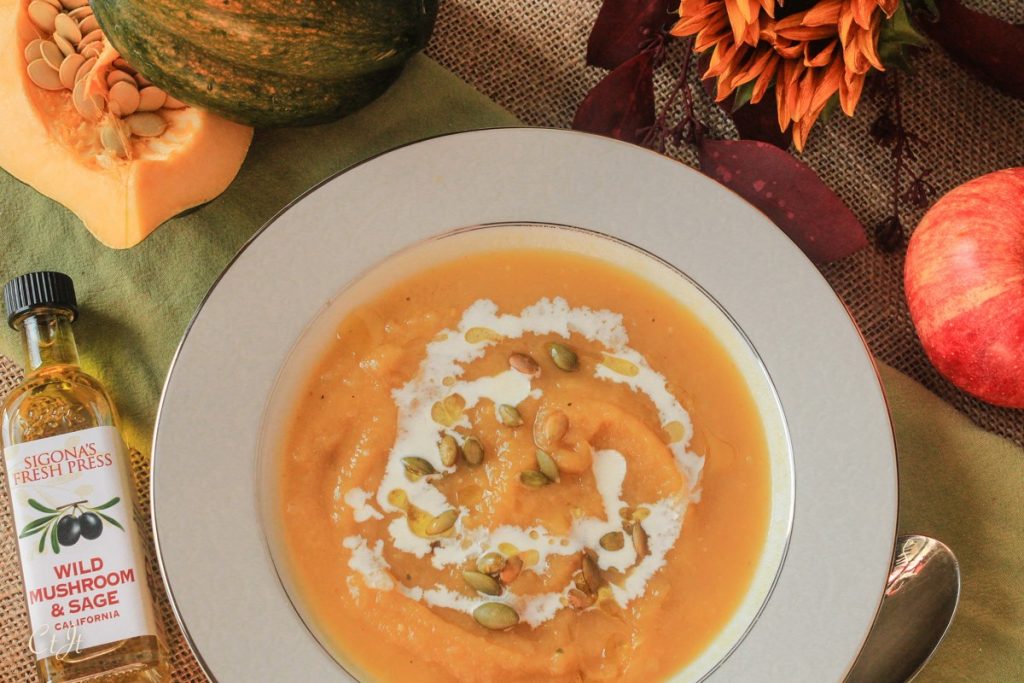 Roasted Acorn Squash and Apple Soup with Wild Mushroom & Sage Olive Oil
Roasting all the veggies brings out their natural sweetness, which is enhanced by the addition of apple in this soup. The wild mushroom and sage olive oil adds a lovely herbaceous and earthy note to this festive soup. It's kid-friendly, too! Serves 4.
Ingredients:
1 acorn squash, halved, seeded, sliced and chopped into 3-inch chunks
1 large apple, peeled, cored and chopped, such as a Fuji, Rome or a Mutsu
Half a yellow onion, chopped
2 cloves garlic, peeled and lightly smashed
Salt and pepper, to taste
A pinch or two ground chili or cayenne powder, to taste
2 Tbsp. Sigona's Wild Mushroom and Sage Olive Oil, plus more for garnish
At least 4 cups vegetable or chicken stock, add more to thin the soup consistency, if desired
2 Tbsp. roasted salted pepitas, for garnish
Optional: Half & Half, for drizzling
Directions: To a large bowl, add the chopped squash, onion, apple and garlic. Season with salt, pepper and a pinch or two of chili or cayenne powder. Add the olive oil and toss to coat all ingredients well.
Spread the ingredients out on a baking sheet in a single layer. Roast for about 40 minutes, or until the squash is tender, shaking the pan to jostle the ingredients after 20 minutes.
Use a spoon to scoop the squash from the skin, discarding the skin. (Tip: Hold the squash pieces in a towel in one hand while scooping with the other. The towel will help protect hands from heat.) Place the peeled squash and remaining ingredients in a soup pot. Add the stock and bring to a boil over high. Cover and lower heat to a simmer; cook for 10 minutes.
Using an immersion blender, food processor or blender, carefully puree the ingredients until smooth, working in batches if necessary. If desired, add more stock to thin the soup to your liking.
Ladle the soup into 4 individual serving bowls. If desired, drizzle a little half & half over each serving. Top with pepitas and drizzle with additional olive oil. Serve warm.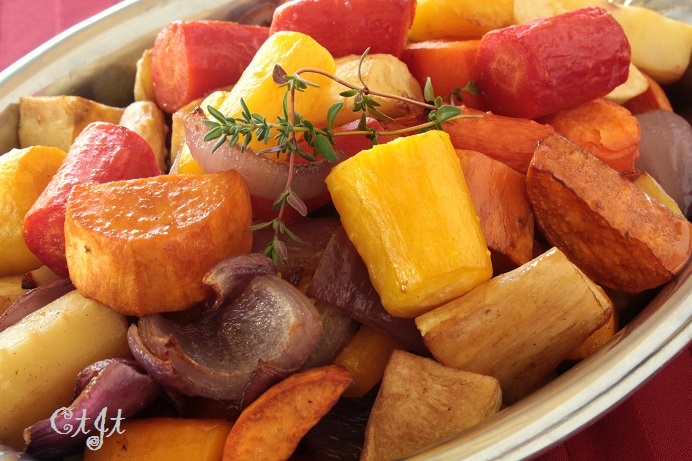 Roasted Organic Rainbow Carrots & Winter Vegetable Medley with Sigona's Wild Mushroom and Sage Olive Oil
Roasted vegetables are one of the simplest side dishes that complete many a main course. I love the naturally sweet flavor that shines through when the organic rainbow carrots are roasted. Delicious! Add or substitute other vegetables to develop a dish you know your family will love. Serves about 6-8.
Ingredients:
1 ½ – 2 lbs. organic rainbow carrots, peeled and cut into 1 ½-inch-long pieces
2 medium parsnips (about 1 pound), cut into 1 ½-inch-thick pieces
1 cup of peeled, cubed sweet potatoes (to about a 1 ½-inch cubes)
1 red onion or two shallots, cut into wedges
Salt and pepper, to taste
Directions: Preheat oven to 400F.
In a large bowl combine all the prepared vegetables and thyme. Add the olive oil and balsamic, then season to taste with salt and pepper. Toss the mixture well to coat all the vegetables. If needed, add a TBL or more of olive oil.
Spread the vegetables out in a single layer on a rimmed baking sheet and place in the oven. Roast, flipping once, for 35 to 40 minutes or until tender and lightly browned.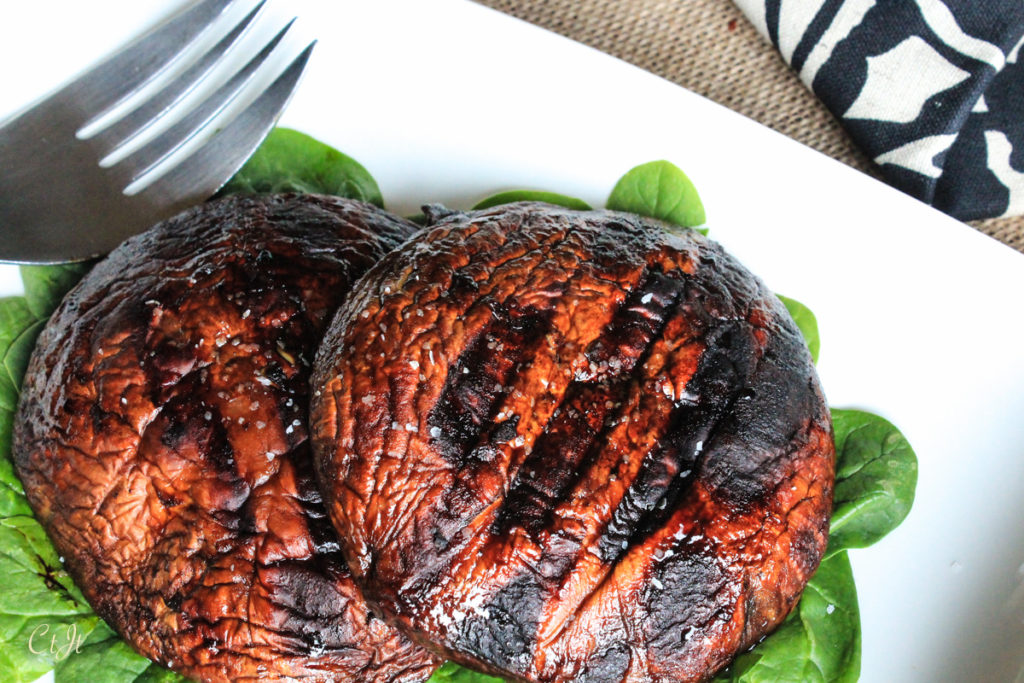 Grilled Portobello Mushrooms Marinaded in Neapolitan Balsamic and Sage & Wild Mushroom Olive Oil
The balsamic and the olive oil are packed with awesomely herbaceous flavor, so this marinade requires just a few ingredients. Use them to build a burger or eat them as you would a steak. Marinates 2 portobello mushrooms.
Ingredients:
2 Tbsp fresh lemon juice
1 to 2 cloves garlic, minced
2 tsp. Dijon mustard
1/2 tsp. Kosher salt
Directions: In a small bowl, whisk together the balsamic, lemon juice, garlic, dijon and salt. While whisking, drizzle in the olive oil and mix until emulsified.
Place the mushrooms in a large zip-top bag. Add the marinade, seal and gently toss to coat the mushrooms. Allow to marinate at room temperature for at least 30 minutes; ideally an hour.
Preheat an outdoor grill over high heat. When time to cook, remove the mushrooms from the bag and place on the heated grill. Cook about 5 to 7 minutes a side, turning once.
Serve mushrooms either as you would a steak or make yourself a portobello mushroom burger with all your favorite toppings.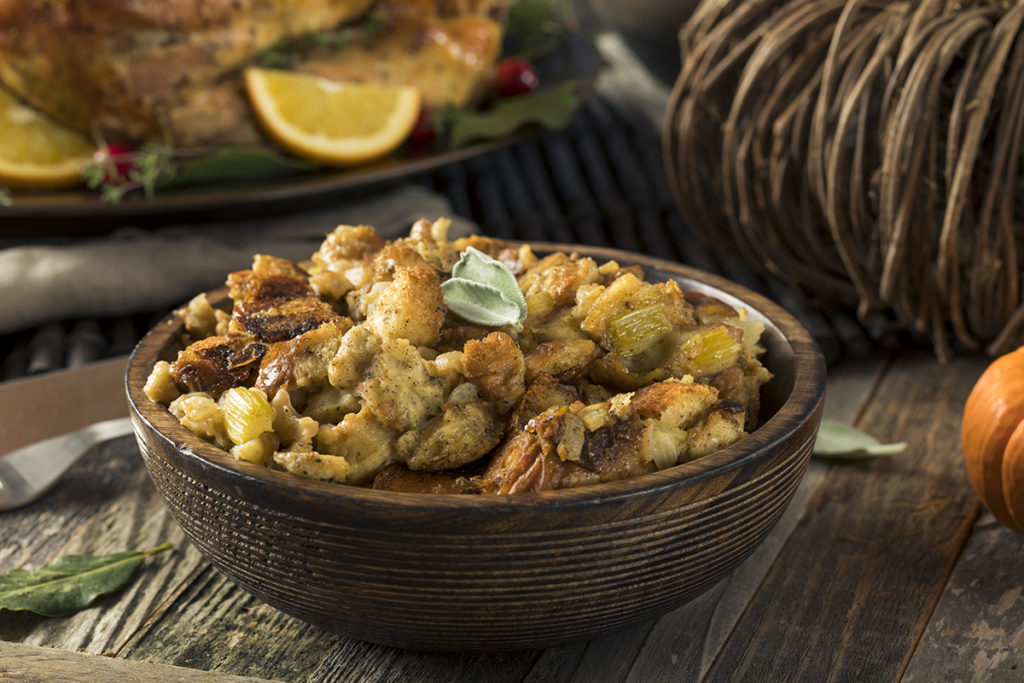 Wild Mushroom & Sourdough Dressing
It's usually wild mushroom season around the time Thanksgiving rolls around, and there is no better way to dress up your Thanksgiving than making wild mushrooms the star. This dressing can be used to stuff the bird or can just be baked as a side. You'll love the flavor from the mushrooms as well as our Sage & Wild Mushroom Olive Oil. Serves about 10.
Ingredients:
1 1/2 pounds sourdough bread (the more rustic the better), sliced or torn into 1-inch pieces
2 Tbsp unsalted butter, plus more for greasing dish
1 tablespoon finely chopped fresh rosemary
1/4 cup Sigona's Wild Mushroom & Sage Olive Oil, divided (Mix it up! Use 1/8 cup Wild Mushroom & Sage Olive Oil and 1/8 cup Sigona's Wild Rosemary Olive Oil)
2 cups chopped celery
1 large onion, diced
2 pounds mixed fresh wild mushrooms, such as chanterelles, oysters and maitake (hen-of-the-woods). If you feel like making the dish extra special, splurge on some matsutake mushrooms too.
1 Tbsp dry sherry or white wine (a third alternative is vegetable stock)
1/4 cup packed fresh flat-leaf parsley leaves, chopped
1 to 2 tsp kosher salt, to taste
1 tsp ground black pepper
3 cups vegetable stock
2 large eggs
Directions: Spread prepared bread cubes out in a single layer on rimmed baking sheets, being careful not to overcrowd the pans. Let the bread sit out uncovered at room temperature for at least 8 hours or overnight.
Heat butter in a large, deep skillet over medium until sizzling. Add celery and onion; cook, stirring frequently until just softened, about 7 to 10 minutes. Add rosemary; cook, stirring constantly, for 1 minute. Transfer mixture to a large bowl and set aside.
Clean mushrooms by wiping with a paper towel or kitchen cloth. Remove tough stems and discard. Cut mushrooms into 1/4-inch-thick slices.
Add 1/8 cup of the olive oil to the same large skillet over medium heat. When hot, add in the mushrooms and increase to medium-high/high heat. Allow mushrooms to cook, undisturbed, for about 3 minutes or until lightly browned on the bottom. Continue cooking mushrooms, stirring occasionally, until browned all over and the mushrooms have release and reabsorbed their juices, about an additional 15 to 20 minutes, Remove the skillet from heat, allow mushrooms to rest for 30 seconds, then add the sherry to deglaze the bottom of the pan, scraping up any brown bits.
Stir in remaining 1/8 cup of olive oil, the parsley, salt and pepper; add mixture to the bowl with the celery mixture. Add bread cubes and stir to combine.
In a medium bowl, whisk together the stock and eggs until thoroughly blended. Stirring the bread mixture constantly, slowly pour stock mixture into bread mixture until most of stock is absorbed.
Dressing may be prepared 1 day ahead up to this point. Cover and chill until ready to bake.
Dressing may be used for stuffing a bird or baked separately. If stuffing, plan about 3/4 cup of stuffing per 1 pound of turkey; spoon it in loosely. Stuffing cooked inside a turkey is safe to eat if the center of the stuffing cooks to 165°F (you'll need a long thermometer).For food safety guidelines for stuffing turkey, you can read some info from the USDA here. Follow turkey roasting guidelines as directed.
If baking as a side, grease a 13-x9-inch baking dish with butter; add bread mixture to dish and cover tightly with aluminum foil. Preheat oven to 375°F. Bake, covered, for 30 minutes then uncover and cook until lightly browned, about 15 to 20 minutes. Let stand 10 minutes before serving.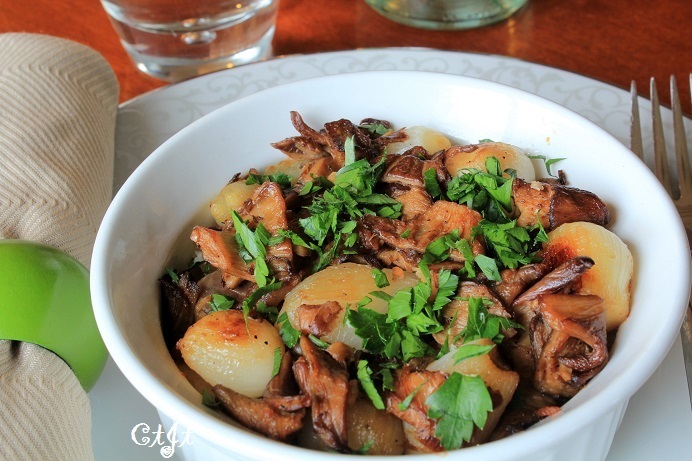 Oyster Mushroom, Pearl Onion & Russet Potato Bake
This little delight serves 1 to 2, but you can easily increase the measurements to serve more, either making it in a large dish or a series of personal-size portions. You'll love the flavor the white wine provides, giving this dish several layers of flavor. Adapted from Vegan Magazine's "Tasty Guides."
Ingredients:
1 large Russet potato
1 clove garlic, roughly chopped
8 – 10 pearl onions
5.5 oz. oyster mushrooms, sliced
1/4 cup dry white wine
1/2 cup vegetable or chicken stock
Salt and pepper, to taste
1 Tbsp chopped fresh parsley
Directions: Peel the potato and place in a sauce pan. Cover with water and top with a lid. Bring to a boil and cook about 20 to 25 minutes or until just about fork tender (soft and almost cooked through, but not totally mash-able).
Allow the potatoes to cool a bit, then thinly slice. Sprinkle the slices with salt and pepper, to taste. Arrange the potato slices on the bottom of a lightly greased personal-size baking dish, such as a 16 oz. Pyrex dish, layering as needed.
Meanwhile, prepare the pearl onions. Bring a couple inches of water to boil in a small saucepan. Add the onions and cook for 1 minute. Drain, then place onions in an ice bath. Once cooled, drain and then remove the skins. (TIP: Slice a bit off the root end, then squeeze the onion from the bottom. If you're lucky, it'll slip right out of its skin.)
Add olive oil to a medium skillet over medium heat. Add the onions and sauté until they've started to brown, about 3 minutes. Add the garlic and cook for 30 seconds.
Reduce heat to medium and add the mushrooms. Season with salt and pepper, to taste. Cook, stirring occasionally, for 5 minutes. Add the wine and stock and bring to a boil. Cook for 2 minutes.
Add the onion and mushroom mixture to the top of the potatoes in a baking dish. Bake at 325°F for 15 minutes. Sprinkle with parsley and serve.
---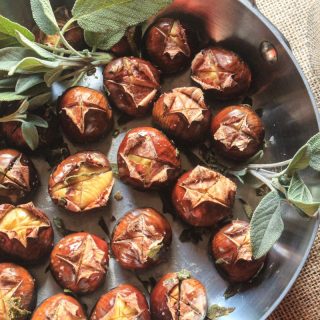 Roasted Chestnuts with Sage & Wild Mushroom Olive Oil
Sage is a flavor if the holiday season, and it pairs beautifully with the earthy yet sweet notes of roasted chestnuts. The wild mushroom flavor of our sage & wild mushroom olive oil is light, allowing the sage to shine through. All the flavors work well together. Inspired by Eat Your Beets. Serves 4 to 6.
Ingredients
Ingredients:
1

lb.

fresh chestnuts

1/2

cup

fresh sage leaves

roughly chopped, plus more, for garnish

Sea salt
Instructions
Set a pot of 4 to 5 cups of water to boil. Meanwhile, rinse chestnuts and pat dry. Make a crisscross slit on the domed side of the chestnuts with a thin, sharp knife.

Add chestnuts to a large bowl and cover with boiling water. Allow to sit for 3 minutes; drain.

Place chestnuts in a large bowl; toss with olive oil, chopped sage and salt, to taste.

Add chestnuts — crisscross side up — oil and sage to a large sauté pan. Roast for about 25 minutes or until the shells look as if they are about to peel off where the crisscross was made. Sprinkle with more salt and drizzle with more oil, if desired. Garnish with fresh sage. Cool slightly before peeling.
Notes
Sigona's olive oils and balsamics are available in both our markets and online at www.sigonas.com.
---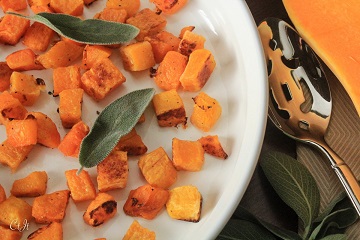 Sage-Roasted Butternut Squash
Roasting butternut squash brings out its natural sweetness as the sugars caramelize. Sage pairs well with the earthy flavor of the squash and gives the dish a depth of flavor. This is a delicious way to serve butternut squash as a side for almost any meal. Add any leftover squash to salads or reheat for another meal. Inspired by Food & Wine. Serves 2 to 4.
Ingredients:
Directions: Preheat the oven to 425° F.
Spread out the diced butternut squash and sage on a large rimmed baking sheet. Drizzle with olive oil, season with salt and pepper and toss to coat evenly.
Spread the ingredients out in a single layer and roast in the oven for about 40 minutes, tossing half way through, until tender and lightly browned. Transfer to a serving dish and enjoy.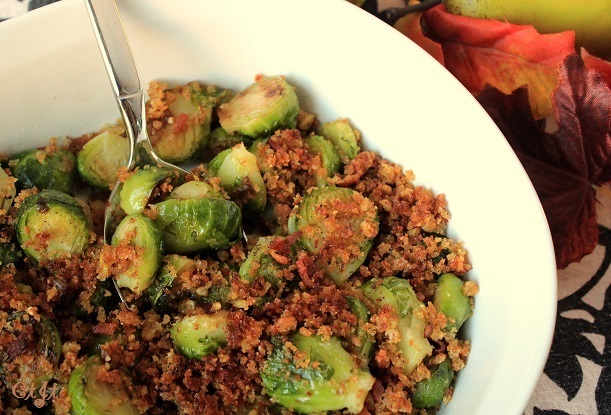 Brussels Sprouts with Bacon, Shallots and Toasted Breadcrumbs
Thanks to the bacon, this quick dish features a lot of flavor with minimal ingredients. Bacon makes everything better! If you truly do not care for Brussels sprouts, try this with broccoli or cauliflower. Adapted from Cooking Light. Serves about 6.
Ingredients:
2 or 3 slices bacon
4 large shallots, thinly sliced
2 lbs. Brussels sprouts
1 cup water
Salt and pepper, to taste
About 2/3 to 3/4 cup fresh bread crumbs (pulse a slice or two of bread in a food processor)
3 Tbsp + enough for greasing pan Sigona's Fresh Press Extra Virgin Olive Oil (Mix it up! Try Sigona's Wild Mushroom & Sage Olive Oil or Sigona's Herbes de Provence Olive Oil)
Directions: Remove a layer or two of the dark outer leaves from the Brussels sprouts. Trim the end of the sprouts then cut the sprouts in half. Set aside.
Cook bacon in a large skillet over medium heat until crisp. Remove bacon from pan, reserving drippings; crumble, set aside.
Increase heat to medium-high. Add shallots to bacon drippings in pan; sauté for 2 minutes or until tender, stirring occasionally. Add Brussels sprouts and 1 cup water; bring to a boil. Using aluminum foil, loosely cover the pan; cook 6 minutes or until Brussels sprouts are almost tender. Uncover and remove from heat. Season with salt and pepper; toss to combine. Spoon Brussels sprouts mixture into a 2-quart broiler-safe glass or ceramic baking dish greased with a bit of olive oil.
Preheat oven broiler; position a rack in the middle of the oven.
Heat 3 tablespoons olive oil in a skillet over medium-high heat. Add breadcrumbs, season with salt and pepper; sauté for 2 minutes or until toasted, stirring frequently. Add cooked, crumbled bacon to toasted breadcrumb mixture. Sprinkle the breadcrumb mixture over Brussels sprouts mixture. Broil 2 to 3 minutes or until golden and thoroughly heated. Serve warm.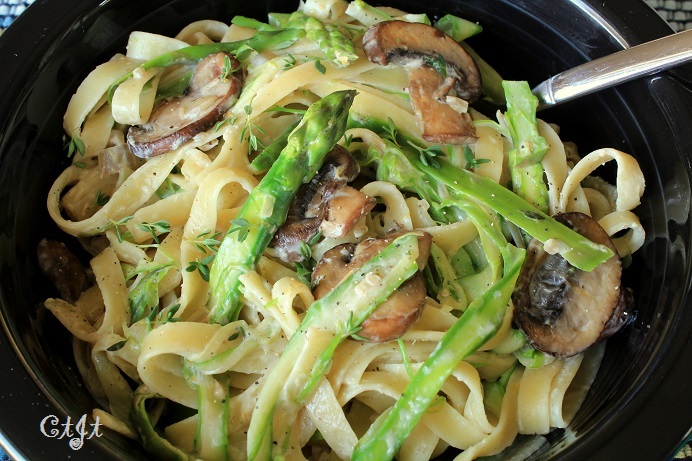 Creamy Fettuccine with Shaved Asparagus and Crimini Mushrooms
Sometimes the best way to use some of spring's finest is in a comforting pasta dish. Using fresh pasta makes it so you can have this dish on the table in about 20 minutes. Adapted from Cooking Light. Serves 4 to 6.
Ingredients:
2 Tbsp Sigona's Fresh Press Extra Virgin Olive Oil (Mix it up! Try Sigona's Wild Mushroom & Sage Oil)
1 shallot, minced
4 sprigs fresh thyme, striped from the stem and lightly chopped, setting about 1/2 tsp aside for sprinkling
Salt and pepper, to taste
5 to 6 oz crimini mushrooms, sliced (about ¼-inch thick)
3/4 cup chicken stock
3/4 lb asparagus (about 3/4 a bunch), ends trimmed and stalks shaved thin strips using a vegetable peeler, slice heads in half, if desired
1 pkg (about 12 oz) locally made fresh fettuccine Saporito Fine Pasta Co.
A splash of half-and-half (about 3 to 4 Tbsp)
1 tsp lemon zest
4 oz crème fraiche, at room temperature
Directions: Heat oil in a large skillet over medium-high heat. Add shallots, thyme and mushrooms; season with salt and pepper. Sauté for 4 minutes. Add chicken stock and bring to a boil; reduce heat, and simmer until liquid is reduced by half (about 2 minutes). Remove from heat.
Bring a large pot of water to a boil to cook the pasta. Add pasta to pan; cook 2 minutes. Add asparagus; cook 1 to 2 minutes more. Drain.
Return mushroom mixture to medium-high heat; add half-and-half and zest. Add crème fraiche, season with salt and pepper and then stir mixture together until smooth. Add mushroom mixture to pasta mixture in Dutch oven; toss to combine. Season well with salt and pepper, to taste, and top with additional thyme, if using.