One Pan Dinner: Lemon-Garlic Roasted Wild Halibut and Asparagus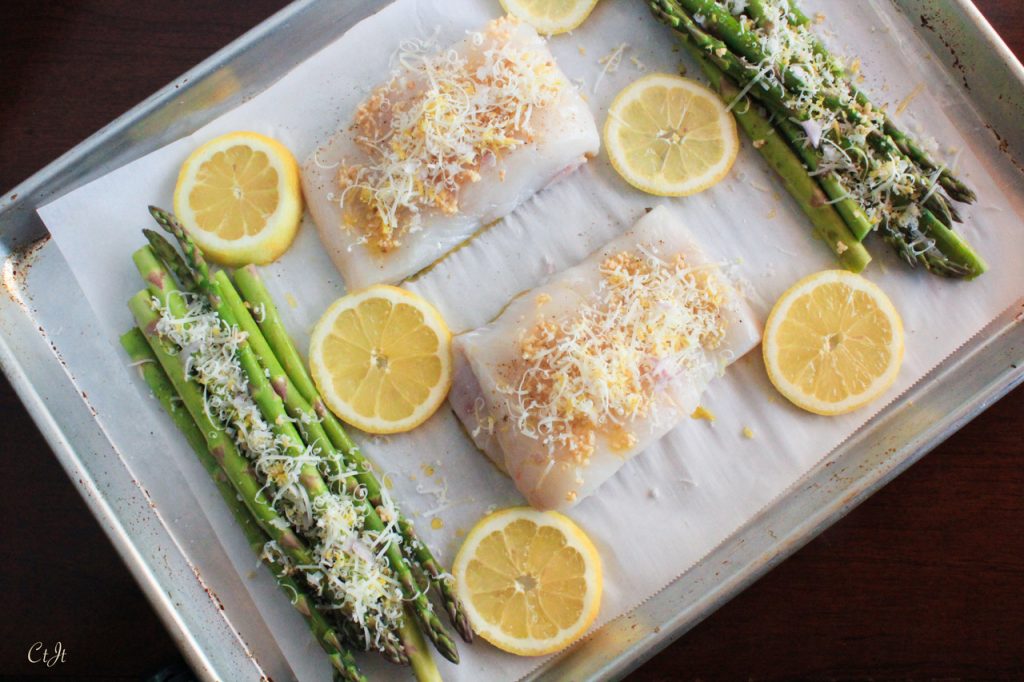 Sheet Pan Dinner: Lemon-Garlic Roasted Wild Halibut and Asparagus
One sheet pan is all you need for this fantastically delicious and easy weeknight dinner. It's great for those on a Keto diet, and it's also gluten-free. Our halibut is wild and line-caught, and the asparagus is in season now, all of which makes this dish even better for you and your palate. Adapted from Julia's Album. Serves 2.
Ingredients:
About 1 lb. fresh halibut, sliced into 2 fillets
1/2 to 3/4 lb. fresh asparagus (about half a bunch)
1 lemon, zested and sliced
Salt and pepper, to taste
4 cloves garlic, minced
1 Tbsp finely minced shallot
1/4 cup, plus 2 Tbsp freshly shredded Parmigiano Reggiano, divided
2 Tbsp fresh parsley, roughly chopped
Lemon slices, for garnish
Directions: Preheat oven to 400°F. Line a rimmed baking sheet with parchment paper. Place the halibut fillets side-by-side on the middle of the baking sheet, flanked by piles of asparagus on each side. Drizzle the fish and asparagus with olive oil and season with salt & pepper. Give the asparagus a gentle toss.
Mix together the minced garlic and shallot, then sprinkle on top of the asparagus and fish. Sprinkle on the lemon zest and finish with 1/4 cup Parmigiano Reggiano.
Bake the fish and asparagus for 12 to 15 minutes or until the halibut is cooked through and flakes easily.
To serve, use a large metal spatula to lift a pile of the asparagus from the baking sheet and place on an individual serving plate. Use the spatula to lift a piece of fish from the baking sheet and then lay it atop the asparagus on the serving plate. Repeat with remaining asparagus and fish.
Sprinkle the servings with remaining cheese and chopped parsley. Garnish with lemon slices.