In the Kitchen with Sigona's Featuring: Wild White Sea Bass
Pan-Seared Wild White Sea Bass with a Summer Salsa
Wild white sea bass is a meaty fish, which produces thick fillets with a flavor that's mild and slightly sweet. It stands up to pan-searing or even grilling, and is delicious with served with a flavorful accompaniment, such as this summer salsa. Serves 4.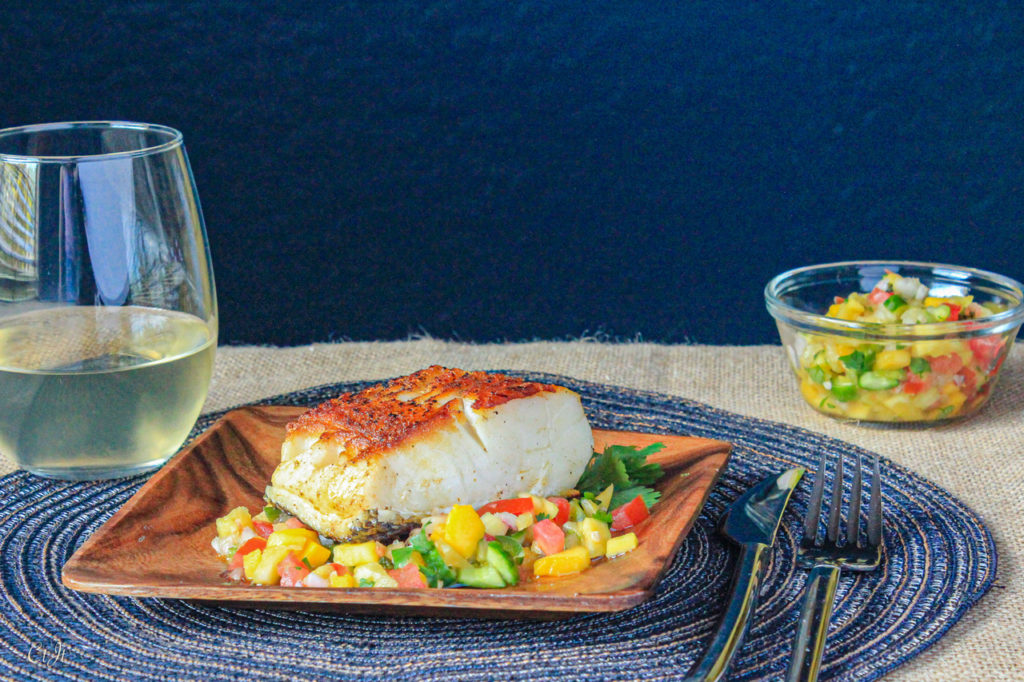 Summer Salsa:
1 cup diced fresh mango
1 cup diced fresh pineapple
1 small tomato, seeded and diced
1 small shallot, diced, or 2 to 3 Tbsp diced red onion, to taste
1/2 cup diced, seeded cucumber
1/4 cup diced. seeded bell pepper
3 Tbsp minced fresh cilantro (use mint or a combination of the herbs, per preference)
Optional: 1 to 2 Tbsp minced, seeded jalapeño
2 Tbsp fresh lime juice
A pinch of salt, if needed
Seared Sea Bass
2 pieces wild white sea bass, skin on; about 4 to 6 oz each,
Salt and pepper, to taste
2 Tbsp Sigona's Fresh Press Extra Virgin Olive Oil, plus more for drizzling
Directions: Stir all summer salsa ingredients together in a bowl and allow mixture to rest for at least 20 minutes, while fish is prepared, so the juices release and the flavors meld.
Season both sides of the fish with salt and pepper. Heat olive oil in a large skillet over medium-high heat. When hot, add fish, skin-side down, and cook about 4 minutes. Flip once and cook another 2 to 4 minutes or until it has a nice golden crust and is cooked to desired doneness. If fish needs to cook longer, reduce heat to medium or medium-low and cook about 2 minutes more.
To serve, drizzle a little olive oil in a zig-zag motion on 2 individual serving plates. Spoon a heaping cup of the salsa onto the middle of the plate and place the fish on top. Serve immediately with remaining salsa on the side.