August Oil & Balsamic Sale: Must Try Recipes!
Summer Slaw with Sigona's Golden Pineapple White Balsamic
Crunchy and tangy with a little kick and an Asian twist, this slaw is perfect for fish, such as wild king salmon, or pulled pork. This is a vegan-friendly slaw, as it is made sans mayo, but don't worry about missing the creamy factor; the balsamic helps all the flavors to all meld deliciously! Inspired by The Olive Oil & Vinegar Lover's Cookbook. Serves about 6.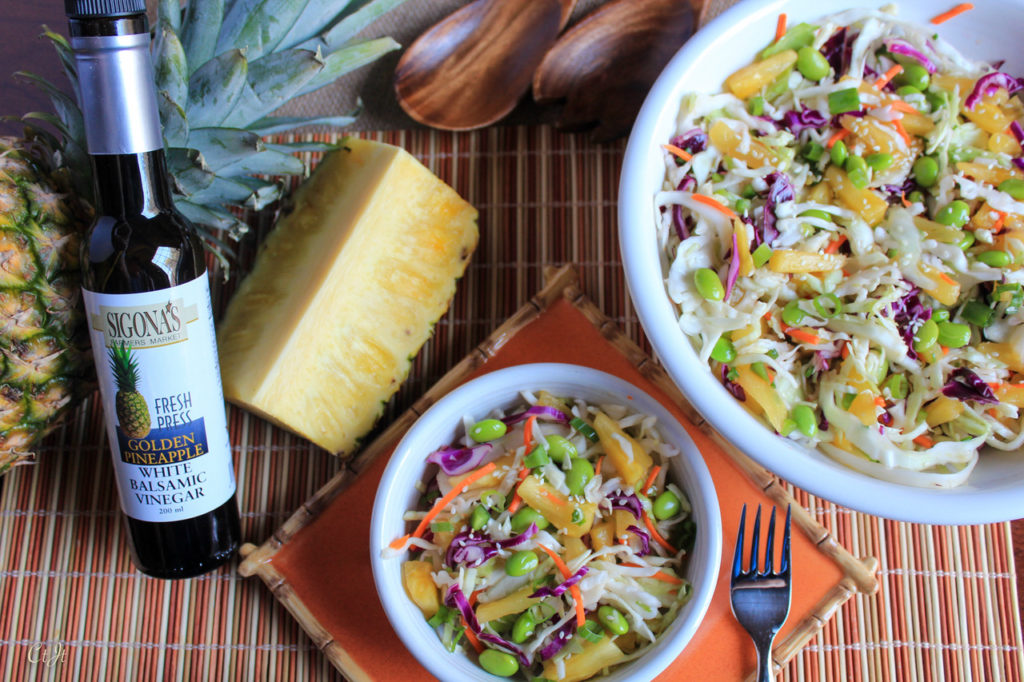 Ingredients:
4 cups thinly shredded green cabbage
2 cups thinly shredded red cabbage
2 carrots, shredded or julienned
1 small jalapeno, seeded and minced
1 cup diced fresh pineapple
3/4 cup shelled edamame
3 green onions, sliced diagonally
3 Tbsp Sigona's Golden Pineapple White Balsamic
1 Tbsp fresh lime juice
1 to 2 tsp coconut aminos, to taste (alternatively, use gluten-free soy sauce or a pinch of salt)
Black pepper, to taste
Optional: sesame seeds for garnish
Directions: In a large bowl, toss together the cabbage, carrots, jalapeño, pineapple, edamame and green onion.
In a small bowl, whisk together the balsamic, lime juice and coconut aminos. Pour over the slaw and toss well to coat. Season with pepper. Set slaw aside to allow the flavors to meld for about 20 minutes.
Just before serving, give the salad another toss to incorporate all the juices. Garnish with sesame seeds, if desired.
Mexican Street Corn Salad with Sigona's Smoky Chipotle Oil
With these ingredients combined, you'll be the hit of the summer cookout. The smoky chipotle oil gives this Elote some fantastic flavor and a hint of heat. This is a great side for taco Tuesday or even seared white sea bass. It's easy to make this a vegan dish by using a vegan mayonnaise and leaving the cojita off or simply on the side. Serves 4 to 6.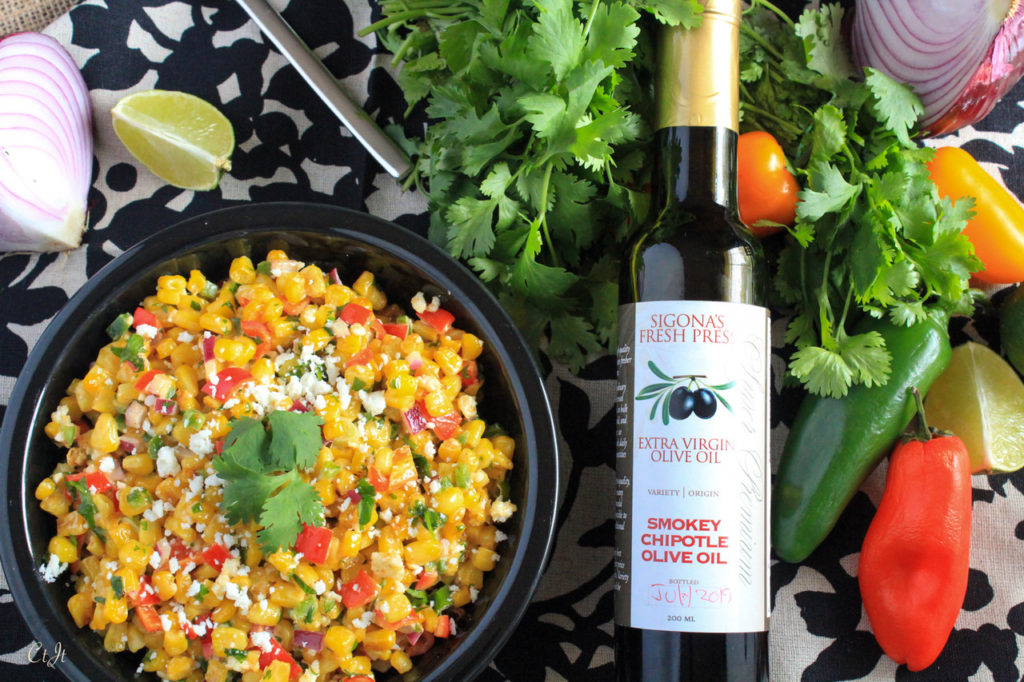 Ingredients:
6 ears corn or about 4 cups of kernels*
About 1/4 cup plus 1Tbsp Sigona's Smoky Chipotle Oil
Salt and pepper, to taste
4 green onions, diced
1 jalapeño, seeded and minced
1/3 cup diced red onion
1/2 cup diced sweet mini peppers (about 5 mini peppers)
1/2 cup chopped fresh cilantro
1/4 cup crema, plain yogurt, sour cream or mayo (try it with vegan mayo if you wish!)
1/2 tsp paprika
Juice of one lime
Optional: 1/2 to 3/4 cup crumbled cotija, divided
Directions: Preheat an outdoor or indoor grill over medium-high heat. Rub each ear with olive oil and season with salt and pepper. Place on grill to cook, rotating ears about every two to three minutes to cook all sides or until ears have nice grill marks. Remove and set aside until cool to the touch. Shave corn off the cobs into a large bowl.
*If using just kernels, sauté the kernels in the chipotle oil in a large sauté pan over medium-high heat for about 5 to 7 minutes, stirring frequently. Transfer to a large bowl.
To the bowl of corn, add the green onions, jalapeño, onion and peppers.
In a small bowl, mix together the remaining tablespoon smoky chipotle oil with the crema (or whichever you choose) and the paprika. Fold the mixture into the corn salad. Stir in the lime juice and the cojita, if using.
Just before serving, add a sprinkle of cojita on top to finish the dish.
Shrimp, Watermelon and Feta Skewers with a Blenheim Apricot and Blood Orange Vinaigrette
Watermelon and Feta are a delicious combination; the sweet and salty pair also plays well with shrimp and arugula. The combination of all these flavors, topped with our Blenheim apricot and blood orange vinaigrette, would make a nice salad, but we love this skewer presentation. Skewering guarantees all the flavors are together in one perfect bite. Makes 12 skewers, serves 6.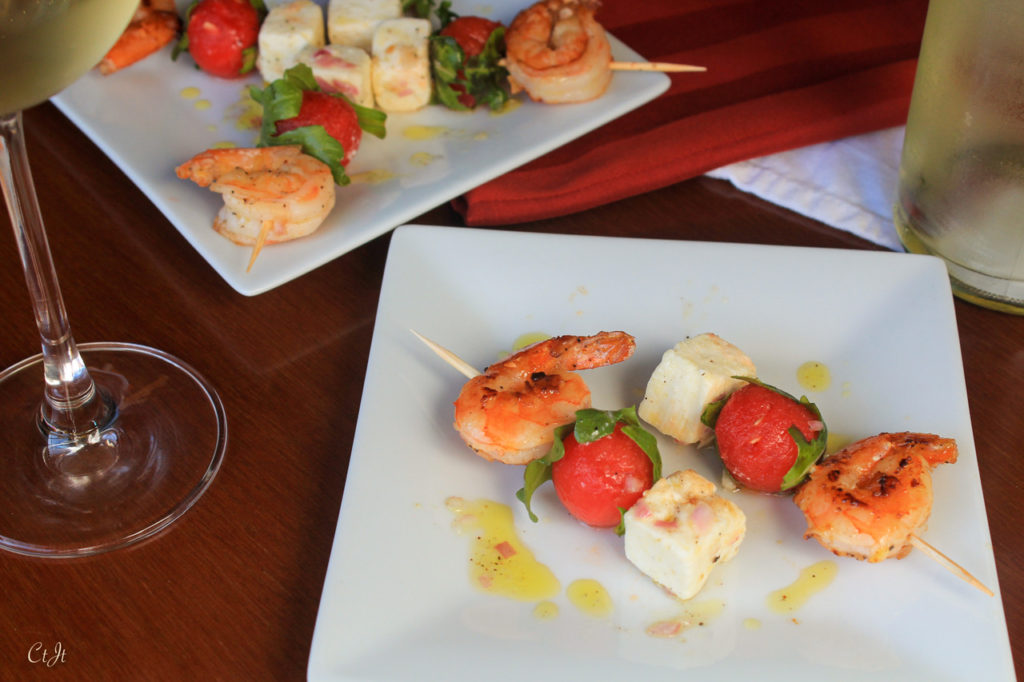 Ingredients:
2 Tbsp. minced shallot
Salt and pepper, to taste
About 1/4 lb. block Feta cheese, cut into 12 individual 1-inch cubes
12 large shrimp, peeled and deveined, tail optional
1 mini watermelon
12 leaves of arugula
Special equipment: 12 wooden skewers, at least 4 inches long
Directions: In a small bowl, whisk together the balsamic, shallot, salt and pepper. While whisking, drizzle in the olive oil to emulsify the mixture.
Place the feta cubes in a shallow bowl and top with about 1/3 of the vinaigrette. Gently toss to coat well. Set aside to allow the cheese to marinate while preparing the rest of the ingredients.
Place the shrimp in a shallow bowl and top with about 1/3 of the vinaigrette. Gently toss to coat well.
Heat a medium skillet over medium-low. Pour in the shrimp their marinade, cooking the shrimp until pink and cooked through, about 5 minutes total, turning once. Remove the shrimp to a plate and allow to cool to the touch.
Meanwhile, wash off and slice open the melon. Use a melon baller to scoop out 12 balls of watermelon, about 1" in diameter. Alternately, slice the melon into 1" cubes. Save remaining watermelon for another purpose.
When ready to skewer the ingredients, begin by threading on a shrimp. Next, gently wrap an arugula leaf around a melon ball/cube and thread it on the skewer, piercing the arugula on the top and bottom. Complete the skewer with a cube of the feta.
Place the skewers on a serving tray (either standing or laying flat), drizzle lightly with some of the remaining vinaigrette and serve. Any remaining vinaigrette can be served on the side or saved for another purpose.