In the Kitchen with Sigona's Featuring: Dried Heirloom Hachiya Persimmons
Chai-Spiced Pumpkin Muffins with Dried Heirloom Hachiya Persimmons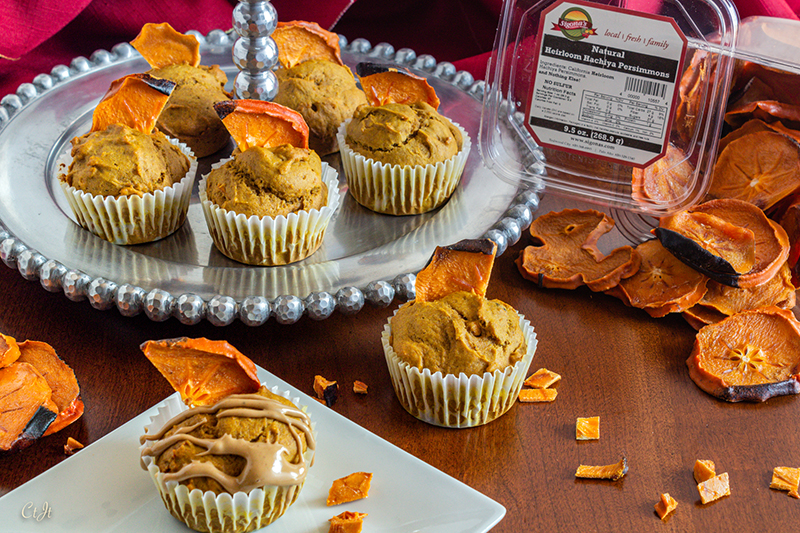 Pumpkins and persimmons are telltale signs of fall in the Bay Area, and we love how these two orange orbs work together in these warm-spiced muffins! Using coconut oil makes these muffins dairy-free, but you can use butter if you prefer. Add the optional espresso balsamic drizzle for bonus flavor and deliciousness. Inspired by Basil & Buttercream. Makes 12 muffins.
Ingredients:
1 1/2 cups all-purpose flour
1 tsp baking soda
1/2 tsp baking power
1/2 tsp salt
1/4 tsp nutmeg
1/4 tsp cardamom
1/4 tsp cloves
1 tsp ginger
1 tsp cinnamon
1/2 cup melted coconut oil or preferred cooking oil
1/2 cup packed brown sugar
1 cup pumpkin puree
2 large eggs
1 tsp vanilla
3 oz. dried heirloom hachiya persimmons, 1/4" diced (about 3/4 cup)
Halved slices of whole dried persimmon slices, for garnish
Optional Espresso Balsamic Drizzle:
1 cup powdered sugar
3 tsp Sigona's Espresso Balsamic
3 tsp water or milk (your choice)
a pinch of cinnamon
a pinch of nutmeg
a pinch of cloves
a pinch of cardamom
Directions: Preheat oven to 350°F. Grease or line a 12-cup muffin tin.
In a medium bowl mix together the flour, baking powder, baking soda, salt, nutmeg, cardamom, cloves, ginger and cinnamon.
In the bowl of a stand mixer, combine the oil and the sugar. Mix until well combined then mix in the pumpkin. Add the eggs, one at a time. Add vanilla and diced persimmon; stir to combine. Allow mixture to set for 5 minutes then slowly add the dry ingredients to the wet, stirring to mix.
Scoop ~ 1/4 cup portions into each muffin cup. Bake for 15 to 18 minutes or until a toothpick comes out clean. Quickly remove muffins from the tin to cool on a wire rack.
Optional drizzle: Combine the powdered sugar, balsamic, liquid and spices, stir well to combine. If needed, to reach a desired consistency, add a drop or two more of liquid at a time. Taste and adjust seasoning if needed. Drizzle over muffins after they've cooled at least 15 minutes.