In the Kitchen Featuring: Fabulous Farro & Fennel
Lemony Artichoke Farro with Spring Onions and Sigona's Fresh Press Olive Oil

Farro is an ancient grain, with roots in Italy dating back more than 1,000 years. It's a high protein and low glycemic healthy grain. You can use regular lemons instead of Meyer lemons for this dish, but beware of the tartness factor; Meyer lemons are sweeter so you may want to use less juice and zest if using regular lemons. Makes eight 1/2 cup servings.
Ingredients:
2 cups uncooked farro (4 cups cooked), see preparation suggestions below. Use water or chicken stock.
About 2 spring onions, sliced at an angle* (about 2 cups when cut)
4 medium-large artichokes
6 TBL Meyer lemon juice, divided
3 tsp. Meyer lemon zest (from about 1 Meyer lemon)
2 1/2 TBL Sigona's Fresh Press organic Mission extra virgin olive oil (it's a bold oil with a flavor similar to artichokes)
Salt & pepper, to taste
4-6 large basil leaves, julienned
*Spring onions look like fat green onions. They're simply young onions picked early so they have a mild flavor. I like to cut spring onions at an angle for two reason: 1). It gives the dish a classier look. 2). An angle cut makes for more surface area, allowing the onion to absorb more flavor from the dish.
For the farro: There are several different ways to prepare farro. I prefer mine to be more "al dente," so I cook it like rice, using 3 2/3 liquid (chicken stock or water) and 2 cups farro. Mix the two together in a pot and bring to a boil. Reduce to a simmer, cover and cook for about 18-20 minutes until al dente and the liquid is absorbed.
Another method is to cook it as you would pasta. Prepare farro using extra water, about 5-6 cups water for 2 cups farro. Add the farro to boiling water, cook for 15-20 minutes, then drain.
Choose a method, prepare the farro and then set it aside.
For the artichokes: Bring a large pot of water to a boil. Add the artichokes and boil for about 18-20 minutes or until a leaf is easy to remove. Don't overcook the artichokes; you want the cups to be firm, not mushy. Drain and let cool enough to handle. Remove all the leaves (save for another meal or after-work treat) and use a spoon to scrape away the prickly/hairy choke so you're left with the cup (the meaty bottom). Dice the cups into cubes and set aside.
To prepare the dish: Heat 1/2 TBL olive oil in a large skillet over medium high heat. Add the onions and artichokes, and season with salt & pepper. Cook for about 30 seconds then stir in 2 TBL lemon juice. Stir and let reduce for about 30 seconds.
Add the farro and stir to incorporate well. Add in 1 TBL of olive oil and reduce heat to medium. Keep stirring over the heat for about 3 minutes.
Remove from heat and stir in 4-5 TBL lemon juice, another TBL of olive oil, the lemon zest and season with salt & pepper. Stir well to combine and transfer to a serving dish. Sprinkle with julienned basil and serve immediately.
Wine & Citrus-Braised Fennel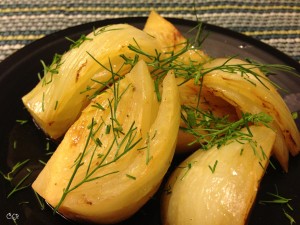 When fresh, fennel has a crisp crunch and forward flavor, but when cooked, either braised or roasted, this veggie caramelizes and becomes rich, sweet and tender. I love it as a side to white meats or fish. Serves 2-4.
Ingredients:
3 fennel bulbs, trimmed and each cut into 6 wedges, fronds reserved
1/2 cup fresh-squeezed orange juice (In a hurry? We sell fresh-squeezed orange juice!)
1/2 cup dry white wine, such as Pinot Grigio
About 1/2 – 1 cup chicken stock, divided
2 cloves garlic, chopped
Salt & pepper, to taste
Directions: Heat the olive oil in a large sauté pan over medium heat. Add in the fennel wedges cook to and lightly brown all sides, about a minute or so per side.
In a bowl, stir together the juice, wine, garlic and about 1/2 cup of the stock. Add it to the sauté pan and bring to a boil, then cover and lower the heat to low. Check from time to time to make sure there is enough liquid (so the fennel doesn't stick). Cook until fennel is tender, about 20 minutes.
Remove from heat, season to taste and sprinkle with about 1/3 cup chopped fennel fronds. You can also use unchopped fresh fronds as a garnish.
Orzo & Citrus Salad with Fennel and Feta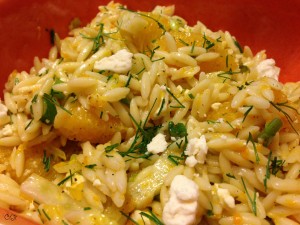 The orzo perfectly picks up the flavors of this simple, citrusy vinaigrette, and the fennel and orange add a lovely fresh taste, not to mention a healthy dose of vitamin C. Adding sliced kalamata olives adds a pop of flavor, not to mention making it a very Sicilian dish. Serve it alongside some Ahi tuna. Serves 3-4 as a side. Inspired by Clean Eating Magazine.
Ingredients:
5 oz. orzo
1 TBL white wine vinegar
Salt and pepper, to taste
1 large Navel orange (try our pesticide-free oranges from Pleasant Oaks Ranch — they're at their peak right now!), zested, segmented* and excess juice reserved
1/4 medium bulb fennel, cored and thinly sliced, plus 1 TBL fronds, chopped
3 green onions, thinly sliced
1/3 cup crumbled feta
1/3 cup sliced kalamata olives (optional)
Directions: Cook orzo according to package directions. Drain and set aside.
Meanwhile, in a large bowl, whisk together oil, vinegar, salt and pepper. Zest the orange and add the zest to the olive oil mixture.
*Segmenting Citrus: It takes time and patience, but is well worth the effort! To do this, cut the top and bottom off of your citrus fruit. Slice the peel from the fruit, top to bottom, getting as close to the flesh as possible. Once the peel is removed, slice any remaining pieces of white pith from the fruit so no white remains. Then, slice closely along the sides of each membrane to neatly remove the citrus segments in between. And there you have it!
Using a small knife, slice away the remaining orange peel, following directions for segmenting citrus above. Working over a separate medium bowl to catch juices, slice out the orange segments, cut in half and set aside. Squeeze the juice from remaining membrane into the vinaigrette mixture and whisk to combine.
Add the drained orzo to the vinaigrette and toss well. Fold in the orange segments, fennel, fronds, green onions and feta. Serve at room temperature or chilled.