Absolutely Herbaceous Gift Set Recipes
Add a little flavor to your dishes with one simple ingredient: Sigona's herb-infused olive oils and balsamics! This gift set includes 60ml sampler-sized bottles of the following:
Sigona's Oregano Infused White Balsamic
Sigona's Garlic Oil
Sigona's Herbes de Provence Olive Oil
Sigona's Basil Oil
Sigona's Neapolitan Herb Balsamic
Sigona's Cilantro & Roasted Onion Oil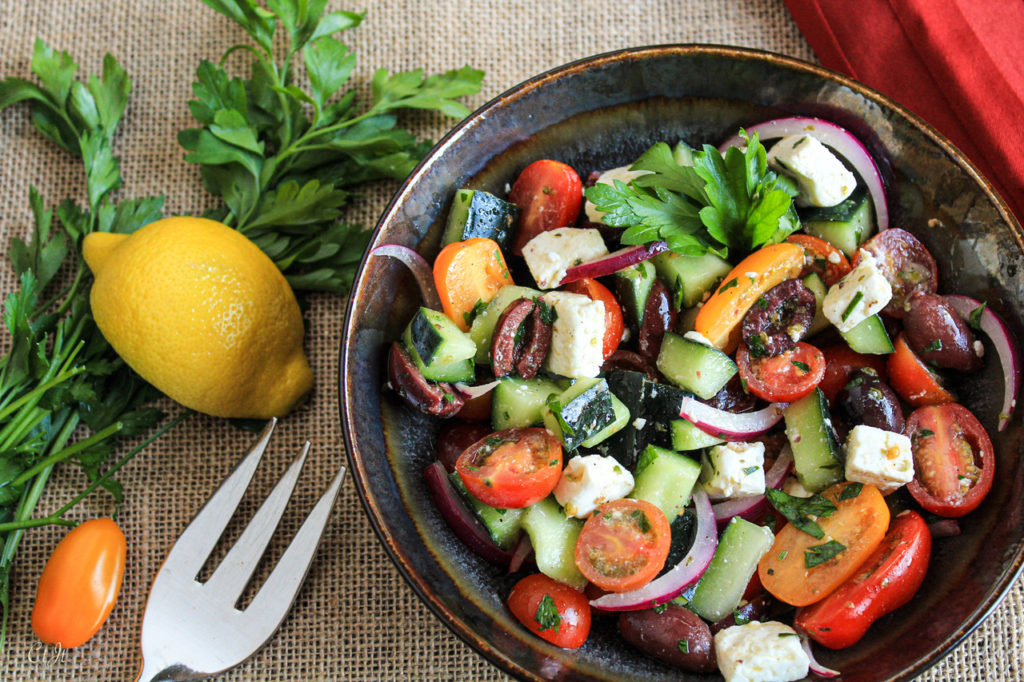 Greek Salad with Baby Heirloom Tomatoes and an Oregano Balsamic Vinaigrette
If you're looking for a way to make this dish vegan friendly or simply to cut out the dairy, try adding cubed tofu. The tofu adds the same richness that feta lends this dish, and also adds extra protein. Adapted from Bobby Flay Fit. Serves 4 to 6.
Ingredients:
4 to 6 oz. block feta, cubed, or firm tofu, drained and pressed (**see notes below)
1 cucumber, seeded and diced
1 pint locally grown, organic, baby heirloom tomatoes, halved
1/4 to 1/2 red onion, thinly sliced
1/3 cup halved kalamata olives
2 Tbsp fresh lemon juice
2 Tbsp Sigona's Garlic Oil
2 Tbsp Sigona's Oregano White Balsamic
2 Tbsp chopped fresh parsley, plus more for garnish
Salt and pepper, to taste
**Tofu has a high water content so it needs to be drained well. Firm tofu benefits from being placed on an absorbent surface to release more of its moisture for a minimum of 10 minutes before being used, particularly if being cooked. For this recipe, because it is not being cooked, we recommend draining the water from the package then placing the tofu on an absorbent surface, such as layered paper towels or a dish towel, and placing another plate on top, weighing it down with heavy cans. This adds pressure and assists with draining. Allow to drain this way in the refrigerator for at least 2 hours before slicing.
Directions: In a large bowl toss together cucumber, tomatoes, onion and olives.
In another large bowl, whisk together the lemon juice, garlic oil, oregano balsamic, parsley, salt and pepper. Cube the feta or tofu. Add the pieces to the vinaigrette and gently toss to coat. Allow the cubes to marinate about 5 minutes.
Add the vinaigrette mixture to the large bowl and gently mix all ingredients together. Allow the salad to sit at room temperature for at least 20 minutes before serving, gently stirring up juices from the bottom at least every 5 minutes.
Top with remaining parsley just before serving.
---
Chicago-Style Giardiniera with Sigona's Garlic Oil
This spicy, crunchy, flavorful, marinated condiment is a favorite among those from Chicago and Italy alike. Use it to top your Italian beef sandwiches, a hot dog, burgers…the list goes on and on! The biggest difference between Chicago-style and Italian giardiniera is the brine and marinade; Chicago-style is made with a mix of oil and vinegar, while Italian uses vinegar only. We love using our Garlic Olive Oil to add an extra layer of flavor – just note that olive oil congeals (becomes firm) when refrigerated, so allow the giardiniera to come to room temperature for about 30 minutes before serving so the oil becomes a liquid again. Makes about 3 to 4 cups.
Ingredients:
1 cup diced cauliflower
1 cup diced, peeled carrots
1 cup diced celery
1/2 a red bell pepper, seeded and diced
1 jalapeño, diced
2 to 4 serrano peppers, diced
1 garlic clove
3 Tbsp salt
2 cups water
1/2 cup rough chopped green olives
2 cups Sigona's Garlic Olive Oil
1 tbsp. dried oregano
Directions: Place the prepared cauliflower, carrots, celery, peppers and garlic in a medium bowl. In a separate bowl, whisk together the salt and water until salt is dissolved. Pour over the veggies; cover and allow to sit in the fridge for at least 24 hours.
Drain the vegetable mixture and return to the bowl; stir in the chopped olives. Transfer the mixture, if desired, to a quart jar. In a separate bowl or measuring cup, stir together the garlic oil and oregano. Pour the veggies; cover and refrigerate.
Allow the mixture to marinate at least 24 hours before enjoying. Remember, olive oil congeals when refrigerated, so allow the giardiniera to sit at room temperature for 30 minutes before serving.
---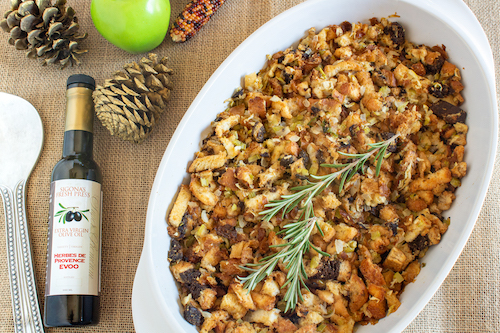 Thanksgiving Stuffing with Herbes de Provence Oil
Some like to stick to "simple is best" when it comes to stuffing for the holidays. Our Herbes de Provence infused olive oil helps keep a this must-have side simple while providing excellent flavor. Inspired by Serves 8 to 10.
Ingredients:
2 stalks celery, diced (about 1 cup)
1 medium onion, diced
Salt and pepper, to taste
2 Tbsp butter
32 oz chicken stock
1 lb. bread cubes for stuffing (use already prepped and dried cubes or make your own*)
1 Granny smith apple, quartered, cored and grated
Directions: Preheat oven to 350°F. Heat olive oil in a large pot over medium heat. Add the onion and celery; season with salt and pepper. Sauté, stirring occasionally, for about 7 minutes or until the onion and celery have softened. Add the butter and stock then bring to a simmer. Turn off the heat and stir in the bread cubes and grated apple. When combined, transfer to a baking dish.
Bake the stuffing for 30 minutes or until stuffing is nicely browned and cooked through. Serve warm.
*DIY Breadcubes for Stuffing: Preheat oven to 300°F. Cube the bread into 1/2" cubes. Spread out the cubes on one or two rimmed baking sheet(s). Place the cubes in the oven and bake, shaking pan about every 10 minutes, until the bread is lightly toasted and is totally dried out, about 40 minutes. Remove from oven and allow to cool completely before bagging or using in a recipe.
---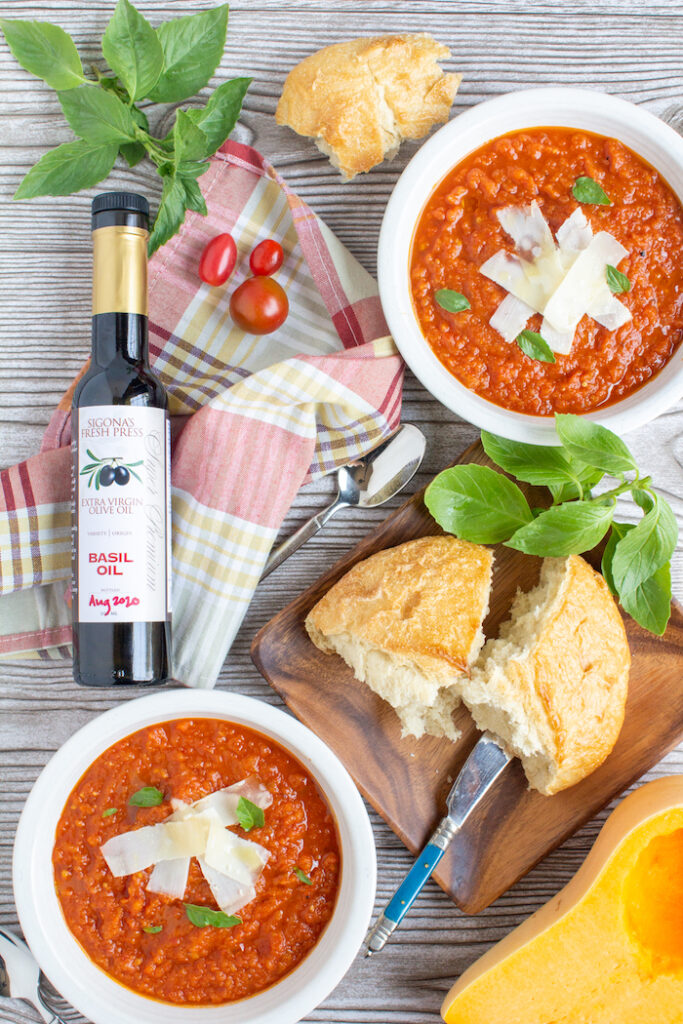 Fire-Roasted Tomato & Roasted Butternut Squash Soup with Basil Oil
Fall is coming, ya'll! Time to bust out the comfort clothes and recipes. It's simple to fire-roast your own tomatoes, but if you run out of time, you can pick up a can of Muir Glen crushed or diced fire-roasted tomatoes, available at Sigona's! This soup is perfect with a chunk of crusty bread. You can even use this as a pizza or marinara sauce, if you'd like! Serves 4.
Ingredients:
Half of a 2 1/2 to 3 lb. butternut squash, seeded
2 Tbsp Sigona's Basil Oil, plus more for drizzling
Flaky salt, to taste
Black pepper, to taste
About 1/8 tsp cinnamon
About 1/8 tsp chili powder
Half a large yellow onion, diced
2 to 3 cloves garlic, minced
18 to 20 Roma tomatoes (or about 2 lb. of another variety), or a 28 oz. can of crushed, fire-roasted tomatoes
1 1/2 to 2 cups vegetable broth
For serving:
Shaved Parmigiano Reggiano
Crusty bread, such as a locally made loaf by Midwife & The Baker
Directions: Preheat the oven to 375°F. With a fork, poke holes in the cut side of the squash. Brush the cut side with 1 tablespoon of the basil oil. Sprinkle with salt, pepper, cinnamon and chili powder. Place on a baking tray, cut side up, and roast for 45 minutes to an hour, or until the center of the squash is fork tender. Allow to cool to about room temperature.
If fire-roasting your own tomatoes, preheat an outdoor grill over medium heat. Brush the grates with oil and add the tomatoes. Grill, covered, over medium heat, rotating the tomatoes every 8 to 9 minutes or until all sides are charred and roasted. Remove to a bowl and cover with foil for about 5 to 10 minutes. Remove the skins and discard. Set tomatoes aside.
Heat remaining olive oil in a large soup pot over medium heat. Add onions and sauté until translucent. Add garlic and cook until fragrant, about 30 seconds. Place the onion mixture along with the tomatoes, canned or DIY, in a food processor (working in batches if necessary) and puree until smooth (a little chunky is ok). Return mixture to the soup pot over low heat.
Scoop butternut squash out from its shell. Add squash and 1/2 cup of broth in a food processor and process until smooth (add a little more broth if necessary). Add squash puree and remaining broth to the soup pot.
Bring mixture to a boil over high heat; reduce to a simmer. Cover and simmer for 20 minutes, stirring occasionally. Add more broth if desired.
To serve, ladle into bowls, drizzle each individual serving with a teaspoon of basil oil and top with shaved parmesan. Serve with crusty bread for dipping.
---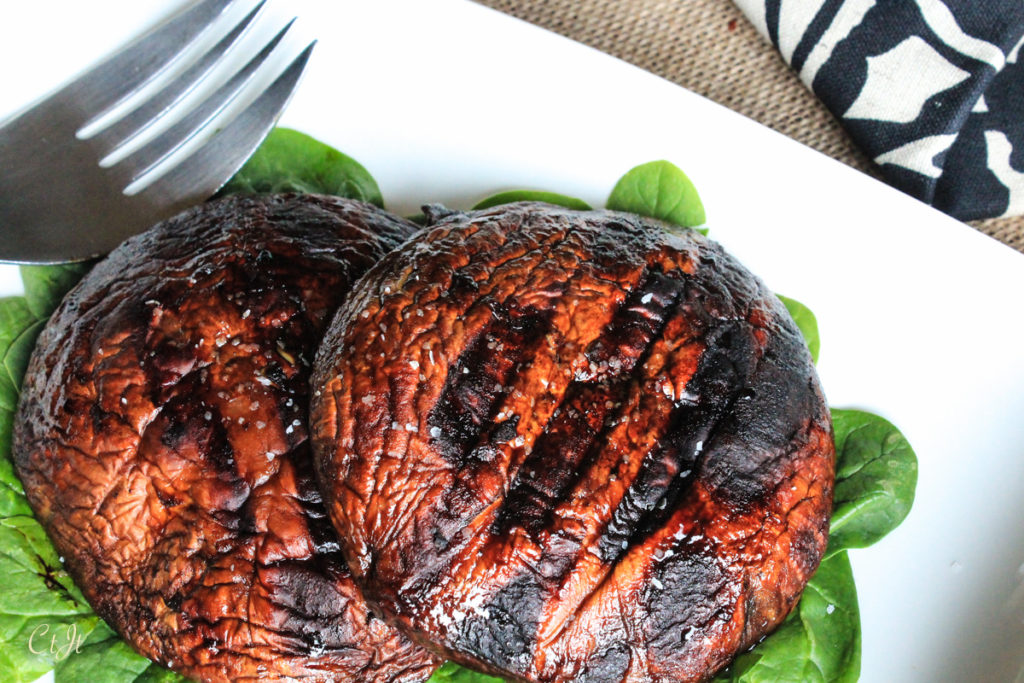 Grilled Portobello Mushrooms Marinaded in Neapolitan Balsamic and Sage & Wild Mushroom Olive Oil
The balsamic and the olive oil are packed with awesomely herbaceous flavor, so this marinade requires just a few ingredients. Use them to build a burger or eat them as you would a steak. Marinates 2 portobello mushrooms.
Ingredients:
1/4 cup Sigona's Neapolitan Herb Balsamic
2 Tbsp fresh lemon juice
1 to 2 cloves garlic, minced
2 tsp. Dijon mustard
1/2 tsp. Kosher salt
1/4 cup Sigona's Wild Mushroom & Sage Olive Oil
Directions: In a small bowl, whisk together the balsamic, lemon juice, garlic, dijon and salt. While whisking, drizzle in the olive oil and mix until emulsified.
Place the mushrooms in a large zip-top bag. Add the marinade, seal and gently toss to coat the mushrooms. Allow to marinate at room temperature for at least 30 minutes; ideally an hour.
Preheat an outdoor grill over high heat. When time to cook, remove the mushrooms from the bag and place on the heated grill. Cook about 5 to 7 minutes a side, turning once.
Serve mushrooms either as you would a steak or make yourself a portobello mushroom burger with all your favorite toppings.
---
Corn Chowder with Hatch Chiles, Bacon and Cilantro & Roasted Onion Infused Olive Oi
This is a hearty, dairy-free chowder that's great any time of the year. Including the cobs infuses even more corn flavor into the chowder. The drizzle of our roasted onion & cilantro infused olive oil adds a nice savory flavor to the dish. Serves about 4.
Ingredients:
4 ears fresh corn
1 bunch green onions
4 slices bacon, cut into 1/2-inch pieces
1 Tbsp, plus more for drizzling, Sigona's Cilantro & Roasted Onion Infused Olive Oil
1/2 cup finely diced Hatch or Anaheim chile (seeded)
1 tsp. kosher salt; more to taste
Freshly ground black pepper, to taste
3-1/2 cups low-salt chicken broth
2 Yukon Gold potatoes (10 to 12 oz.), peeled and cut into 1/2-inch dice (about 2 cups)
1 sprig of fresh thyme
Optional: 2 Tbsp heavy cream
Directions: Husk corn and cut off kernels into a bowl. Use the back side of a knife to scrape the cobs, catching the liquid in the bowl. Discard all but two of the cobs. Trim and thinly slice the green onions, separating the white and light-green from the dark parts; set aside.
Cook bacon in a large soup pot over medium-high heat until browned and crisp. Use a slotted spoon to transfer the bacon to a plate lined with a paper towel. Discard all but 1 tablespoon of the bacon fat. Return pan to medium heat; add 1 tablespoon olive oil, the white and light-green green onions, chile, salt and pepper. Sauté, stirring, until the onions are very soft, about 3 min.
Add broth, corn, corn cobs, potatoes and thyme. Bring to a boil over medium-high heat then reduce to medium low; simmer until potatoes are completely tender, about 15 to 20 min. Discard the corn cobs and thyme twig.
Transfer 2 cups of the mixture to a bowl or blender. Use an immersion blender or standard blender to puree the mixture; return it to the pot. Stir in half of the reserved dark-green onions. If using, stir in the cream. Simmer, stirring occasionally, for a couple of minutes to wilt the onions and blend the flavors. Season to taste with salt and pepper.
Ladle chowder into individual soup bowls. Sprinkled with bacon, reserved green onions and drizzle about 2 teaspoons olive oil over each serving.