Absolutely Herbaceous Gift Set Recipes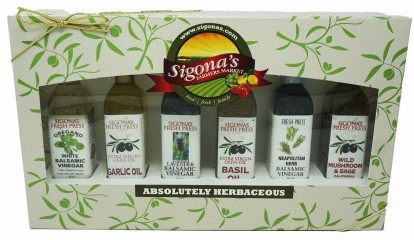 Add a little flavor to your dishes with one simple ingredient: Sigona's herb-infused olive oils and balsamics! This gift set includes 60ml sampler-sized bottles of the following:
Sigona's Oregano Infused White Balsamic
Sigona's Garlic Oil
Sigona's Lavender Balsamic
Sigona's Basil Oil
Sigona's Neapolitan Herb Balsamic
Sigona's Wild Mushroom & Sage Oil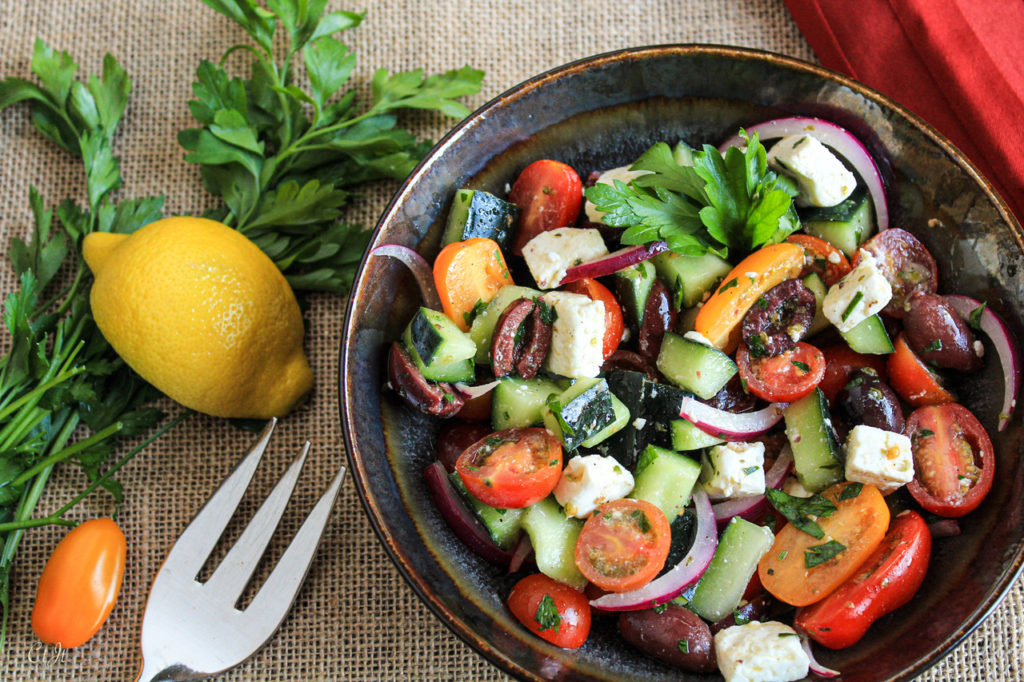 Greek Salad with Baby Heirloom Tomatoes and an Oregano Balsamic Vinaigrette
If you're looking for a way to make this dish vegan friendly or simply to cut out the dairy, try adding cubed tofu. The tofu adds the same richness that feta lends this dish, and also adds extra protein. Adapted from Bobby Flay Fit. Serves 4 to 6.
Ingredients:
4 to 6 oz. block feta, cubed, or firm tofu, drained and pressed (**see notes below)
1 cucumber, seeded and diced
1 pint locally grown, organic, baby heirloom tomatoes, halved
1/4 to 1/2 red onion, thinly sliced
1/3 cup halved kalamata olives
2 Tbsp fresh lemon juice
2 Tbsp Sigona's Garlic Oil
2 Tbsp Sigona's Oregano White Balsamic
2 Tbsp chopped fresh parsley, plus more for garnish
Salt and pepper, to taste
**Tofu has a high water content so it needs to be drained well. Firm tofu benefits from being placed on an absorbent surface to release more of its moisture for a minimum of 10 minutes before being used, particularly if being cooked. For this recipe, because it is not being cooked, we recommend draining the water from the package then placing the tofu on an absorbent surface, such as layered paper towels or a dish towel, and placing another plate on top, weighing it down with heavy cans. This adds pressure and assists with draining. Allow to drain this way in the refrigerator for at least 2 hours before slicing.
Directions: In a large bowl toss together cucumber, tomatoes, onion and olives.
In another large bowl, whisk together the lemon juice, garlic oil, oregano balsamic, parsley, salt and pepper. Cube the feta or tofu. Add the pieces to the vinaigrette and gently toss to coat. Allow the cubes to marinate about 5 minutes.
Add the vinaigrette mixture to the large bowl and gently mix all ingredients together. Allow the salad to sit at room temperature for at least 20 minutes before serving, gently stirring up juices from the bottom at least every 5 minutes.
Top with remaining parsley just before serving.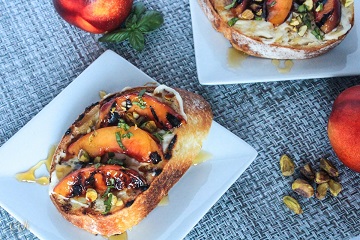 Grilled Nectarine Bruschetta with Honey Mascarpone, Pistachios and Basil Oil
Grilling fruit caramelizes its natural sugars, presenting a greater depth of flavor. The light charring of both the fruit and the bread pairs deliciously with the sweetness of the honey and the tang of the balsamic. You can, of course, easily leave the fruit in a raw state if you wish. Using a fat loaf of bread makes for generous slices of bruschetta. Inspired by Cooking Light. Serves 8 (or 16 if you halve the slices).
Ingredients:
2 nectarines, quartered, pits removed
4 Tbsp. honey from Honey Hole Honey Co., such as wildflower, available at Sigona's, divided
Sigona's Basil Oil, for brushing
1 loaf crusty French or Italian bread, cut on the diagonal into 8 slices about 1-inch thick
2/3 cup mascarpone
Optional: chopped pistachios
About 3 Tbsp. to 1/4 cup Sigona's Lavender Balsamic
8 medium leaves fresh basil, chiffonade or chopped
Directions: Heat a grill pan over medium-high heat.
In a small bowl, combine 1 teaspoon honey and 1 teaspoon water. Add the quartered nectarines and gently toss to coat.
Brush the grill with a little olive oil. Add the nectarines, cut sides down, in a single layer. Grill for about 2 minutes a side or until grill marks are present and fruit has softened a bit. Remove from the grill, allow to cool to the touch, then slice each quarter into 3 or 4 wedges.
In a small bowl, mix together the mascarpone with about 2 tablespoons honey. Set aside.
Increase grill pan heat to high. Brush both sides of the bread slices with olive oil and place on the grill to toast for 1 minute each side. Remove to a plate.
Spread a generous amount of the honey-mascarpone mixture (about 1 heaping tablespoon) on each slice of toasted bread. Top each slice with 3 or 4 nectarine wedges, then add some chopped pistachios, if using.
Plate the bruschetta on a serving platter. Drizzle the entire dish with remaining honey and balsamic. Top with chiffonade basil and serve.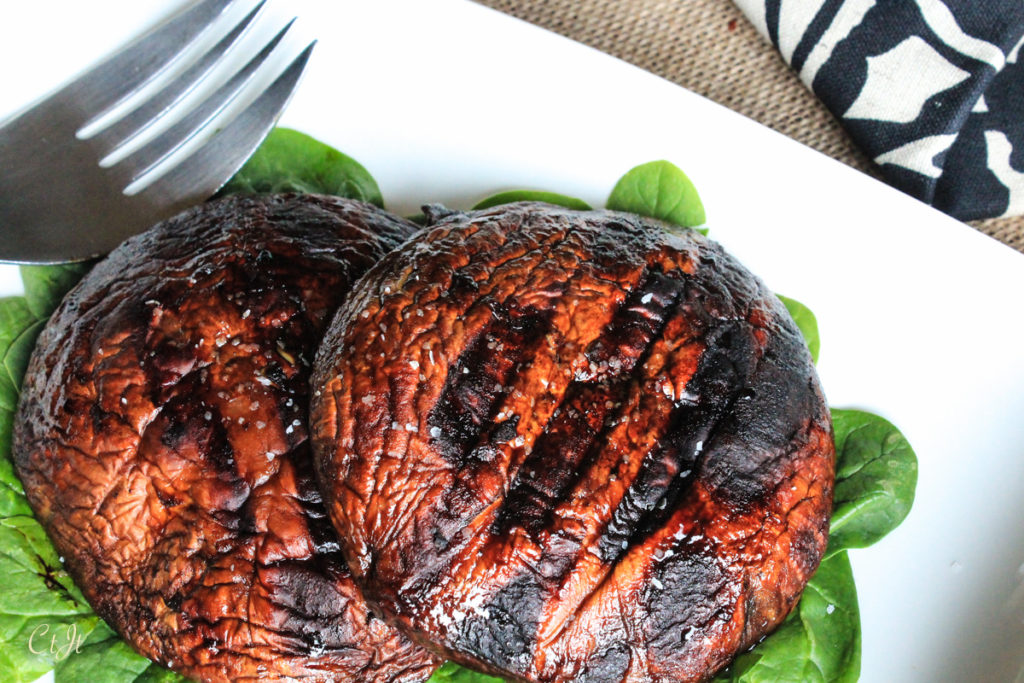 Grilled Portobello Mushrooms Marinaded in Neapolitan Balsamic and Sage & Wild Mushroom Olive Oil
The balsamic and the olive oil are packed with awesomely herbaceous flavor, so this marinade requires just a few ingredients. Use them to build a burger or eat them as you would a steak. Marinates 2 portobello mushrooms.
Ingredients:
1/4 cup Sigona's Neapolitan Herb Balsamic
2 Tbsp fresh lemon juice
1 to 2 cloves garlic, minced
2 tsp. Dijon mustard
1/2 tsp. Kosher salt
1/4 cup Sigona's Wild Mushroom & Sage Olive Oil
Directions: In a small bowl, whisk together the balsamic, lemon juice, garlic, dijon and salt. While whisking, drizzle in the olive oil and mix until emulsified.
Place the mushrooms in a large zip-top bag. Add the marinade, seal and gently toss to coat the mushrooms. Allow to marinate at room temperature for at least 30 minutes; ideally an hour.
Preheat an outdoor grill over high heat. When time to cook, remove the mushrooms from the bag and place on the heated grill. Cook about 5 to 7 minutes a side, turning once.
Serve mushrooms either as you would a steak or make yourself a portobello mushroom burger with all your favorite toppings.