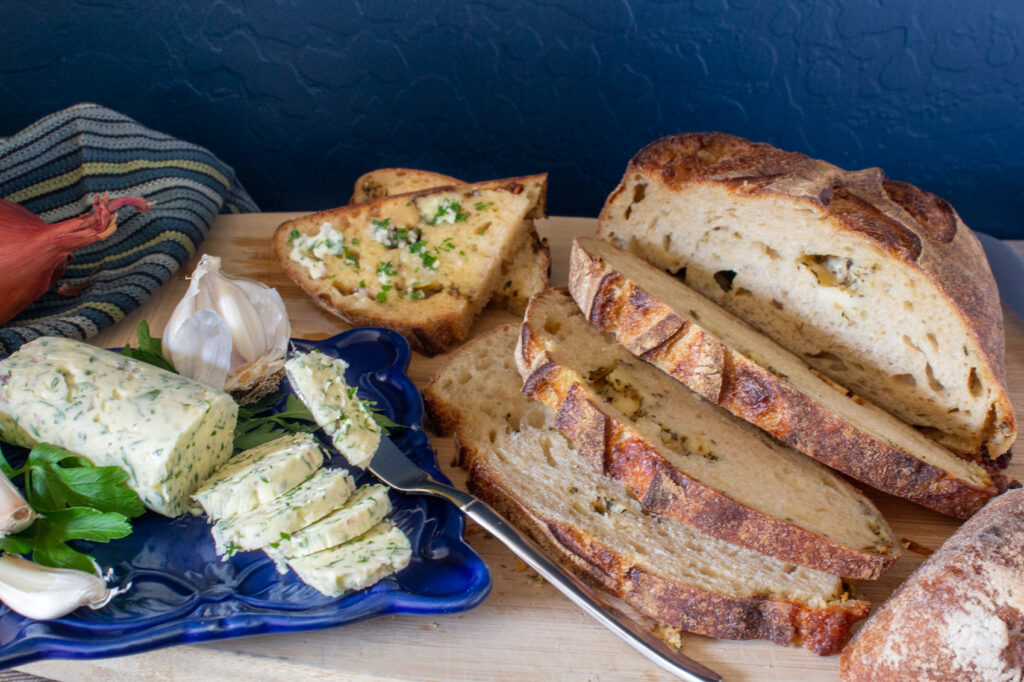 Simple Compound Butter with Garlic & Herbs
Butter adds deliciousness to many dishes, but compound butter, despite its name, is a simple way to add even more flavor to anything from steak to bread or even eggs or potatoes. Add or take away herbs as desired. This is simply fantastic on our Moo-Na Lisa cheese bread, made exclusively for Sigona's by The Midwife & The Baker in Mountain View, Calif. Makes about 1/2 cup.
Ingredients:
1 stick of unsalted butter, (8 Tbsp) softened to room temperature, such as Plugra
3 Tbsp fresh parsley, finely chopped
2 cloves of garlic, finely minced
2 tsp finely minced shallot
Salt and freshly ground black pepper, to taste
Directions: Place the butter in a bowl and use a fork to mix in the herbs and seasonings until incorporated. Scoop the butter out onto a piece of plastic wrap and work quickly to form it into a log, one that is about the length of the original stick of butter, while rolling the plastic wrap.
Pinch and twist together the ends of the wrap. Refrigerate the butter log for at least 1 hour before slicing and serving.
If serving with Moo-Na Lisa cheese bread, pop the loaf in a 350ºF oven for about 8 to 12 minutes to warm it through before slicing.
---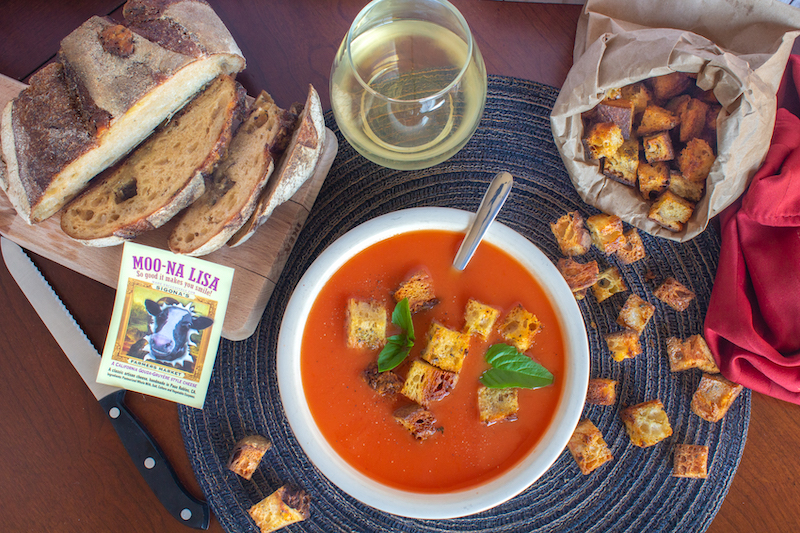 DIY Croutons using Moo-Na Lisa Cheese & Herb Bread
If you have left over fresh bread laying around that's getting a little too hard to enjoy by the slice, cut it into cubes and make it into croutons! Our cheese bread, made locally and delivered straight to our stores, is perfect for fantastically flavored croutons. They're great on salads or in soups. You can even use them for your holiday dressing or stuffing!
Ingredients:
About 2 to 3 cups cubed bread, such as Moo-Na Lisa cheese bread or Chili Cheese bread from The Midwife & The Baker, found only at Sigona's
2 Tbsp Sigona's infused olive oil, such as garlic, Tuscan herb or herbs de Provence
Optional: 1 to 2 tsp dried Italian herbs (if you're using an infused oil, the herbs are optional)
Salt and pepper, to taste
Directions: Preheat oven to 375°F. Line a rimmed baking sheet with parchment.
In a large bowl, toss together the bread with the olive oil, desired spices, salt and pepper. Spread out in a single layer on baking sheet and bake, flipping once, for about 12 to 15 minutes. Keep an eye on them so they don't get overly toasty.
Allow to cool on the pan. Store in an airtight container.