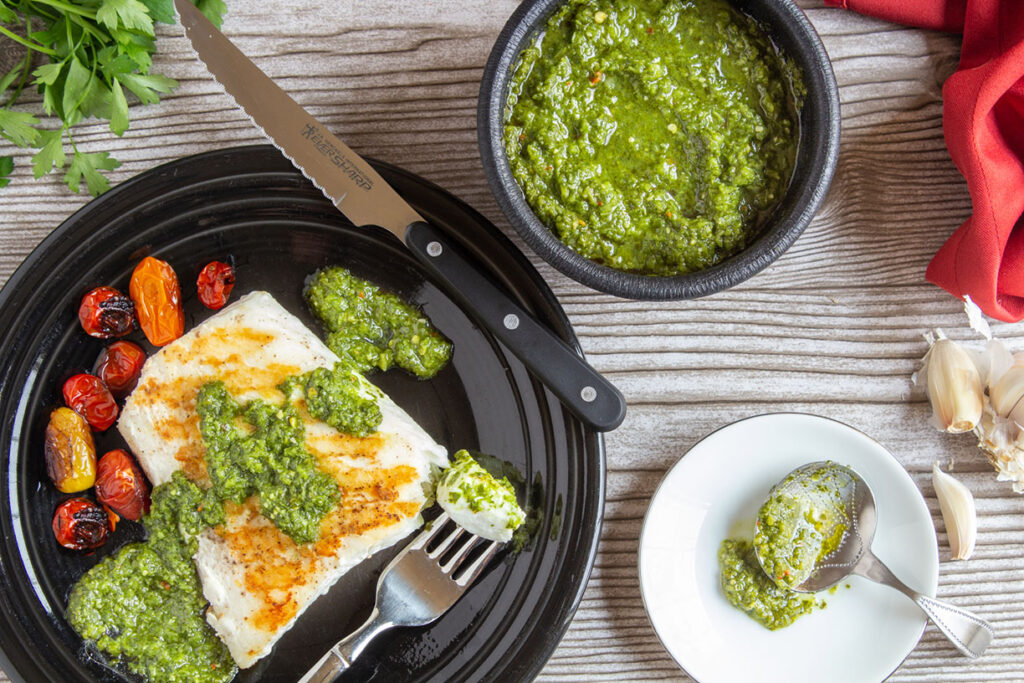 Spooning the bright and herbaceous chimichurri over the top of a simple, grilled halibut adds a delicious flavor to this outstanding fish. Serve the fish with an easy side of blistered mini tomatoes and you have a lovely meal. Serves 2.
Halibut:
2 halibut filets
Salt and pepper, to taste
Sigona's Fresh Press Extra Virgin Olive Oil, for oiling grill
Chimichurri, for serving (recipe follows)
Blistered tomatoes
2 Tbsp Sigona's Fresh Press Extra Virgin Olive Oil (Mix it up! Try one of our infused oils, such as basil or garlic)
1 pint mini tomatoes
Directions: Oil an indoor grill pan or skillet and preheat over medium to medium-high heat. Season both sides of the halibut filets with salt and pepper.
When pan is hot, add the filets and cook for 3 to 4 minutes a side, flipping once, until centers of fillets are just opaque, depending on thickness. (Internal temp should be 145ºF.) Set aside and keep warm.
For the blistered tomatoes, heat the olive oil over medium-high. When hot, add the tomatoes; shake the pan to ensure tomatoes are totally coated in oil. Allow to cook, without moving tomatoes, for 2 to 3 minutes, then shake the pan to rotate tomatoes; cook another 1 to 2 minutes or until blackened spots appear (careful of splattering oil).
To serve: Plate the halibut fillets and some of blistered tomatoes alongside the fish. Spoon some chimichurri over the fish; serve remaining chimichurri on the side.
Chimichurri Sauce (Makes about 1 1/2 cups)
Ingredients:
1 packed cup Italian parsley
1 packed cup cilantro
1/2 cup chopped red onion
2 Tbsp lemon juice
2 Tbsp red wine vinegar
1/4 tsp ground cumin
1/4 tsp crushed red pepper flakes
1/4 to 1/2 tsp salt, to taste
2 to 3 cloves garlic*
1/2 cup Sigona's Fresh Press Extra Virgin Olive Oil (*substitute Sigona's Garlic Oil, if desired, then eliminate or reduce number of garlic cloves)
Directions: Place all ingredients except for the olive oil in a food processor. With the blade running, drizzle in the olive oil, processing until the mixture is smooth.
Chimichurri can be refrigerated, but should be brought back to room temperature before serving.