October Oil & Balsamic Sale Recipes
Each month, we feature a select few of our olive oils and balsamics to offer at a special price. This month we're highlighting our Roasted Sesame Oil, Red Apple Balsamic, & Gravenstein Apple White Balsamic. Stock up now in the store or order them online!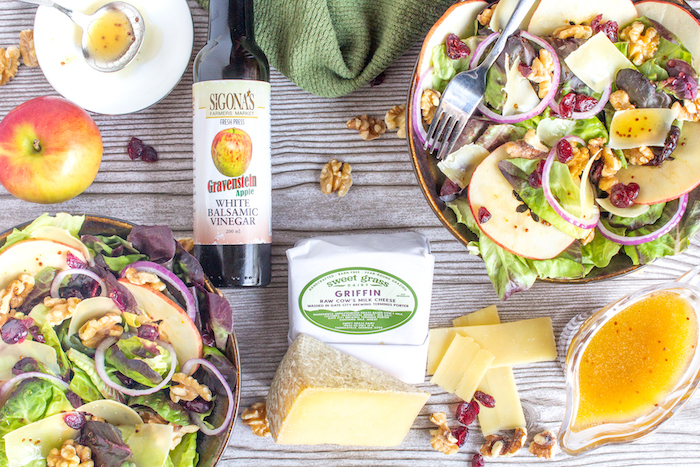 Apple & Walnut Harvest Salad with Sweet Grass Dairy Griffin and a Gravenstein Vinaigrette
Sweet Grass Dairy describes its porter-soaked Griffin cheese as having aromas of malt, earth, maple syrup and coffee beans – all of which can be considered flavors of fall – making this cheese an appetizingly appropriate addition to our apple & walnut harvest salad. The hints of porter in the Griffin perfectly compliment the Gravenstein apple balsamic vinaigrette. Makes about 2/3 cup vinaigrette; serves 4 to 6.
Gravenstein Apple Vinaigrette:
1/4 cup Sigona's Gravenstein Apple White Balsamic (up to 1 Tbsp more, if desired, to taste)
1 Tbsp honey, such as Honey Hole Honey Co., raw, local, unfiltered honey, available only at Sigona's (up to 2 tsp more, if desired, to taste)
1 Tbsp grainy mustard
Salt and pepper, to taste
A pinch of allspice or nutmeg
For the salad:
Red butter lettuce
Thinly sliced apple
Raw, shelled walnuts
Thinly sliced red onion*
Dried cranberries
Shaved Sweet Grass Dairy Griffin cheese
Directions: In a medium bowl, whisk together the vinaigrette ingredients until emulsified. Taste; adjust as desired (aim for a sweet-tart flavor that finishes with distinct, lingering notes of the Gravenstein apple balsamic).
Arrange the lettuce and remaining salad toppings on individual dishes. Allow guests to drizzle on the vinaigrette just before eating.
*Chef's note: to take some of the heat out of red onions, soak slices in ice water for at least 5 minutes. Drain and pat dry.
---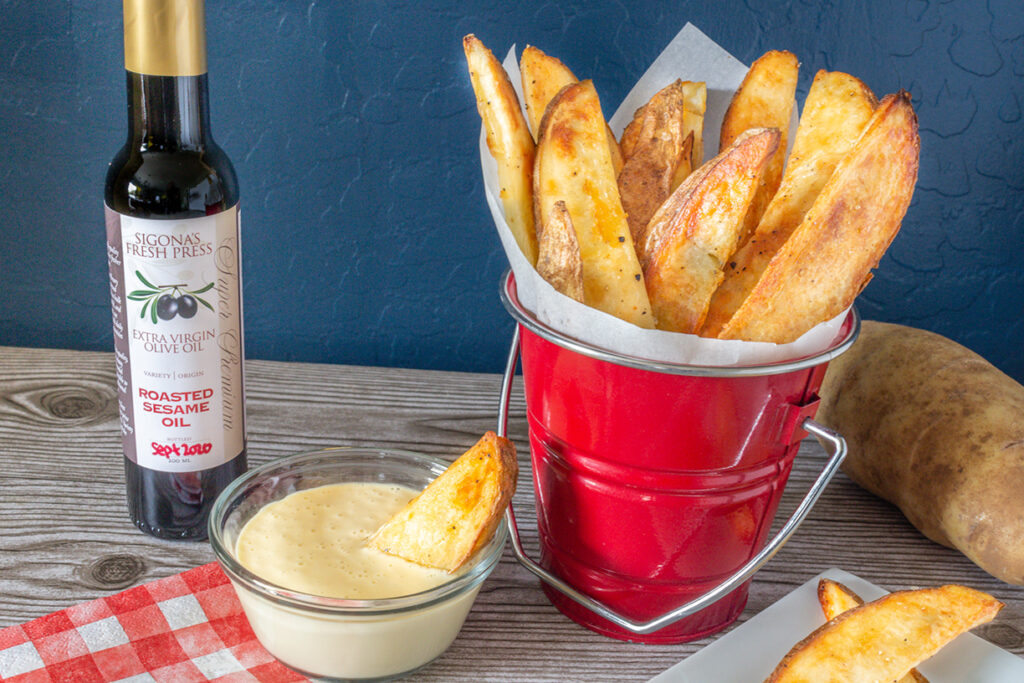 Sesame-Roasted Steak Fries
Steak night just got a whole lot more exciting! Simply roasting wedges of potato in sesame oil presents a whole new layer of flavor – you might be surprised by how a simple oil can make such a difference in taste! Make sure you eat them right out of the oven, dipped in your favorite dipping sauce or our sesame aioli (recipe follows). Inspired by Real Simple. Serves 4.
Ingredients:
Directions: Preheat oven to 425°F.
Slice potatoes in half lengthwise, then slice lengthwise into wedges about 3/4-inch thick. Place wedges in a bowl and cover with cold water. Allow to soak for 5 minutes; drain, rinse and pat dry.
Place wedges on a parchment-lined baking sheet. Drizzle with oil; season with salt and pepper. Toss until wedges are well coated, then spread out in a single layer.
Roast wedges for 50 to 60 minutes, flipping once at 30 minutes. Fries are done when tender inside with a crispy, golden-brown outside (check at 50 mins). Serve immediately.
---
Sesame Aioli
This is rich and tart, creamy and nutty aioli is simply delicious with sesame-roasted steak fries right out of the oven. It's also good with crudités, on a cabbage, veg & shredded chicken salad or alongside with seafood. Store remaining aioli in the fridge and use within 3 days. Makes About 1 1/4 cup.
Ingredients:
Directions: Place all but the oils in a blender or food processor and pulse to incorporate. With the blade running, slowly drizzle in the oils and blend the mixture until emulsified and smooth. Taste; add more honey or salt, if needed.
---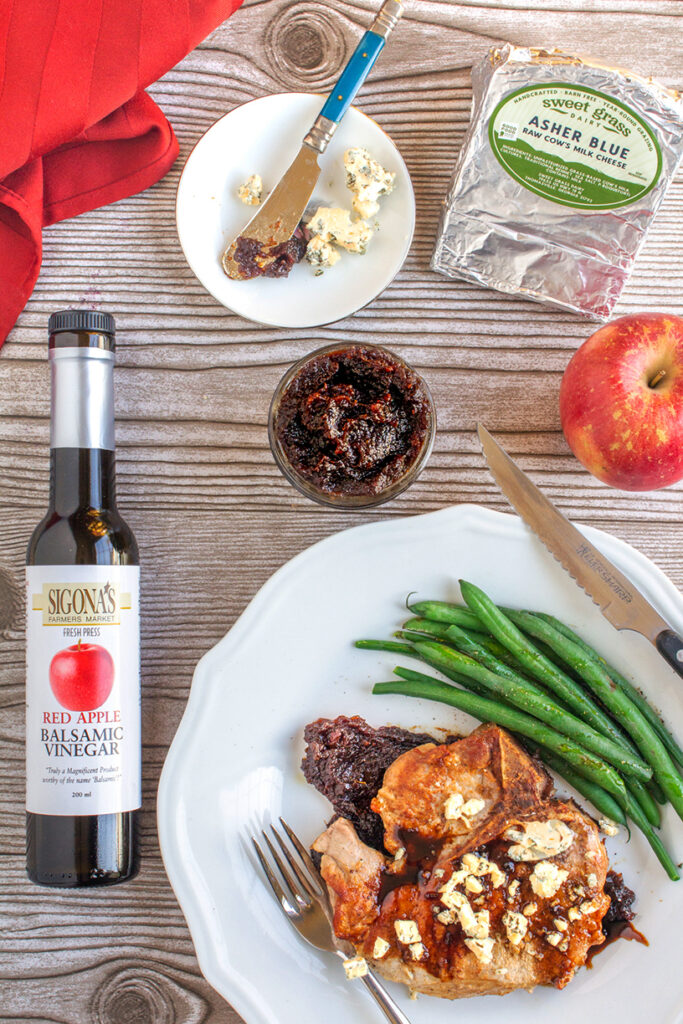 Pan-Seared Pork Chops with Balsamic Apple Butter and Asher Blue Cheese
The rich sweetness of the balsamic apple butter, paired with the Asher Blue Cheese from Sweet Grass Dairy – which has a slightly pungent flavor with an unexpectedly mild, salty finish – will get your tastebuds dancing. If you don't make your own apple butter, the quick balsamic-based pan sauce will do just fine for adding delicious, apple-packed flavor. Serves 2.
Ingredients:
2 bone in pork chops (or any other kind of chop will do)
4 Tbsp, divided, Sigona's Herbes de Provence Olive Oil
Salt and pepper, to taste
2 Tbsp butter
1/4 cup Sigona's Red Apple Balsamic
1/2 cup DIY Balsamic Apple Butter (recipe follows)
Crumbled Asher Blue cheese by Sweet Grass Dairy
Directions: Rub all sides of the chops with 2 tablespoons of the oil and season with salt and pepper.
Heat the remaining oil in a large skillet over medium to medium-high heat. Add the chops and sauté for 3 to 5 minutes a side, flipping once, until it has a nicely browned crust and is has an internal temp of 145°F. Remove from skillet and keep warm.
Reduce skillet heat to medium low; add the balsamic to deglaze the pan, scraping up any brown bits. Turn off the heat and add the butter; and stir until it's melted.
Working quickly, spread a couple tablespoons of the apple butter in a swooped motion across each serving plate. Place a pork chop on the apple butter then drizzle some of the balsamic reduction on top. Finish with a sprinkling of blue cheese. Serve immediately.
---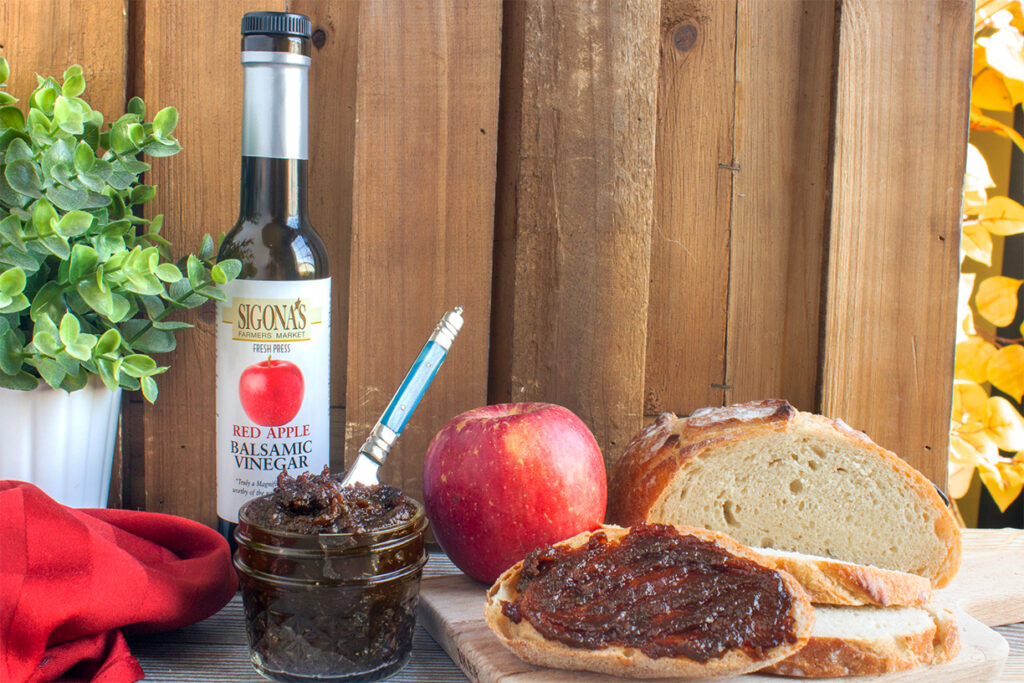 DIY Balsamic Apple Butter
Would you believe that before pumpkin spice, scents of apple butter wafting through the air as a sure sign fall had begun? This red apple balsamic infused apple butter doesn't have any strong balsamic flavor; the intensity cooks off, leaving behind a caramelize, sugary pop of apple, that only enhances the natural taste of the apples. Apple butter is a fantastic, richly flavored spread that's just as good on your morning toast as it is on a pork chop. See below for more details. Makes about 1 to 1 1/2 cups. Easy to double.
Ingredients:
4 apples, peeled, cored and chopped
3/4 cup apple cider or juice
6 Tbsp Sigona's Red Apple Balsamic
A pinch of salt
1/2 cup brown sugar
1 tsp ground cinnamon
A pinch of ground ginger
A pinch of cloves
Directions: Combine all ingredients in a medium, heavy-bottomed, oven-safe saucepan. Bring to a boil over medium heat, stirring occasionally, then reduce to a simmer. Continue to simmer, stirring occasionally, for 30 minutes until apples are soft.
Meanwhile, preheat oven to 275°F.
When apples are soft, use an immersion blender or transfer to other processor to blend the mixture until nearly smooth – it will retain some texture. Watch for splatter as mixture will be hot.
Return to the saucepan and place in the oven to cook for at least 2 hours, stirring every 30 minutes (careful of the hot pan handle!).
You can puree mixture again if desired. Fresh apple butter will keep in the fridge for about a week. It's also can-able, if you wish to do so.
Serving suggestions:
Stir into oatmeal
Use it as a spread on a turkey, cheddar and apple panini
Toss it with popcorn
Use it as a glaze on chicken wings
Mix it in with fresh roasted squash
Surprise those kiddos by using it in place of jam
Smear it on oven-fresh biscuits