Recipe Roundup: Sigona's Oregano White Balsamic
Our oregano white balsamic is a sharp, infused balsamic with the exquisite flavor of oregano. It provides excellent, classic Mediterranean flavor and is a perfect compliment to a wide variety of oils.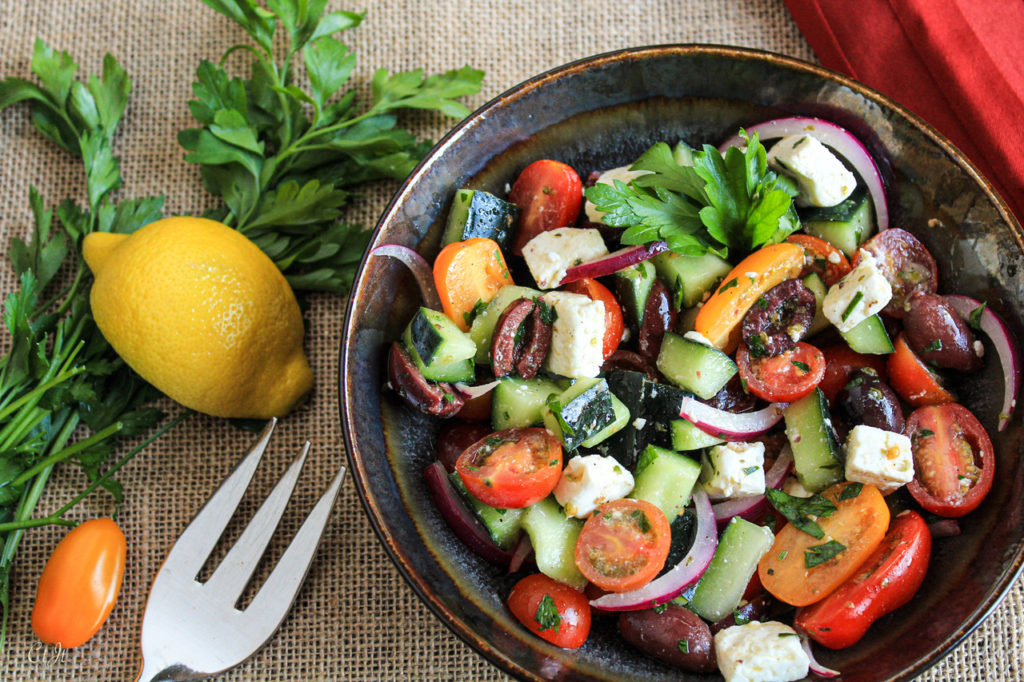 Greek Salad with a Kalamata Oil & Oregano Balsamic Vinaigrette
Marinating the ingredients separately before combining them infuses flavor and also releases the natural goodness in a salad like this, so everything shines when all the parts come together. If you're looking for a way to make this dish vegan friendly or simply to cut out the dairy, try using cubed tofu. Serves 4 to 6.
Ingredients:
1 pint baby heirloom tomatoes, halved; larger tomatoes quartered
Salt, to taste
About 3/4s of an English cucumber
About 1/4 of a red onion, very thinly sliced (use a mandoline, if possible)
1/2 Tbsp fresh lemon juice, plus wedges for serving
1/3 cup halved kalamata olives
3 Tbsp Sigona's Greek Kalamata Robusto Fresh Press Extra Virgin Olive Oil, plus more for drizzling
1 Tbsp Sigona's Oregano White Balsamic
3 tsp fresh oregano, plus more for sprinkling
Freshly ground pepper, to taste
4 to 6 oz. block feta, cubed
Directions: In a large bowl, salt the tomatoes and allow to set at room temperature for about 20 minutes.
For a fancy flair, drag a fork lengthwise down the peel of a cucumber, creating deep grooves. Halve the cucumber lengthwise, then halve the slices again. Dice the cucumber on the bias into pieces about 1/4" thick. Combine the cucumber and onion with the balsamic and lemon juice; toss to coat. Allow to marinate, stirring occasionally, for 20 minutes.
Add the cucumber mixture to the tomatoes, along with the olives, oregano and pepper. Drizzle in the olive oil and toss well to coat. Allow to marinate in the fridge for at least 30 minutes.
Just before serving, stir in the feta, drizzle with more olive oil and finish with a sprinkling of fresh oregano. Serve with a fresh lemon wedge, if desired.
---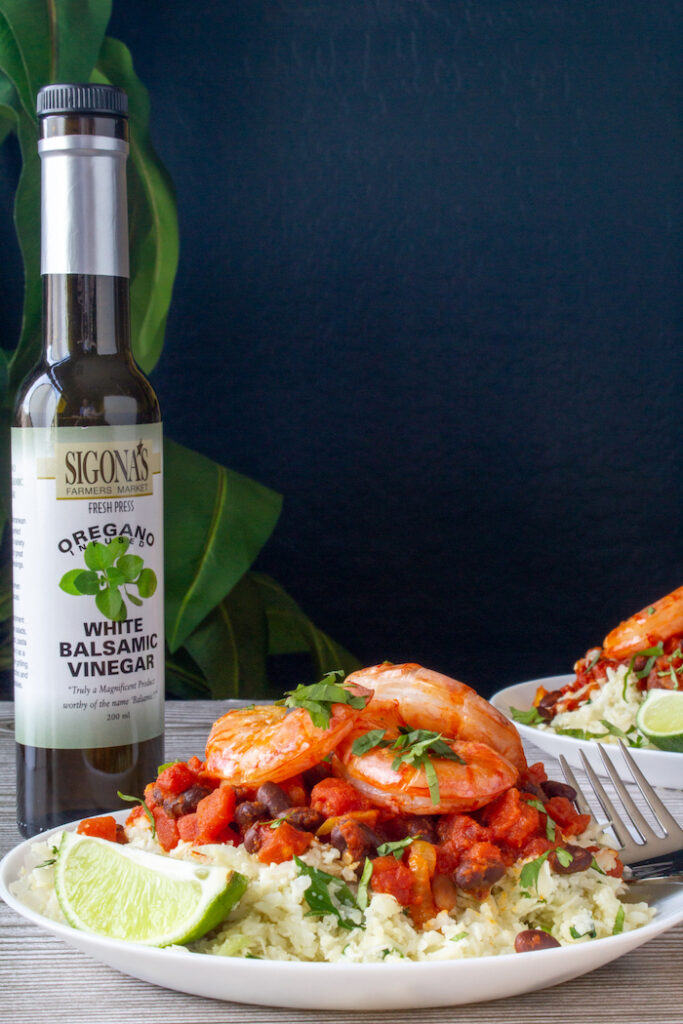 Oregano Balsamic-Spiked Black Beans & Cauliflower Rice with Shrimp
Beans & rice is a go-to comfort dish for many, so we put our own twist on it by using cauliflower rice and adding in our savory oregano balsamic, then we added some simple sautéed shrimp for a little added protein. You can leave the shrimp off for a vegan-friendly meal. Serves 2 to 4.
Ingredients:
4 Tbsp Sigona's Garlic Oil, divided
2 to 3 green onions, sliced on an extreme bias; whites and greens separated
Half a large head of cauliflower, riced (about 3 to 4 cups riced)
1/4 cup packed cilantro, chopped, plus more for garnish
Juice of half a lime, plus wedges for serving
Salt and pepper, to taste
1 onion, chopped
3 Tbsp Sigona's Oregano White Balsamic
1 can black beans, drained and rinsed
1 can diced tomatoes (for added heat, look for diced tomatoes with green chilies)
1 tsp ground cumin
1/2 tsp grounded turmeric
1/2 tsp smoked paprika
8 to 12 large shrimp
Directions: Heat 1 tablespoon oil in a large skillet over medium heat. Add the whites of the green onion and sear for about 20 seconds. Scoop out whites using a slotted spoon; set aside. Add the cauliflower rice to the skillet and stir to coat; season with salt and pepper. Sauté for about 2 minutes then add the cilantro and the whites and greens of the green onion. Cook another 1 to 2 minutes then remove from heat. Stir in lime juice and set aside; keep warm.
In a large skillet heat 2 tablespoons oil over medium-low/medium heat. Add the chopped onion and sauté, stirring occasionally, about 5 to 8 minutes or until tender. Season with salt then add the balsamic. Sauté, stirring occasionally, until the onion has absorbed nearly all the liquid. Add the tomatoes, beans and spices. Bring the mixture to a boil, stirring frequently, for 7 to 10 minutes; the liquid should be mostly reduced. Remove from heat and allow to sit for 5 minutes while shrimp cook.
Heat 1 tablespoon oil in a medium skillet over medium-high heat. Add the shrimp and cook about 1 to 2 minutes a side, depending on size, or until they're pink and cooked through.
To serve: Add portions of the rice to individual plates. Spoon some of the bean mixture onto the rice then top with a couple shrimp. Sprinkle with cilantro and serve with a wedge of lime.
---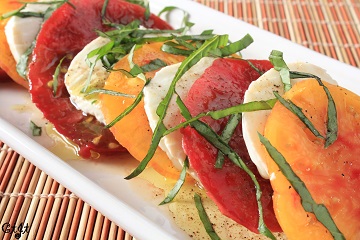 Easy Peasy Caprese Recipes
Simply a classic, you'll love how caprese salad pairs with one of our three vinaigrette suggestions. Fantastic!
Caprese Ingredients:
1 lb. assorted heirloom tomatoes, cut into 1/4-1/2-inch thick slices (I'm partial to the Cherokee Purple)
2 Tbsp. thinly sliced (chiffonade) basil
8 oz. fresh mozzarella, such as our local and organic Belfiore mozzarella, cut into 1/4-inch thick slices
Salt and pepper, to taste
A Sigona's balsamic vinaigrette of choice, recipes follow
Vinaigrette I:
Salt and pepper, to taste
Vinaigrette II:
Salt and pepper, to taste
Vinaigrette III:
Salt and pepper, to taste
Directions: Slice the tomatoes and sprinkle lightly with salt and pepper. Let them rest for a few minutes to bring out the intense tomato flavor.
In a small bowl, briskly whisk together the three ingredients for the vinaigrette.
Arrange the tomato slices and mozzarella slices, slightly overlapping one over the other, on a serving platter. Sprinkle on the chiffonade basil and drizzle on the vinaigrette.