Gai Lan with Sautéed Shrimp
Gai Lan is also known as Chinese broccoli. It's a delicious green and makes for a healthy dish that comes together in just minutes. I prefer a gluten-free soy sauce or coconut aminos, but using oyster sauce adds another fantastic dimension of flavor. Serves about 2. – Carmelo Sigona
Ingredients: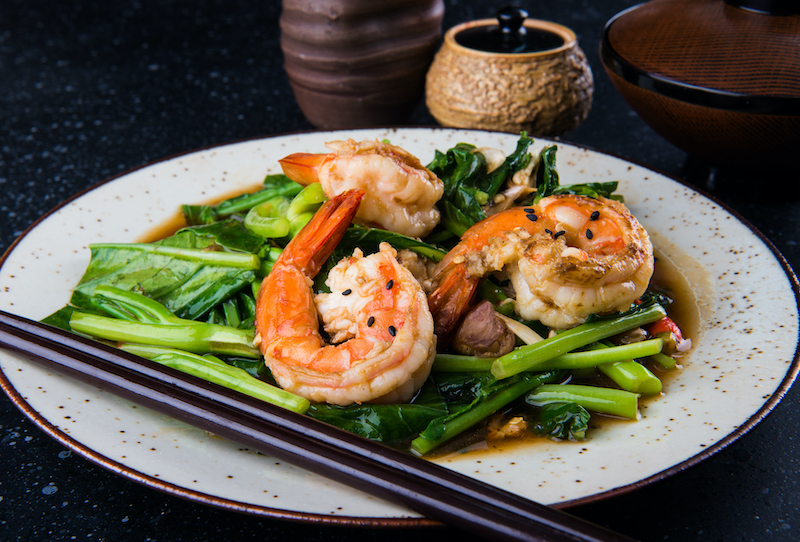 1 bunch gai lan, rinsed well
2 Tbsp Sigona's Garlic Oil
A pinch of red pepper flakes
8 to 10 red Patagonian shrimp
Either 1 to 2 Tbsp soy sauce/coconut aminos, to taste, or 2 to 3 Tbsp oyster sauce, to taste
Optional: sesame seeds, for sprinkling
Directions: Bring a large pot of salted water to a boil. Add the gai lan and blanch for 60 to 90 seconds (they'll still have quite a crunch; you may par boil them longer, if desired). Using tongs, remove the gai lan and pat dry with a kitchen towel.
Heat garlic oil in a medium-large sauté pan over medium-high heat. Add the red pepper flakes and the shrimp. Cook shrimp for about 1 minute on each side. Add the sesame oil, soy sauce/oyster sauce and the gai lan; toss to coat. Cook, tossing occasionally, until the liquid is mostly absorbed, just a couple minutes. Transfer to a serving dish and sprinkle with sesame seeds, if desired.