Braised Lamb with Fingerling Potatoes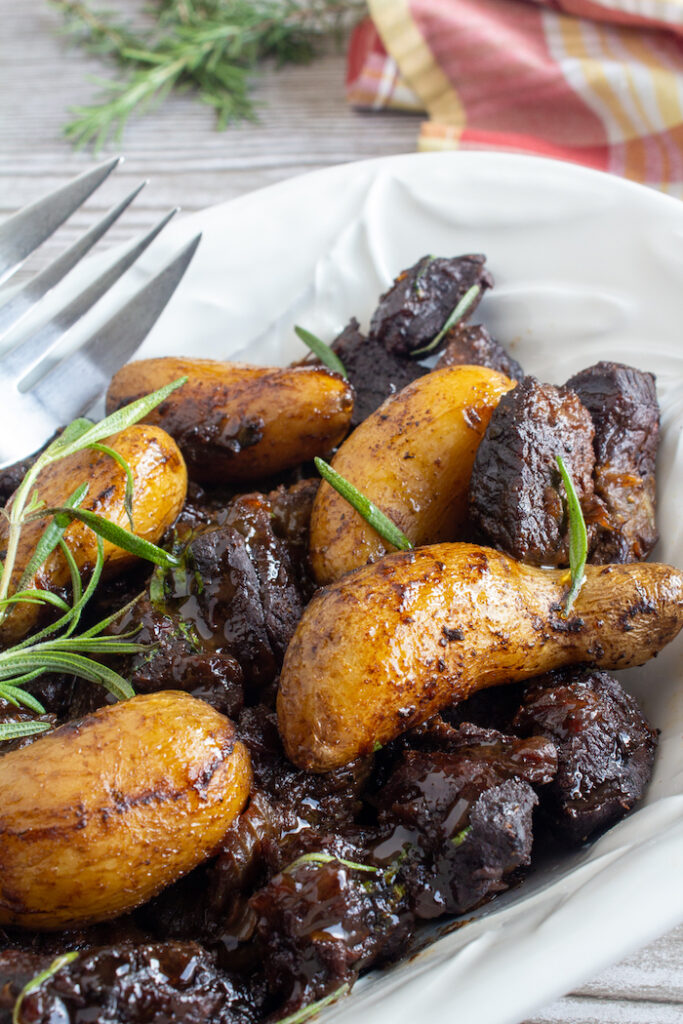 The key here is low and slow – you'll have it in the oven for about 3 hours – so the lamb is tender and has absorbed all the flavor from the liquid, which includes fresh herbs and our very own balsamic, giving the dish a deep, rich flavor. Serve this with a glass of hearty red wine for a delicious meal. Serves about 6.
Ingredients:
2 lb. lamb stew meat
1 Tbsp kosher salt
1 tsp freshly ground black pepper
1 tsp paprika
2 Tbsp Sigona's Extra Virgin Olive Oil, divided
1 onion, chopped
1/3 cup Sigona's 12-year-aged Balsamic
1 1/2 cup chicken stock
2 tsp minced fresh rosemary, plus more for garnish
1/4 tsp cinnamon
At least 12 fingerling potatoes
Optional: 1 Tbsp fresh mint finely sliced (chiffonade)
1 Tbsp cold butter
Directions: Pat dry the stew meat. In a small bowl, mix together the salt, pepper and paprika. Toss the meat with the seasonings until well coated.
Heat 1 tablespoon olive oil in a large skillet or Dutch oven over high heat. Working in batches, if necessary, brown the meat on all sides, for about 2 minutes a side. Remove to a plate and keep warm.
Preheat oven to 275°F.
Reduce skillet heat to medium/medium-low. If necessary, add another tablespoon of olive oil, then add the onion. Cook, stirring frequently, until the onion is soft and slightly browned, about 5 to 7 minutes. Add the stock and the balsamic to deglaze the pan, scraping up any brown bits from the bottom. Increase heat to medium high and bring to a boil for 2 minutes. Remove from heat, stir in the rosemary and cinnamon, then add in the meat and place the potatoes on top.
Cover the dish with a lid or foil and place in the oven to braise for 1.5 hours. Remove from oven and use tongs to flip over the pieces of lamb. Recover the pan and return to oven to cook for another 1.5 hours. Remove lid and increase oven temp to 425°F; cook for 10 minutes or until the meat has a nice browned appearance on the top.
Leaving braising liquid in the skillet, remove lamb and potatoes to a serving dish and keep warm. Heat liquid over high until it has reduced by about half and has thickened a bit; spoon off any pools of fat, if desired. Reduce heat to low, add the optional mint and 1 Tbsp of cold butter. Turn off the heat and stir continuously until the butter is melted. Drizzle the sauce over the meat and potatoes, garnish with fresh rosemary and serve immediately.