In the Kitchen with Sigona's Featuring: Local Organic Strawberries
Raw Swiss Chard Salad with Fresh Strawberries, Barley, Feta and Sigona's Basil Oil
Looking for a way to change up your side salad? You've got to try this one. Don't skip the basil oil — it adds an absolutely delicious layer of flavor that's herbaceous and fresh; basil is fantastic with strawberries! Inspired by Cooking Light. Serves 4 to 6.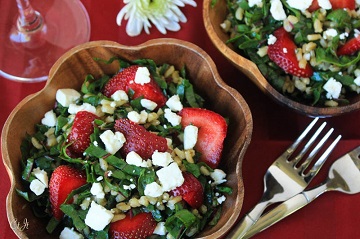 Ingredients:
1/2 cup uncooked barley or pearl barley
2 1/2 Tbsp Sigona's Basil Oil
2 Tbsp Sigona's Condimento Tradizionale Balsamic (Mix it up! Try Sigona's Strawberry Balsamic)
1 1/2 tsp. minced red onion
1/2 tsp. honey, such as Mountain Bloom from Honey Hole Honey Co., available at Sigona's
Salt and pepper, to taste
1 bunch Swiss chard
At least 1 cup sliced fresh strawberries
Crumbled goat or Feta cheese, for sprinkling
Directions: Cook barley according to package directions. When it's done, drain any excess water. Rinse barley under cold water, drain well and set aside.
Meanwhile, in a large bowl, whisk together the oil, balsamic, onion and honey, Season with salt and pepper to taste.
Fold the chard leaves in half lengthwise, leaf fronts together, then slice off the thick, tough stem, up through the leaf (saving the stems for another recipe, if you wish). Roll the leaves up then thinly slice (chiffonade) into rounds, creating long, thin ribbons. Massage the ribbons between your hands for about 3 minutes or until they're just wilted a bit.
Add the chiffonade Swiss chard and barley to the vinaigrette; toss to coat. Divide among 4 to 6 salad plates, topping each with sliced strawberries and crumbled cheese. Serve.
Local Strawberries with Rosemary Mascarpone and Crisped Pancetta
Recipe courtesy of Luisa Ormonde of Luisa's Catering in San Carlos. Luisa says, "Back when I saw Elia make these on "Top Chef" I knew I had to make them someday. I love sweet and salty together and always do the bacon version because I like the smokiness too." Makes a pint's worth of halved strawberries.
 Ingredients:
1/8 to 1/4 lb. of chopped pancetta or high quality bacon
1 large pint of fresh, local strawberries, hulled then cut in half
3/4 cup heavy cream
1/4 cup mascarpone
1 Tbsp honey (or to taste), such as Blackberry from Honey Hole Honey Co., available at Sigona's
1/2 to 3/4 tsp. chopped fresh rosemary
Optional: 1 Tbsp finely chopped pecans
Directions: In a large skillet over medium to medium-high heat, fry the chopped pancetta or bacon until crisp. Remove from skillet onto a paper-towel-lined plate. Set aside.
In a medium bowl, whip the heavy cream, then incorporate the mascarpone and honey with a whisk. Add the chopped rosemary last.
Place cream mixture in a piping bag or in a zip-top bag (snip a small bit off of one corner if using a zip-top bag). Squeeze cream on to the sliced side of each hulled, halved strawberry; place the berries on a serving tray. Sprinkle the cooked pancetta/bacon and, if using, the chopped pecans, on top and serve.
Meanwhile, combine all salsa ingredients in a medium bowl. Stir well; refrigerate for at least 1 hour, stirring once.
When ready to grill, remove salmon fillets and discard marinade.
Grill salmon over medium heat over briquettes or gas flame for about 6 minutes per side. Let stand 4 minutes before serving, topped with the salsa.
Brie With Local Strawberries On Brioche Crostini
Recipe courtesy of Luisa Ormonde of Luisa's Catering in San Carlos. Luisa says, "These little appetizers are so easy to make but look so elegant. Perfect for the holidays!" Serves 12.
Ingredients:
12 slices brioche bread sliced 1/4-inch thick
6 oz. whipped cream cheese, at room temperature
1 tsp. chopped chives
3 large fresh, local strawberries
1 small (about 2-inch diameter) Brie wheel
Optional: fresh edible flowers for garnish
Directions: Preheat the oven to 325 degrees F.
Using a 1 1/2-inch diameter biscuit cutter, cut the sliced bread into 24 circles and put on a baking sheet. Toast the brioche circles in the oven for 3 to 5 minutes, until golden brown.
With a rubber spatula, fold together the cream cheese and chopped chives; place in a small pastry bag with star tip. Pipe out about 1/2-ounce of cream cheese and chive mixture onto each toasted brioche circle.
Cut off the top of strawberries, slice in half lengthwise, then cut each half into 3 wedges. Cut the 1/2 wheel of Brie into 6 triangle wedges. Place 1 wedge of strawberry and 1 wedge of Brie standing up on the cream cheese. Garnish with additional chives/edible flowers.