Crab-Stuffed Artichokes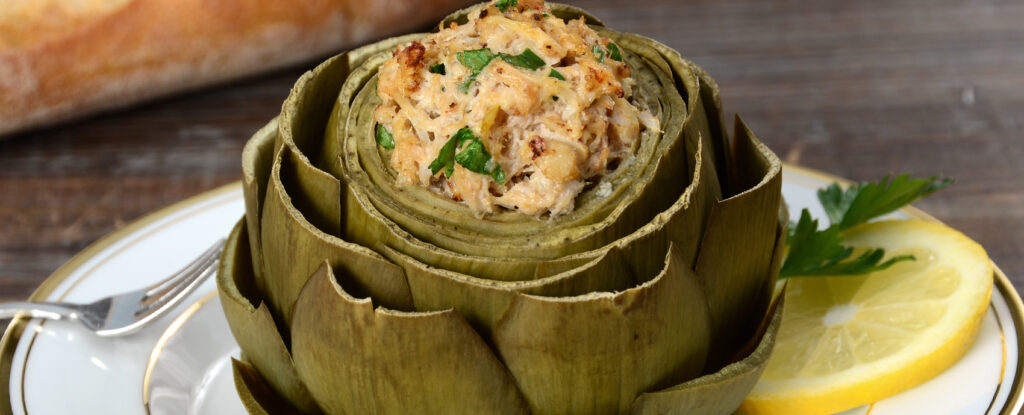 Local, fresh-picked artichokes are always wonderful this time of year, but we are taking it up a level and stuffing them with crab meat! This recipe is easy to double. Makes 1 stuffed artichoke.
Ingredients:
1 large artichokes
A wedge of fresh lemon
1 lemon
1 Tbsp mayonnaise
1 Tbsp minced shallot
1 Tbsp capers
1 Tbsp fresh minced herbs, such as tarragon, parsley and dill
1/4 lb. lump Dungeness crab meat
Salt and pepper, to taste
2 Tbsp panko, regular or gluten-free, for topping
Sigona's Fresh Press Extra Virgin Olive Oil, for drizzling, such as our California Blend of Arbequina/Frantoio.
About 1/4 cup white wine, such as a sauvignon blanc (chicken or vegetable stock is a suitable substitute)
Fresh lemon wedge, for squeezing
Directions: Rinse the artichoke under cold water. Cut off the stem so it stands up straight (the stem is edible if you want to keep it, click here for details). Cut off the top 1/4th of the artichoke and use scissors to trim off all remaining thorny tips. As you rotate the artichoke, trim the leaves shorter and shorter as you work toward the bottom (this gives the artichoke a more elegant appearance). Rub all cut surfaces with a lemon or keep the trimmed artichoke in acidulated water (1 tablespoon lemon juice per quart of water) until time to cook. This keeps it from browning.
Place a steamer basket in a lidded pot tall enough to fit both the basket and the artichoke. Add a couple inches of water to the pot, place the artichoke on the basket, cover the pot and bring water to a boil. Boil for about 20-30 minutes, checking the water level and rotating artichoke a few times, until it is easy to pull out one of the leaves from the middle.
Meanwhile, fold together the mayo, shallot, capers, herbs, crab, salt and pepper. Preheat oven to 350°F.
Holding the steamed artichoke in a kitchen towel to protect your hand from heat, use a spoon to scoop out the inner most leaves and the choke (the fuzzy part). Discard. Gently pull the leaves back a bit to make room for the crab mixture. Scoop the mixture into the artichoke's center. Top with panko and drizzle with olive oil.