May 2021 Oil & Balsamic Sale Recipes
Each month we feature a couple of our infused balsamics and olive oils to give you new ideas for uses. These oils and balsamics are on sale both in the store and online during the month of May 2021, so take advantage while you can! Features for May 2021 are Fig Balsamic, Blood Orange Olive Oil and Oregano Balsamic.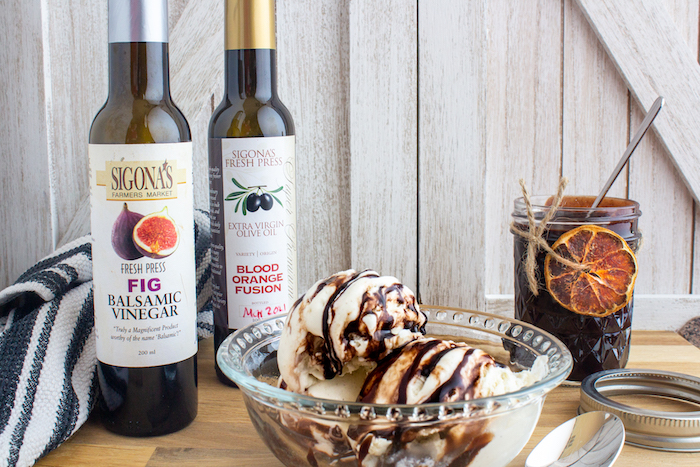 Fig & Blood Orange Fudge Sauce
Rich chocolate with a hint of orange is a classic combination so we know you'll love this fudge sauce. The fig balsamic gives it nice depth of flavor, too! This is great for gifting or for keeping on hand for drizzling over a bowl of gelato, baked or fresh fruit, ice cream or other favorite desserts. Adapted from The Olive Oil & Vinegar Lover's Cookbook. You can also cool this in an 8×8" pan, allow it to set and serve it as fudge. Makes about 1.5 cups.
Ingredients:
1 cup half & half cream
1/4 cup Sigona's Fig Balsamic
2/3 cup Dutch process cocoa powder
2 1/2 cups granulated sugar
1/2 tsp sea salt
2 Tbsp Sigona's Blood Orange Olive Oil
Directions: In a tall, medium pot, whisk together the cream, balsamic, cocoa and sugar. Heat over medium, stirring, until the sugar has dissolved. As soon as it boils, stop stirring. Allow the mixture to boil gently but consistently until it reaches 236°F on a candy or instant thermometer.
Remove the pot from heat and stir in the salt and olive oil. Beat with a mixer or by hand until the mixture is no longer glossy, about 5 to 7 minutes (by hand will take longer). Allow the mixture to cool a little and then transfer to a jar(s).
Use it for drizzling on desserts once it is cool enough that it will not burn the roof of your mouth. To save it for later, allow the mixture to cool at room temperature or in the fridge. To later use as a dessert topping, scoop out desired amount and reheat for 10 to 20 seconds in the microwave or on the stove top, then drizzle to your heart's content.
If you wish to make it into fudge, pour it into an 8×8-inch, parchment-lined dish and allow it to set as it cools for at least 4 hours at room temp, or in the fridge for at least 2 hours.
Store in an airtight container for up to 3 weeks in the fridge or 1 week at room temp.
---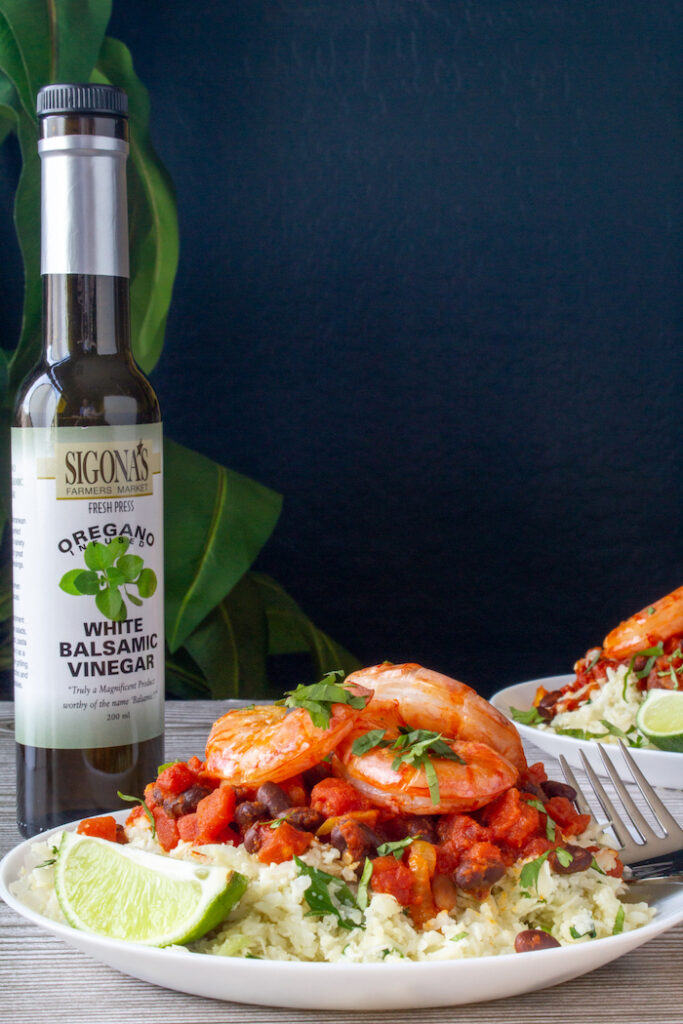 Patagonian Red Shrimp over Spring-Onion Cauliflower Rice & Black Beans
Beans & rice is a go-to comfort dish for many, so we put our own twist on it by using cauliflower rice and adding in our savory oregano balsamic, then we added some simple sautéed shrimp for a little added protein. The red Patagonian shrimp we have right now are incredible; they have a super sweet, almost lobster-like flavor. Leave the shrimp off for a vegan-friendly meal. Serves 2 to 4.
Ingredients:
4 Tbsp Sigona's Garlic Oil, divided
2 to 3 green onions, sliced on an extreme bias; whites and greens separated
Half a large head of cauliflower, riced (about 3 to 4 cups riced)
1/4 cup packed cilantro, chopped, plus more for garnish
Juice of half a lime, plus wedges for serving
Salt and pepper, to taste
1 onion, chopped
3 Tbsp Sigona's Oregano White Balsamic
1 can black beans, drained and rinsed
1 can diced tomatoes (for added heat, look for diced tomatoes with green chilies)
1 tsp ground cumin
1/2 tsp grounded turmeric
1/2 tsp smoked paprika
8 to 12 large shrimp, such as red Patagonian shrimp, shells on or off (cooking method is the same)
Directions: Heat 1 tablespoon oil in a large skillet over medium heat. Add the whites of the green onion and sear for about 20 seconds. Scoop out whites using a slotted spoon; set aside. Add the cauliflower rice to the skillet and stir to coat; season with salt and pepper. Sauté for about 2 minutes then add the cilantro and the whites and greens of the green onion. Cook another 1 to 2 minutes then remove from heat. Stir in lime juice and set aside; keep warm.
In a large skillet heat 2 tablespoons oil over medium-low/medium heat. Add the chopped onion and sauté, stirring occasionally, about 5 to 8 minutes or until tender. Season with salt then add the balsamic. Sauté, stirring occasionally, until the onion has absorbed nearly all the liquid. Add the tomatoes, beans and spices. Bring the mixture to a boil, stirring frequently, for 7 to 10 minutes; the liquid should be mostly reduced. Remove from heat and allow to sit for 5 minutes while shrimp cook.
Heat 1 tablespoon oil in a medium skillet over medium-high heat. Season the shrimp with salt and pepper then add the shrimp to the pan to cook for about 1 to 2 minutes a side, depending on size, or until they're pink and cooked through.
To serve: Add portions of the rice to individual plates. Spoon some of the bean mixture onto the rice then top with a couple shrimp. Sprinkle with cilantro and serve with a wedge of lime.