In the Kitchen with Sigona's Featuring: Apples
In the Kitchen with Sigona's Featuring Apples
Grated, sliced, diced or dried, apples are a source of fiber, minerals, vitamins, natural enzymes (which help with digestion) and powerful antioxidant polyphenols & flavonoids. We've all heard it before, but it's absolutely true: children who eat breakfast perform better in school. In fact, according to the National Institute of Health, children commit fewer errors on psychological tests when they eat breakfast compared to days they don't.
Chicken Salad with Crisp Gala Apple, Natural Thompson Grapes and Roasted Cashews on a Bed of Butter Lettuce
This salad also makes for a nice sandwich, a topping to spread on a lightly toasted baguette or a dip to serve with crackers. Enjoy with a semi-dry white wine. Serves 4.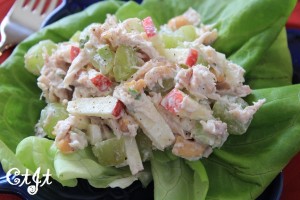 Ingredients:
3/4 cup plain yogurt
1 1/2 tsp minced fresh tarragon
Salt & pepper, to taste
3 cups diced roast chicken (look for great deals on our Rocky Jr. whole birds at our RWC store)
1 cup Natural Thompson grapes, halved
1 green onion, diced
About 1/4 cup roasted, salted cashews, lightly chopped (can substitute walnuts or leave out the nuts completely)
1 stalk celery, diced
1/2 cup locally grown Gala apple from Gizdich Ranch, diced
4-8 large butter lettuce leaves
Directions: In a small bowl, mix together the yogurt, tarragon, salt and pepper. In a large bowl, add the chicken, grapes, onion, cashews, celery and apple. Pour in the yogurt/mayo and stir well to combine. Season with salt and pepper, to taste.
To serve: Place 1-2 large leaves of butter lettuce on four lunch plates, topping each with an equal serving of the chicken salad.
Suitable for any meal from breakfast to dinner. Pork with sautéed apples or applesauce is a classic combination. This dish turns it inside out, baking the ground pork inside the apple. You can add celery seeds, fennel seed, raisins or ground spices to enhance the flavors.
What you need:
Apples, cleaned and cored (such as Granny Smith, Empire or Rome Beauty)
Ground sausage
Chopped onion
Add celery seeds, fennel seed, raisins or ground spices to enhance the flavors, optional
Directions: Brown sausage over moderate heat in a sauté pan, breaking it up with wooden spoon. Stir in onion and cook until softened. Spoon into hollowed apples and bake at 350ºF until apple is soft, about 20 minutes.
Pork chops with apples and sage
Pork and apples is a classic combination and is even more comforting when served with roasted potatoes or sweet potatoes. Recipe courtesy of Polina Antonova, chef and owner of Caliblini Personal Chef Service.
Ingredients:
2 TBL Sigona's Fresh Press olive oil
6 boneless pork chops
salt, pepper
3 Gala apples, quartered and cored
1 yellow onion, thinly sliced
12 sage leaves, thinly sliced + more to garnish
1/2 cup apple cider (such as Gizdich Ranch apple cider)
Directions: Heat the oil in a large pan over medium-high heat. Season the pork chops with salt and pepper and brown on both sides. Remove to a plate. Add apples and cook, turning, to caramelize on all sides. Remove to a plate.
Add onions and cook, stirring, until soft and beginning to turn golden, about 10 minutes. Add sliced sage leaves, cook 1 minute more. Add apple cider; scrape the sides of the pan to deglaze. Cook the sauce to reduce by one half. Add pork chops back to the pan; top with apples, cover, reduce the heat and simmer 20 minutes. Serve with roasted potatoes or sweet potatoes, garnished with sage leaves.