Recipe for Lobster Mushrooms
Carmelo's Best Ever Lobster Mushroom & Patagonian Red Shrimp with Pappardelle in a Wine & Cream Sauce
Lobster mushrooms are as unique as they are delicious. They have a red tint and a delicate lobster flavor. This is one of my favorite ways to serve lobster mushrooms. Sometimes I'll use zucchini noodles in place of the pasta, or I'll do half pasta and half zucchini noodles. Serves about 4.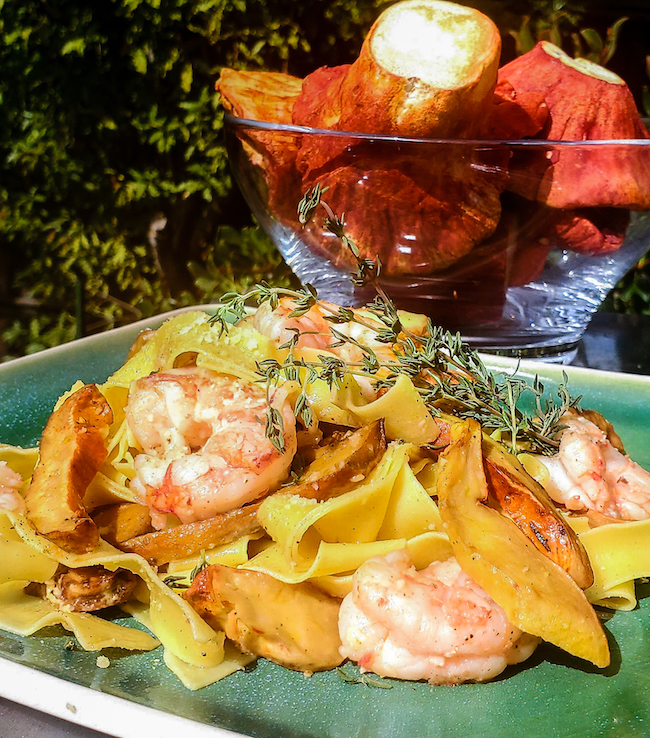 Ingredients:
3/4 to 1 lb. lobster mushrooms
2 to 3 Tbsp Sigona's Fresh Press Extra Virgin Olive Oil
2 Tbsp butter
1 lb. Patagonian Red Shrimp
1 1/2 cup white wine, we recommend a high acid, citrusy Sauvignon Blanc such as Bell
1/3 cup heavy cream
Salt and freshly ground pepper, to taste
1/2 to 2/3 cup cup freshly grated Parmigiano Reggiano, divided (more or less to taste)
About 8 oz pappardelle egg noodles, such as Rummo Egg Nest Pappardelle
*Cook's note: The toughest part of cooking is making sure everything is ready at the right time. We suggest getting a pot of salted water boiling so you can put the noodles in about the same time you add the cream to the skillet to reduce. The pasta should cook to (very) al dente; they'll cook a little more in the sauce. The pasta we recommend cook in about 5 minutes.
Directions: Bring a large pot of salted water to a boil so it's ready to cook the pasta at the perfect time.
Clean and cut the mushrooms into slices about 1/4-inch thick. Heat 2 to 3 tablespoons olive oil in a large skillet over medium-high heat. Add the mushrooms and cook, stirring occasionally, for about 3 minutes then add the butter. Cook mushrooms, stirring, for about another 4 minutes or until they've released their liquid. Use a slotted spoon to remove mushrooms from skillet and set aside.
Season shrimp, tossing gently with salt and pepper. Add the shrimp and cook over medium-high heat for about 1 minute only. Remove and set aside.
To the same skillet add about a 1 & 1/2 cup of the wine and allow to reduce by half over medium-high heat. Lower heat to medium and add about 1/3 cup of the cream; allow it to reduce by half as the mixture thickens, stirring occasionally. Season with salt and pepper, to taste.
Meanwhile, cook the pasta to (very) al dente according (see cook's note). Have a set of tongs handy for later.
Reintroduce the mushrooms and shrimp to the skillet. Gently work them into the sauce for about 1 minute. Add some of the cheese; stir to combine. Use tongs to transfer the cooked pasta directly from the boiling water into the mushroom mixture (the pasta water clinging to the noodles will help create more of a sauce in the skillet). Gently toss to incorporate for 1 to 2 minutes, to coat well. Add more cheese, salt and pepper to taste. Serve with more cheese sprinkled on top.