Hot N Spicy Gift Set Recipes
These oils pack a punch! If you know someone who is always looking to add some heat to their meals, this is the perfect gift. Find it in our markets or online at www.sigonas.com. Included in this set are:
Spicy Calabrian Pesto Olive Oil
Smoky Chipotle Olive Oil
Red Harissa Chili Oil
Baklouti Green Chili Oil
You've heard of pesto eggs, but this takes the idea up to a whole new level! Our new Spicy Calabrian Pesto Oil has a little kick from the pepper but is overall bright and flavorful with the basil pesto shining through. Drizzling on this oil as a finisher adds just what's needed to round out this dish. Adapted from Local Dirt. Serves 2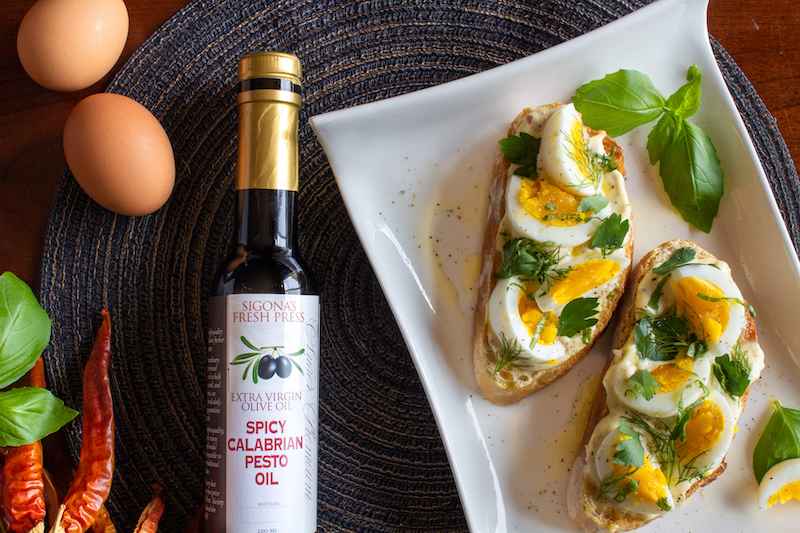 Fresh Herb and Egg Salad on Toast with Sigona's Spicy Calabrian Pesto Oil
Ingredients:
2 eggs
2 Tbsp mayonnaise
1 tsp minced shallot
2 tsp Dijon mustard
Freshly ground black pepper
2 slices of rustic bread or a baguette, sliced on an extreme bias
Butter or oil of choice, for brushing
2 large basil leaves, chiffonade
1 Tbsp fresh dill fronds, torn
1 Tbsp roughly chopped fresh parsley
Sigona's Spicy Calabrian Pepper Pesto Olive Oil, for drizzling
Coarse salt, for sprinkling
Directions: Bring a small saucepan full of salted water to a boil. Add the eggs and reduce heat just enough so the water remains in an active simmer. Boil eggs for 8 minutes. Meanwhile, prepare an ice bath. Remove eggs with a slotted spoon and plunk them directly into an ice bath. When cool, peel the eggs and set aside.
In a small bowl, mix together the mayo, shallot and Dijon. Season to taste with pepper.
Preheat a large skillet or grill pan over high. Lightly brush both sides of the bread with oil or butter and place on the skillet. Toast each side for just one minute so the outside is crisp but the inside remains soft. Allow to cool for about 2 minutes, then spread with the mayonnaise mixture.
Slice the eggs into thin wedges then nestle the wedges into the mayo mixture on top of the bread. Sprinkle each toast with fresh herbs and a light pinch of salt. Drizzle on some of the Calabrian pepper pesto oil and finish with freshly ground pepper. Serve.
---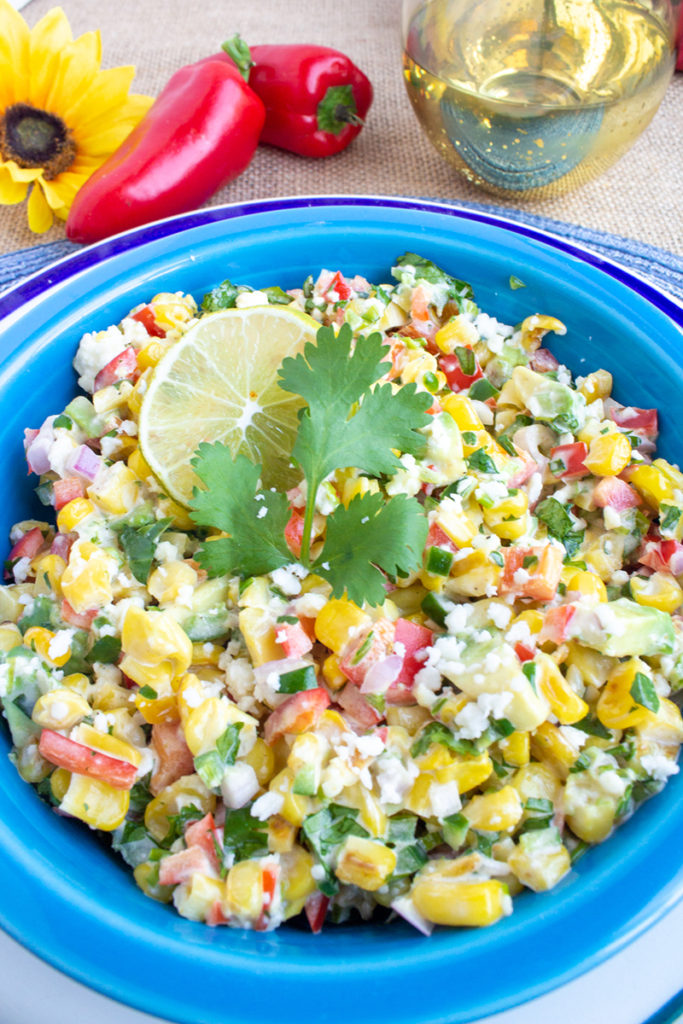 Esquites ~ Mexican Street Corn Salad
If you love elotes – and really, who doesn't – then you'll love this salad. We use our smoky chipotle oil to add another layer of flavor and a little heat to the dish, too. This is a great side for Taco Tuesday! Serves 4.
Ingredients:
2 cups of corn (about 3 to 4 ears, cut from the cob)
3 mini sweet peppers, halved, seeded and diced
3 green onions chopped
1 shallot, diced, or 1/4 cup diced red onion
Half a jalapeño pepper, seeded and minced
1/4 cup chopped fresh cilantro, plus more for garnish
1 Tbsp sour cream or plain yogurt
1 Tbsp mayonnaise
Juice of one lime
1/2 tsp cumin
Black pepper, to taste
Half a medium avocado, chopped
Crumbled cojita, about 1/2 cup, divided
Directions: Heat the chipotle oil in a medium skillet over medium-high heat. Add the corn and sauté, stirring occasionally, until fragrant and some pieces are slightly charred. Remove from heat and transfer to a large bowl.
To the same bowl, add the peppers, onions and jalapeño.
In a small bowl, whisk together the sour cream, mayo, lime juice, cumin and black pepper. Stir the dressing into the corn mixture then gently fold in the avocado and half of the cojita.
Transfer to a serving bowl, top with remaining cojita and garnish with cilantro.
---
Harissa-Seared Halibut with an Heirloom Tomato, Basil & Wine Sauce
Tomato and basil is a classic combination, but we like to spice things up a bit with our red chili harissa oil. This oil has got a kick! See chef's note if you want to take the heat down a notch. Inspired by Baker by Nature. Serves 4.
Ingredients:
1 large lemon
1/4 cup Sigona's Red Chili Harissa Oil, divided**
3 cloves garlic, minced
1 basket mini heirloom tomatoes, halved
1/3 cup white wine (or vegetable stock)
1/2 cup fresh basil, chopped, plus more for garnish
About 1 1/2 to 2 lbs. wild halibut, cut into 4 filets about 6 oz. each
Salt and pepper, to taste
**If you'd like to have just a hint of heat from the harissa oil, use 2 Tbsp harissa oil and 2 Tbsp regular Sigona's Extra Virgin Olive Oil.
Directions: Preheat oven to 400°F. (If you don't have an oven-proof sauté pan, omit this step and finish cooking the fish on the stovetop.)
Zest the lemon then cut lemon in half.
In a large, oven-proof sauté pan, heat 2 tablespoons of the oil over medium heat. Add the garlic and cook, stirring, for about 30 seconds. Add the tomatoes and cook, stirring occasionally, for 4 minutes. Add the wine, juice from half the lemon and chopped basil; allow mixture to come to a gentle boil then turn off the heat. Use a rubber spatula to remove the mixture to a plate or bowl, scraping the pan clean; set tomato mixture aside.
Place the sauté pan back on the stove. Heat the remaining oil over medium. Season both sides of the halibut filets with salt and pepper and place them in the sauté pan. Cook without flipping for 3 to 5 minutes or until the bottom side is golden brown. Carefully flip the filets and then place the sauté pan in the oven. Allow fish to cook in the oven for another 3 to 5 minutes or until cooked through. Remember the pan handle will be hot.
Use an oven mitt to remove the pan from the oven. Pour the tomato mixture over the filets, drizzling the liquid over all the pieces. Squeeze juice from remaining lemon half over filets, garnish the dish with the lemon zest and more basil, serve immediately.
---
Cheesy Asparagus Popover with Basil-Infused Baklouti Green Chili Oil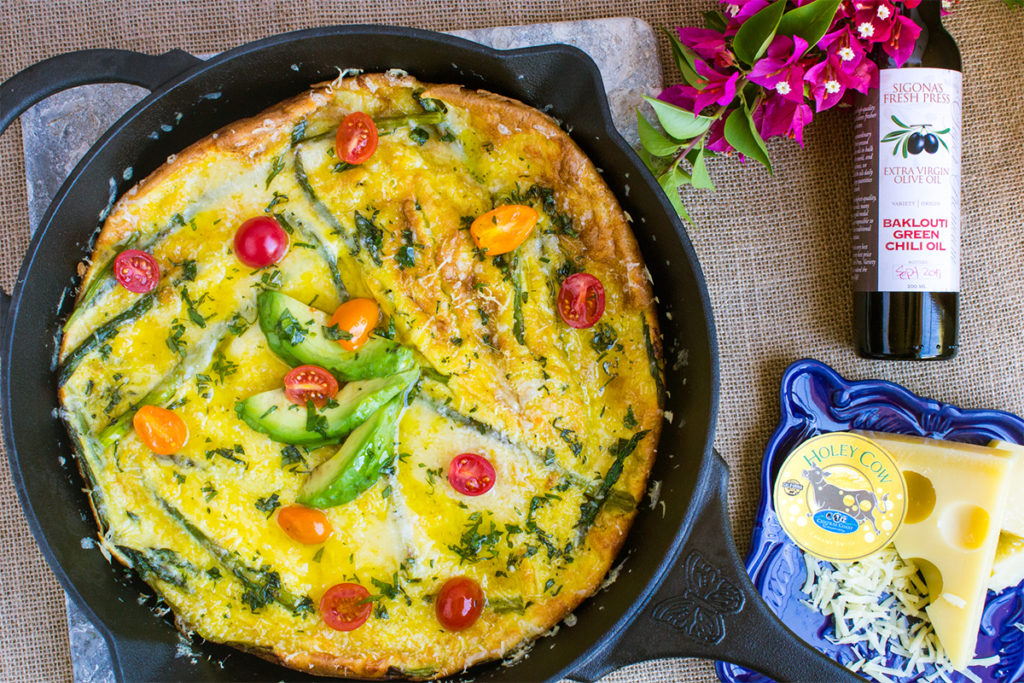 This is a work of art when it comes fresh out of the oven! It's light and fluffy, yet flavorful and filling. Holey Cow cheese, made locally by Central Coast Creamery, is an excellent melting cheese that has a smooth, creamy texture and a crisp, buttery finish; it adds excellent flavor to this dish! For more layers of flavor, consider adding sautéed bacon and/or onions and bell peppers to add in with the asparagus. Adapted from Food Network. Serves about 6.
For the oil:
3 Tbsp Sigona's Baklouti Green Chili Oil (warning, this is HOT! If desired, cut the Baklouti with another of Sigona's regular olive oils)
1 Tbsp minced fresh basil
Salt and freshly ground pepper, to taste
For the popover:
Kosher salt
8 ounces asparagus, ends trimmed
Optional: Chopped sautéed bacon or lardons, onions and/or bell peppers
4 to 6 large eggs
1/2 cup whole milk, at room temperature
1/2 cup all-purpose flour
Freshly ground black pepper
1 ½ cup coarsely shredded Holey Cow cheese, divided
2 Tbsp butter
1/4 cup freshly grated Parmigiano Reggiano
1/2 cup sliced grape tomatoes
1 avocado, sliced
For the oil: In a small bowl, mix together the oil/oils and minced basil. Season with salt and pepper, mix well and set aside to allow the flavors to meld.
For the popover: Preheat the oven to 425°F. Place a 10- or 12-inch cast-iron skillet in the oven to heat. Add about 3 inches of water to a medium pot of water and bring to a boil. Meanwhile prepare an ice bath in a medium bowl. When water is boiling, add salt and the asparagus. Parboil the asparagus for 1 to 2 minutes, depending on the thickness of the asparagus. Use tongs to transfer the asparagus to the ice bath. When chilled, drain and pat dry. Set aside.
Whisk together the eggs and milk in a large bowl until smooth. Slowly whisk in the flour and whisk until smooth; season with salt and pepper. Stir in 1 cup of the Holey Cow cheese.
Use oven mitts to carefully remove the hot skillet from the oven. Add the butter to the skillet and stir until melted. Arrange the asparagus (and any additional sautéed add-ons) in the bottom of the skillet, season with salt and pepper. Slowly pour the egg mixture over the top of the asparagus then bake the mixture until puffed and golden brown, about 15 minutes.
Carefully remove the hot skillet from the oven. Sprinkle the remaining Holey Cow cheese and the Parmigiano Reggiano on top. Carefully return the skillet to the oven to bake another 3 minutes or until the cheese is melted, then use oven mitts to remove the skillet from the oven for the final time.
Top the popover with the tomatoes and avocado, then drizzle the top of the popover with 1 to 2 tablespoons of the basil-infused baklouti oil. Serve immediately with the remaining infused oil on the side.