Perfect Pairing: Fig Balsamic + Tuscan Herb Olive Oil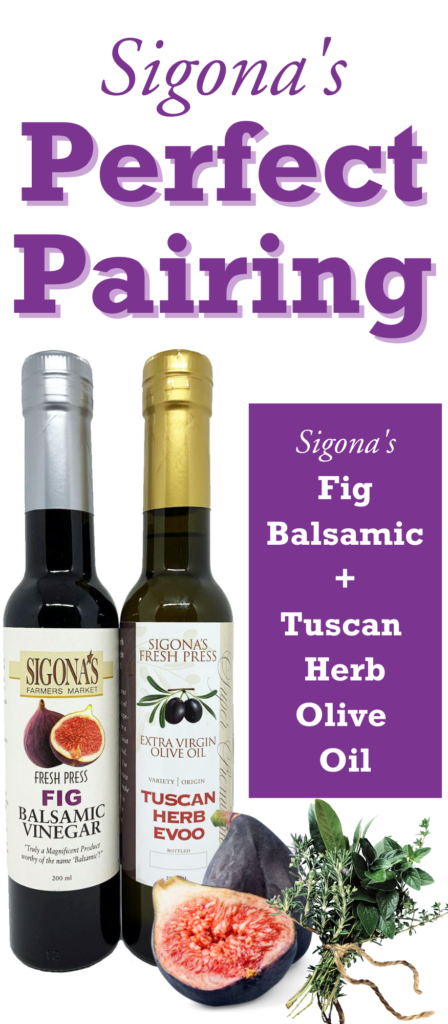 Another perfect pairing will be available on sale August 12-25, 2022: Fig Balsamic + Tuscan Herb Olive Oil. We rotate in a new pairing about every two weeks, putting it on sale both online and in our markets. They great gifts or a go-to for a great recipe. 
Fig balsamic is one of our most popular balsamics. Our customers love it!
Overly sensual, the sweet, fleshy round figure of the fig has seduced people since antiquity. Now it combines with traditional balsamic for a flavor worth fighting for. Our fig balsamic is lusciously sweet and syrupy. Drizzle it on a salad with figs, feta and walnuts, use it to top grilled white meats, spoon over ice cream…the options are endless.
Our Tuscan herb olive oil is a delicious blend of herbs, sun-dried tomatoes and garlic. Use it on everything from salad dressings to marinades. For a quick, delicious treat, drizzle it in with grated Parmigiano Reggiano cheese, add a bit of freshly ground pepper and enjoy an irresistible bread dipper.
How to use this perfect pairing
Recommended ratio: Start with equal parts olive oil and balsamic, then adjust by adding an additional part of one or the other to suit your palate. Example: 2 teaspoons oil, 1 teaspoon balsamic.
Serving Suggestions:
Use as a marinade for white meats
Make a vinaigrette for a leafy green salad with fresh figs, feta and walnuts
Toss it with cauliflower, then roast
See also:
Tuscan Herb Olive Oil Round Up
Try this recipe: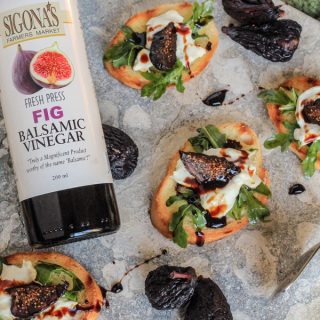 Tuscan Herb Toasts with Chèvre, Arugula and a Fig Balsamic Reduction
If you're not a fan of goat cheese, we recommend a crème fraîche or just cream cheese. Either way, your taste buds will dance with delight at the combination of these simple ingredients. The arugula gives the bite a peppery punch that is lovely paired with our Tuscan herb olive oil and the sweetness of the fig balsamic reduction. Serves 4 as an hors d'oeuvres.
Ingredients
What you need:
1/4

cup

Sigona's Fig Balsamic

divided

8 to 12

slices

of a sweet baguette

about 1/4-inch thick

Sigona's Tuscan Herb Olive Oil

for brushing

Arugula

2 to 3 leaves per toast

Spreadable goat cheese

known as chèvre, or an alternative spreadable cheese, such as crème fraîche or cream cheese

Fresh or dried black mission figs

quartered
Instructions
Add the balsamic to a small sauce pan over medium-high heat. Bring to a boil then reduce to low and simmer for 5 to 7 minutes, stirring occasionally. The reduction is done when it is reduced by nearly half and nicely coats the back of a spoon. Note: The balsamic will continue to thicken and reduce when removed from heat. A good consistency will resemble thick chocolate syrup. Set aside to cool.

Heat an indoor grill pan or griddle over high heat.

Brush both sides of the slices with Tuscan herb oil and grill for about 1 minute per side, turning once, so the outside is just crisp-brown. Remove to a plate and set aside.

Place 2 or 3 leaves of arugula on top of each toast. Gently spread a generous teaspoon or more, to taste, of the cheese on the arugula and place a piece of the cut fig on top.

Arrange the toasts on a serving dish. Use a spoon to drizzle some of the fig balsamic reduction on top of each toast. Serve.