Recipe Roundup: Sigona's Fig Balsamic
Lusciously sweet and syrupy, this could be the fig that launched 1,000 ships. Toss it on salads, drizzle it on a fig, feta & walnut salad, top grilled white meats with it or reduce and spoon over ice cream. This is a top seller!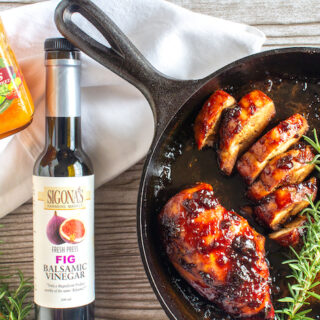 Oven-Roasted Chicken with a Fig Balsamic & Apricot Jam Glaze
As the balsamic and the jam reduce, their flavors caramelize into a deep, rich glaze that gives chicken a sweet yet savory flavor that's perfect for fall. Serve with maple-whipped sweet potatoes and a simply dressed green salad. Serves 4.
Ingredients
Ingredients:
2

Tbsp

butter

1

shallot

diced

1

sprig of fresh rosemary

plus more for optional garnish

2

cloves

garlic

minced

2

Tbsp

honey

such as raw, local honey from Honey Hole Honey Co., only available at Sigona's

1/2

cup

Sigona's Blenheim apricot jam

see note

1/2

cup

Sigona's Fig Balsamic

see note

4

boneless

skinless chicken breasts or 6 boneless, skinless chicken thighs

Salt and pepper

to taste
Instructions
Preheat oven to 425°F. Melt butter over medium heat in a large, oven-safe, heavy-bottomed skillet, preferably cast iron.

Add shallot and cook, stirring occasionally, until translucent. Add the garlic and cook about 30 seconds more. Stir in the honey, jam and balsamic; add the sprig of rosemary. Reduce heat to medium-low and allow mixture to cook, stirring occasionally, until reduced by about half, about 8 to 10 minutes. Remove rosemary and discard.

Season both sides of the chicken with salt and pepper then add the chicken to the skillet, spooning a bit of the balsamic mixture over the top. Place skillet in oven and roast about 30 to 35 minutes until chicken has an internal temperature of 165°F in the thickest part.

Allow chicken to rest about 5 minutes before slicing and serving.
Notes
FIG BALSAMIC: Sigona's balsamics and olive oils are available in our markets and online at www.sigonas.com.
BLENHEIM APRICOT JAM: Some of our specialty items are available online at www.sigonas.com. Some items are seasonal or only available in our markets – if you can't find what you're looking for online, call 650-369-6993 and we'll make it happen!
---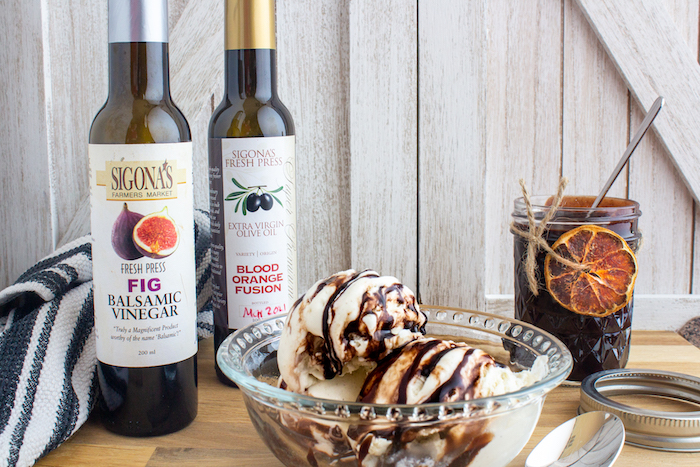 Fig & Blood Orange Fudge Sauce
Rich chocolate with a hint of orange is a classic combination so we know you'll love this fudge sauce. The fig balsamic gives it nice depth of flavor, too! This is great for gifting or for keeping on hand for drizzling over a bowl of gelato, baked or fresh fruit, ice cream or other favorite desserts. Adapted from The Olive Oil & Vinegar Lover's Cookbook. You can also cool this in an 8×8" pan, allow it to set and serve it as fudge. Makes about 1.5 cups.
Ingredients:
1 cup half & half
1/4 cup Sigona's Fig Balsamic
2/3 cup Dutch process cocoa powder
2 1/2 cups granulated sugar
1/2 tsp sea salt
Directions: In a tall, medium pot, whisk together the cream, balsamic, cocoa and sugar. Heat over medium, stirring, until the sugar has dissolved. As soon as it boils, stop stirring. Allow the mixture to boil gently but consistently until it reaches 236°F on a candy or instant thermometer.
Remove the pot from heat and stir in the salt and olive oil. Beat with a mixer or by hand until the mixture is no longer glossy, about 5 to 7 minutes (by hand will take longer). Allow the mixture to cool a little and then transfer to a jar(s).
Use it for drizzling on desserts once it is cool enough that it will not burn the roof of your mouth. To save it for later, allow the mixture to cool at room temperature or in the fridge. To later use as a dessert topping, scoop out desired amount and reheat for 10 to 20 seconds in the microwave or on the stove top, then drizzle to your heart's content.
If you wish to make it into fudge, pour it into an 8×8-inch, parchment-lined dish and allow it to set as it cools for at least 4 hours at room temp, or in the fridge for at least 2 hours.
Store in an airtight container for up to 3 weeks in the fridge or 1 week at room temp.
---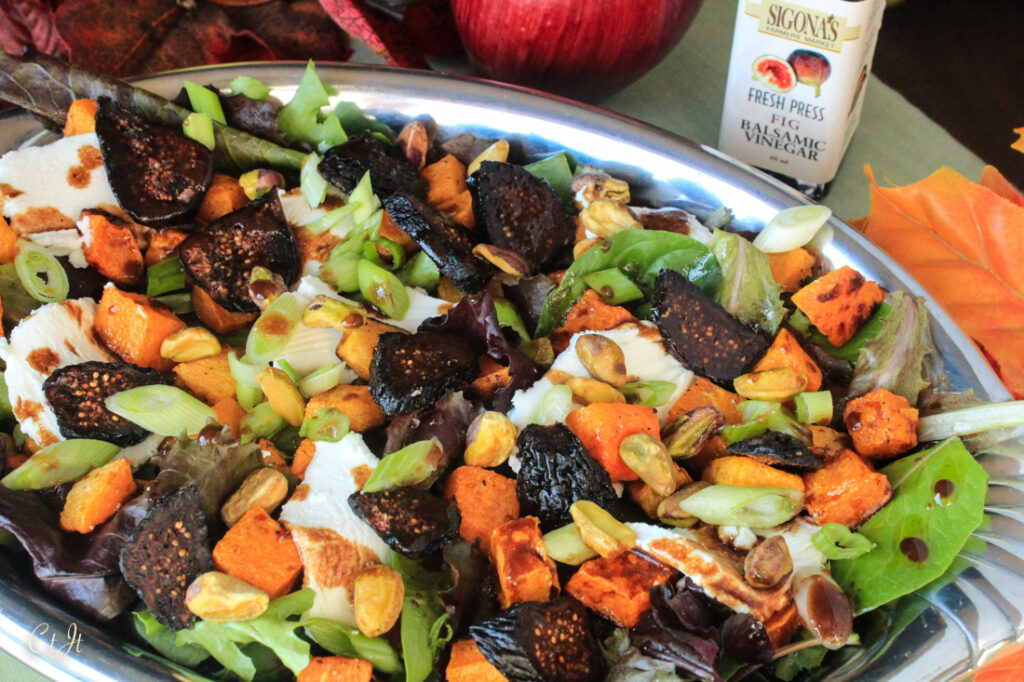 Roasted Butternut Squash with Fig Chèvre and Pistachios Over Mixed Greens
This is a salad that's perfect for your Thanksgiving menu. When roasted, the natural sweetness of the butternut squash caramelizes, which pairs deliciously with the tang from both goat cheese and the fig balsamic. The crisp, refreshing greens and green onion add just the right touch. Inspired by Yummy Beet. Serves about 4 as a side.
For the salad:
Half a medium butternut squash, peeled, seeded and diced into 1-inch cubes (to yield about 2 to 2 1/2 cups)
1 Tbsp. Sigona's Fresh Press Extra Virgin Olive Oil
Salt and pepper, to taste
4 oz. mixed greens
2 to 3 oz. Laura Chenel's chèvre, thinly sliced (tip: use a length of plain floss to easily slice through the log — it cuts cleaner than a knife)
4 dried Black Mission figs, sliced (look for them in Sigona's dried fruit & nut section)
1/4 cup raw, shelled pistachios (look for them in Sigona's dried fruit & nut section)
1 to 2 green onions, sliced on the bias
Sea Salt, for sprinkling
For the Fig Vinaigrette:
Directions: Preheat oven to 400°F. Line a baking sheet with parchment paper. Place the butternut cubes on the baking sheet; toss with olive oil, salt and pepper until well coated. Roast for 30 to 35 minutes or until tender and lightly browned.
Meanwhile, begin the vinaigrette. In a large bowl, whisk together the balsamic, lemon juice, dijon and garlic. While whisking, drizzle in the olive oil. Season with salt and pepper.
Toss about half to a third of the vinaigrette with the greens; place the greens in a serving dish.
Top the greens with roasted squash, sliced goat cheese, sliced figs, pistachios and green onion. Spoon a bit of the remaining vinaigrette over the top and finish with a sprinkling of sea salt. Serve.
---
Orange-Flesh Honeydew, Fig & Prosciutto with Fennel and Sigona's Basil Oil
Prosciutto and and cantaloupe is most definitely a classic combination — the saltiness of the prosciutto is countered by its sweet cantaloupe companion, creating a delicious flavor you might not usually expect from two simple ingredients. We've taken these two ingredients and added in a few other flavors and textures — the fennel adds fantastic crunch — to create a salad rather than a typical melon-prosciutto appetizer. Serves 4 to 6.
Ingredients:
1 cup mixed greens
1/2 an orange-flesh honeydew melon, seeded
4 to 6 figs, cut into 1/4-inch slices
2 to 4 oz. prosciutto, thinly sliced
1/4 cup thinly sliced fennel, plus 1 to 2 Tbsp. fennel fronds, for garnish
1 Tbsp. thinly sliced shallot
1 Tbsp. Sigona's Basil Oil
1 to 2 tsp. Sigona's Fig Balsamic
Salt and pepper, to taste
Directions: Cut the half melon in half and then cut the halves across the middle to create quarters. Cut the quarters into slices about 1/4-inch thick; remove the rind and discard.
Spread the greens out on a large platter. Top the greens evenly with a single layer of melon slices and then fig slices. Add on the prosciutto, the fennel and shallot in layers.
Drizzle the dish with the basil oil and then the balsamic. Season with salt and pepper. Finish with a garnish of fennel fronds.
---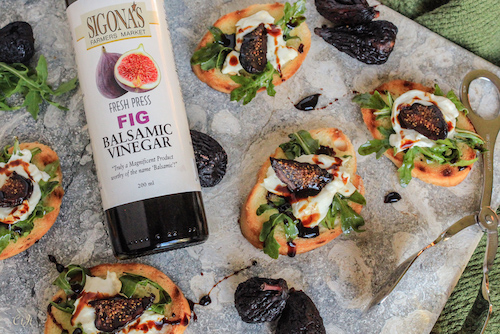 Tuscan Herb Toasts with Chèvre, Arugula and a Fig Balsamic Reduction
If you're not a fan of goat cheese, we recommend a crème fraîche or just cream cheese. Either way, your taste buds will dance with delight at the combination of these simple ingredients. The arugula gives the bite a peppery punch that is lovely paired with our Tuscan herb olive oil and the sweetness of the fig balsamic reduction. Serves 4 as an hors d'oeuvres.
What you need:
1/4 cup Sigona's Fig Balsamic, divided
8 to 12 slices of a sweet baguette, about 1/4-inch thick
Sigona's Tuscan Herb Olive Oil, for brushing
Arugula, 2 to 3 leaves per toast
Spreadable goat cheese, known as chèvre, or an alternative spreadable cheese, such as crème fraîche or cream cheese
Dried black mission figs, quartered
Directions: Add the balsamic to a small sauce pan over medium-high heat. Bring to a boil then reduce to low and simmer for 5 to 7 minutes, stirring occasionally. The reduction is done when it is reduced by nearly half and nicely coats the back of a spoon. Note: The balsamic will continue to thicken and reduce when removed from heat. A good consistency will resemble thick chocolate syrup. Set aside to cool.
Heat an indoor grill pan or griddle over high heat.
Brush both sides of the slices with Tuscan herb oil and grill for about 1 minute per side, turning once, so the outside is just crisp-brown. Remove to a plate and set aside.
Place 2 or 3 leaves of arugula on top of each toast. Gently spread a generous teaspoon or more, to taste, of the cheese on the arugula and place a piece of the cut fig on top.
Arrange the toasts on a serving dish. Use a spoon to drizzle some of the fig balsamic reduction on top of each toast. Serve.
---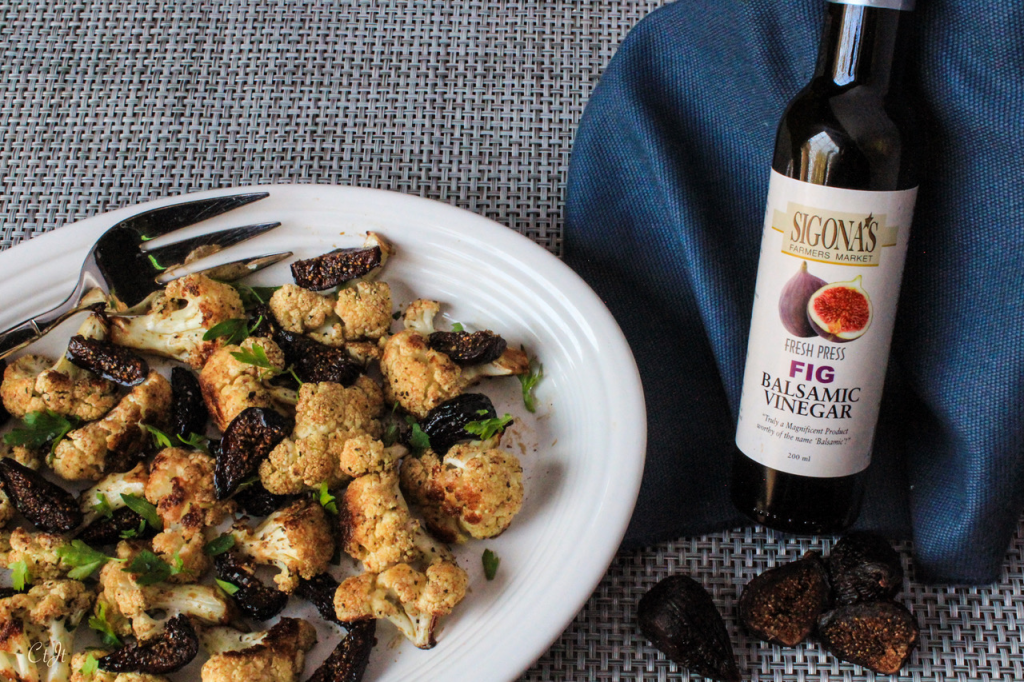 Fig-Balsamic Roasted Cauliflower with Black Mission Figs
It is not uncommon to see cauliflower paired with golden raisins, especially served as a side dish in the home of a Sicilian (like the Sigona family!). Dried figs have that same sticky sweetness as raisins, but their flavor is a little more layered and their texture is more toothsome. Pairing these ingredients with our fig balsamic makes for an incredible dish. Dairy-free, gluten-free, paleo and vegan friendly! Serves 6 to 8.
Ingredients:
1 head cauliflower, cut or torn into florets
3 to 4 Tbsp Sigona's Fresh Press Extra Virgin Olive Oil, depending on size of cauliflower, plus a tsp or more for finishing, if desired
1 tsp. dried marjoram
10 to 12 dried figs, stems removed, quartered lengthwise
2 Tbsp Sigona's Fig Balsamic
Salt and pepper, to taste
Chopped parsley for garnish, optional
Directions: Preheat oven to 400°F.
In a large bowl, toss the florets with olive oil and marjoram to coat evenly. Spread the cauliflower out on a rimmed baking sheet. In the same bowl add the figs and balsamic; set aside and to allow figs to reconstitute while cauliflower roasts.
Roast cauliflower about 15 minutes, shaking pan once, until the florets have begun to soften and brown a little. Remove from oven and scrape into the bowl with the figs and balsamic. Toss everything together to coat evenly. Return the mixture to the baking sheet, spreading it out in a single layer. Roast another 6 to 8 minutes.
Season cauliflower with salt and pepper, tossing gently. Transfer the cauliflower to a serving dish, top with chopped parsley, finish with a drizzle of olive oil and serve.
---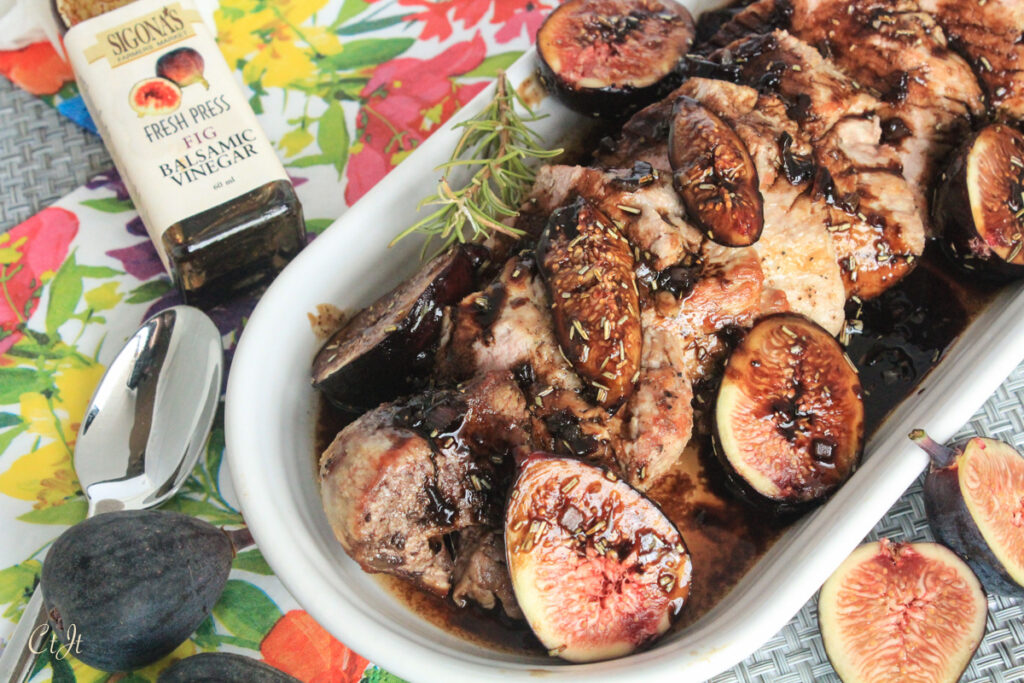 Roasted Pork Tenderloin with a Fresh Figs and a Balsamic Reduction
Just typing out this recipe makes my mouth water. While the ingredients and preparation are simple, the flavors are fantastic, making this a great dish for a quick weeknight dinner or an impressive one that will suit dinner guests. Serves 2 to 4.
Ingredients:
1 pork tenderloin (about 1 pound), excess fat and silver skin removed
Salt and pepper, to taste
2 Tbsp. unsalted butter
1 large shallot, diced
1 Tbsp chopped fresh rosemary
4 to 6 fresh, locally grown Black Mission figs, halved lengthwise
1/4 cup Sigona's Fig Balsamic
Directions: Preheat the oven to 400°F.
Rub pork with salt and pepper. Heat oil in a large, oven-safe skillet over medium-high heat. When hot, add pork to pan and cook, rotating about every 2 minutes, to brown all sides.
Roast pork in the oven for about 20 to 25 minutes or until a thermometer registers between 145°F and 160°F (it will still be slightly pink). Set aside and let stand for 10 minutes before cutting.
While pork is done and resting, begin the fig and balsamic sauce.
Add butter to a skillet over medium-high heat. When melted, stir in the shallots and rosemary and cook for one minute. Add the figs and balsamic; increase heat to high and bring to a light boil. Reduce heat to a simmer and cook, stirring occasionally, for about 5 minutes. The mixture will thicken a bit as it reduces. Turn off the heat and allow the mixture to sit for about 5 minutes, while you slice and plate the pork.
Slice the pork on the diagonal into one-inch slices and arrange on a serving platter. Drizzle the fig and balsamic mixture over the sliced pork, serve immediately.
---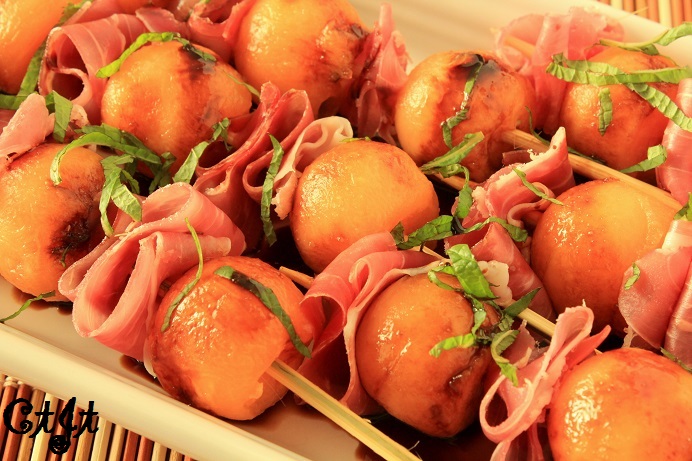 Melon & Prosciutto Skewered Hors d'oeuvres
Melon and prosciutto is a classic Italian pairing. I love the salty-sweet combination, especially when drizzled with our reduced fig balsamic. It presents just the right flavor…delicious! I have two time-saving tips for this dish: 1). Balling melon takes time (and a bit of skill) so feel free to cube instead of ball the melon. 2). If you don't want to take the time to make skewers, simply arrange the ingredients in a nice pattern on a large serving tray and allow guests to use toothpicks to skewer up the treat themselves. Makes about 9 skewers.
Ingredients
1 (4 oz.) package prosciutto, each slice cut lengthwise into 3 strips
1/2 orange-flesh honeydew melon, halved, seeded and balled or cubed
4 TBL Sigona's fig balsamic (lusciously sweet and syrupy, delicious!)
4-6 large mint leaves, chiffonade (optional)
Directions: Add the balsamic to a small sauté or sauce pan. Bring to a light boil then reduce heat to a simmer. Cook, stirring occasionally, until reduced by half and it has thickened, becoming more syrup-like. About 10 minutes.
Skewer on the melon and prosciutto (weaving on the prosciutto), alternating pieces, to fill a skewer. You'll use about three pieces of melon and three pieces of prosciutto for each skewer. Repeat until all ingredients are used. Place finished skewers in a line on a cookie sheet.
Drizzle the completed skewers with the balsamic reduction. Arrange on a platter, either stacked in a pyramid or in a single layer in a circle pattern and sprinkle with the mint, if using. Serve.