Salads for the Fall & Winter Holidays
What's your favorite part of a salad? Do you like them sweet or savory? Some feel it all comes down to the vinaigrette and some feel that no salad is complete without a sprinkling of seeds or nuts. We might agree on that one! Seeds and nuts add extra flavor, beauty and help fill you up!
Here are a few salads that are perfect for any fall or winter holiday from Thanksgiving to Christmas to New Years Eve! They're loaded with ingredients that are in season during the harvest season when the months are cooler, such as Asian pears, butternut squash, pomegranates, beets, apples and more.
See also:
Roasted Butternut and Asian Pear Salad with a Pomegranate Vinaigrette
These flavors may scream fall, but sometimes you just need a hearty, comfort-flavored salad, right? Add cheese or leave it off for a diary-free option. Goat or Feta adds a nice salty and creamy factor, if you choose to use it, and pairs beautifully with the roasted squash and bright, juicy pomegranate seeds. Asian pears are crisp and hold up well in salads, but you can also use apple or pear. Serves about 6.
Check out this recipe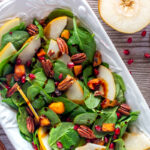 Concorde Pear Salad with Frisée and Belgian Endive
The sweetness of the Concorde pear works well with the slight bitterness of the two greens: the frisée and the Belgian endive. The burst of sweet-tart from the pomegranate seeds makes for the perfect bite. Adapted from Food & Wine. Serves 2 to 3.
Check out this recipe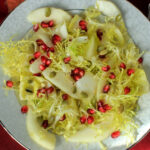 Apple & Walnut Harvest Salad with Sweet Grass Dairy Griffin and a Gravenstein Vinaigrette
Sweet Grass Dairy describes its porter-soaked Griffin cheese as having aromas of malt, earth, maple syrup and coffee beans – all of which can be considered flavors of fall – making this cheese an appetizingly appropriate addition to our apple & walnut harvest salad. The hints of porter in the Griffin perfectly compliment the Gravenstein apple balsamic vinaigrette. Makes about 2/3 cup vinaigrette; serves 4 to 6.
Check out this recipe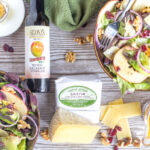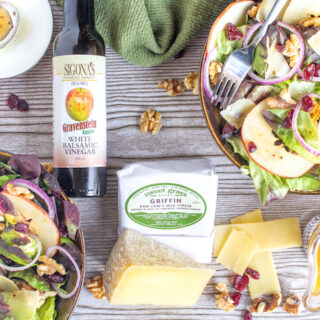 Mixed Greens Salad with Asian Pears, Glazed Walnuts and a Cranberry-Pear Vinaigrette
Simple fall flavors in this dish make for a great salad. Asian pears are refreshing and crisp, and hold up well when tossed with the other ingredients. Plus they're a little more exotic than apples or regular pears; perfect for a holiday dish! Serves 4 to 6.
Check out this recipe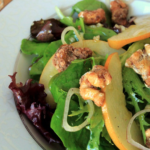 Chopped Apple Salad with Gorgonzola and a Gravenstein Balsamic Vinaigrette
Tuck this recipe away for your Thanksgiving contribution! Crisp apples with greens and blue cheese is a delicious combination. You'll love the sweet-tart kick of the Gravenstein balsamic in our vinaigrette. Inspired by Food Network. Serves 4 to 6.
Check out this recipe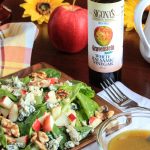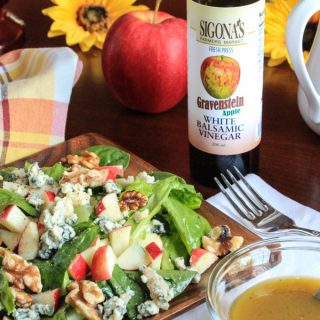 Fuyu Persimmon and Roasted Beet Autumn Salad with a Blood Orange Vinaigrette
Persimmons and beets come in to season just about the time Thanksgiving rolls around. This salad combines the two with a few other ingredients to create a fantastic salad for fall dinners. The sweetness of the persimmon, the earthy deliciousness of the roasted beets and garnet yams with a salty note from the cheese and pepitas is perfection when topped with the blood orange vinaigrette. Orange and beet pair well together, so the vinaigrette brings the whole dish together. Inspired by Low Carb Maven. Serves 4.
Check out this recipe