Apple & Walnut Harvest Salad with Sweet Grass Dairy Griffin and a Gravenstein Vinaigrette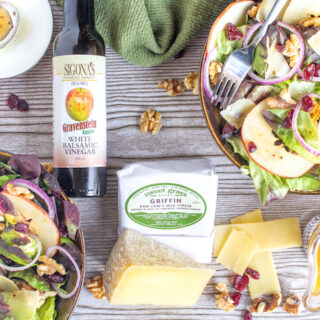 Apple & Walnut Harvest Salad with Sweet Grass Dairy Griffin and a Gravenstein Vinaigrette
Sweet Grass Dairy describes its porter-soaked Griffin cheese as having aromas of malt, earth, maple syrup and coffee beans – all of which can be considered flavors of fall – making this cheese an appetizingly appropriate addition to our apple & walnut harvest salad. The hints of porter in the Griffin perfectly compliment the Gravenstein apple balsamic vinaigrette. Makes about 2/3 cup vinaigrette; serves 4 to 6.
Ingredients
Gravenstein Apple Vinaigrette:
1/4

cup

Sigona's Gravenstein Apple White Balsamic

up to 1 Tbsp more, if desired, to taste

1

Tbsp

honey

such as Honey Hole Honey Co., raw, local, unfiltered honey, available only at Sigona's (up to 2 tsp more, if desired, to taste)

1

Tbsp

grainy mustard

1/4

cup

Sigona's Fresh Press Extra Olive Oil

Salt and pepper

to taste

A pinch of allspice or nutmeg
For the salad:
Red butter lettuce

Thinly sliced apple

Raw

shelled walnuts

Thinly sliced red onion*

Dried cranberries

Shaved Sweet Grass Dairy Griffin cheese
Instructions
In a medium bowl, whisk together the vinaigrette ingredients until emulsified. Taste; adjust as desired (aim for a sweet-tart flavor that finishes with distinct, lingering notes of the Gravenstein apple balsamic).

Arrange the lettuce and remaining salad toppings on individual dishes. Allow guests to drizzle on the vinaigrette just before eating.

*Chef's note: to take some of the heat out of red onions, soak slices in ice water for at least 5 minutes. Drain and pat dry.

For the Salad: Add the apples, spinach, romaine, walnuts and cheese together in a large bowl.

In a medium bowl, add the balsamic, honey and Dijon. While whisking, drizzle in the olive oil and whisk until emulsified. Season to taste with allspice or nutmeg, and salt and pepper, to taste.

Add 2 to 3 tablespoons of the vinaigrette to the bowl of greens. Toss well to incorporate. Divide among serving plates, season with pepper and serve with extra vinaigrette on the side.