Recipe: Turban Squash Soup
Turban Squash Soup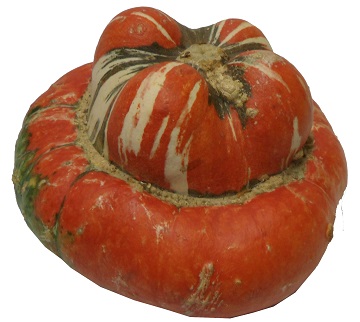 At first look, the Turban squash might seem best for fall decorating, with its bumpy skin, bulbous crown-like top and festive orange, white and green coloring. Although it's sure to add the perfect touch to a Halloween tablescape, it's also delicious to eat. Try this recipe for Turban Squash Soup — you can use the fatter part of the squash as a soup tureen!
1 Turban squash
4-6 c. chicken broth (Depends on squash size. Add more if soup is too thick.)
1 TBL olive oil
1 sm onion, chopped
3 cloves garlic, minced
1⁄4 tsp ginger
1⁄4 tsp cinnamon
Salt & pepper to taste
Light sour cream, for garnish
Being gently, so you can use the fatter part of the squash as a soup tureen, cut top off squash, as you would for a jack-o-lantern. Scoop out seeds & pulp, discard. Place the squash cut side down on foil-covered baking sheet. Cover top with foil. Roast at 350°F for 50-60 min or until tender.
Carefully (it's hot and you don't want holes in the shell) scoop squash flesh into a mixing bowl. Set shell back on baking sheet. Use mixer to puree the squash and blend in broth. In a saucepan, sauté onions and garlic in oil on med-hi heat for 2-3 mins. Mix in spices and puree and cook for 3 mins. Pour mix into squash shell and cover with top. Bake for 20-25 min. Serve hot.
Cook's note: Garnish with a dollop of sour cream & cinnamon. To add a little more substance, saute sausage with the onions and garlic until cooked.