In the Kitchen with Sigona's Featuring: Squash
With the arrival of autumn and winter just around the corner, it's the perfect time to enjoy delicious stuffed and roasted squash
Kale & Parmigiano-Reggiano Stuffed Green Danish Squash

The Green Danish is also known as an Acorn squash. If you're looking for a night of serious comfort food, serve this alongside Braised Chicken with Apples & Fennel. Recipe adapted from Everyday Food magazine and Molto Batali: Simple Family Meals from My Home to Yours. Serves 4.
Ingredients:
1 medium Green Danish squash, quartered lengthwise, seeds removed
Salt and pepper
1/4 cup Sigona's Fresh Press Arbequina extra virgin olive oil
3 green onions, chopped (white and 1 inch of the greens)
1-2 cloves garlic, thinly sliced
1 bunch local Lacinato kale, ribs and stems removed, leaves sliced into ribbons
2 tsp. tomato paste
1/3 cup breadcrumbs
3 TBL freshly grated Parmigiano-Reggiano
Directions: Preheat oven to 425F. Trim bottom of each squash piece so it rests flat. Season squash with salt and pepper and place on a rimmed baking sheet, skin side down. Drizzle with 2 TBL oil and bake until tender, 45 minutes.
Meanwhile, in a large Dutch oven or other heavy pot, heat 2 TBL oil over medium-high heat until smoking. Add green onions and garlic, cook until fragrant, 30 seconds. Add kale and stir to combine. Cover and cook over medium until vegetables are very soft, about 10 minutes. Uncover and cook, stirring, until mixture is nearly dry, 5 minutes. Add tomato paste and cook, stirring, until deep red and fragrant, 5 minutes. Remove from heat and let cool.
Heat broiler. In a small bowl, combine breadcrumbs and cheese. Fill squash with kale mixture and top with breadcrumb mixture, pressing gently so it adheres. Broil squash until breadcrumbs are browned, 1-2 minutes. Serve warm or at room temperature.
Roasted Butternut Squash & Pear Salad with a Local, Wild Persimmon Honey Vinaigrette

This salad combines fall's best flavors: mellow butternut squash, buttery pears and spiced pumpkin seeds, all complemented by a sweet and savory vinaigrette. Simple enough for lunch, yet impressive enough for Thanksgiving dinner. Serves 4-6. Adapted from Fine Cooking.
Ingredients:
1/2 cup pecans, very coarsely chopped
2 TBL unsalted butter, melted
1/2 tsp. ancho chili powder
3 cups 3/4-inch-diced, peeled butternut squash (from about a 2 lb. squash)
2 TBL Sigona's Fresh Press Hojiblanca extra virgin olive oil
Salt & pepper
3 TBL minced shallot
3 TBL Sigona's traditional balsamic
1 TBL Dijon mustard
2 tsp. Honey Hole Honey Co. Local, Raw & Wild Persimmon Honey
6 cups loosely packed greens, such as green leaf lettuce or baby Arugula
1 small ripe Anjou pear, halved, cored and thinly sliced (The Anjou is ripe when there is just a slight bit of give on the stem, then it's perfectly juicy and sweet)
Directions: Position a rack in the center of the oven and heat the oven to 450°F. Whisk the chili powder into the butter, add the pecans and toss to coat. Toast the pecans on a baking sheet about 5 minutes. Set aside to cool.
Toss diced squash with 2 TBL olive oil and season with salt and pepper. Place on a parchment-lined, rimmed baking sheet and roast until the down side is lightly browned, about 20 minutes. Remove from oven and flip the squash. Return to oven to bake 10 minutes more or until tender and lightly browned. Set aside to cool.
Combine shallots, balsamic, mustard, honey and 1/4 tsp. salt in a small bowl. While whisking, slowly drizzle in the remaining 1/3 cup oil to emulsify the mixture.
Add greens to a large bowl and drizzle just enough vinaigrette over the greens to coat lightly. Toss gently to coat. divide the greens among four to six plates. Top with an even amount of sliced pear, roasted butternut squash and pecans. Drizzle with more vinaigrette, if desired, and serve.
Roasted Winter Squash with a Medley of Veggies and Persian Lime Oil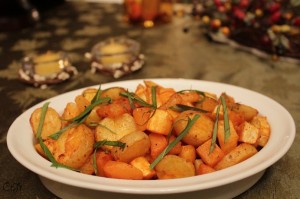 Fall and winter call for warmly spiced comfort foods, but why not bring a little summer to the season with the flavors of the tropics? The warmth of the paprika accompanied by the sweet tang of pineapple and lime gives squash a whole new character. Adapted from Clean Eating. Serves 4.
Ingredient:
1 1/2 cups winter squash, diced (try Red Kuri, Buttercup, Jarrahdale or Butternut)
1 lb. Fingerling potatoes, sliced into 1/2 in. rings
2 large parsnips, peeled and diced
1 1/2 cups diced pineapple
2 TBL Sigona's Fresh Press Persian Lime olive oil
1 1/2 tsp. paprika (smoked or regular)
Pinch salt
Two pinches black pepper
6 basil leaves, julienned
Cook's tip: To ensure all ingredients finish roasting at the same time, dice into equal sizes. Clean Eating also recommends adding one or two Fresno or Jalapeno chilies to the mix before roasting for added heat.
Directions: In a large bowl, combine everything but the lime wedges and toss to coat. Place on a parchment-lined baking sheet and roast at 425 degrees for about 35-40 minutes or until fork tender, stir once or twice while roasting.
Sprinkle with basil strips and serve.
Hawaiian Macadamia Nut Honey & Pepper Roasted Danish Squash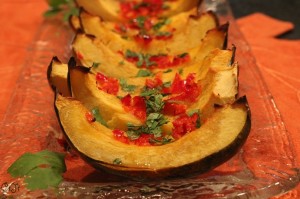 This is a quick go-to way of prepping winter squash. I love how the sprinkling of cilantro at the end adds a fresh factor. This is a great side to serve with chili-rubbed pork tenderloin. Serves 4.
Ingredients:
1 Danish squash (or use a 1 1/4 lb. or another winter squash)
2 TBL Sigona's Fresh Press Arbequina extra virgin olive oil
2 TBL Honey Hole Honey Company Hawaiian Macadamia Nut honey
1 Fresno pepper, seeded and minced (Another options is red bell pepper. The Fresno is not a hot chili, but adds another layer of warm flavor and a beautiful red color)
Juice of one lime
1/2 teaspoon salt, or to taste
1/4 – 1/2 cup roughly chopped cilantro
Directions: In a small bowl, mix together the minced pepper, olive oil, honey, lime juice and salt.
Halve the squash and remove the seeds. Cut each half into fourths and place cut side up on a parchment-lined baking sheet.
Brush with half the olive oil mixture and roast at 400 degrees for about 40 minutes, brushing with the remaining olive oil mixture half way through. Squash is done when fork tender and golden brown.
Arrange on a serving platter and sprinkle with chopped cilantro.