In the Kitchen with Sigona's Featuring Cheese + Maker Wine Pairings
We hope you joined us for our Storytelling with Sigona's Webinar featuring Maker Wine! If not, you can find the webinar on our Facebook page. Following are the wine & cheese pairings enjoyed during the webinar, which are a treat for any time of year, whether you're treating yourself to a quarantine snack or entertaining those within your bubble.
Maker, founded by two women who met while attending Stanford business school, wanted to offer a way to make wines more approachable and viable for a laid-back atmosphere, but in a way that was without fancier bottles or paired with possible pretentiousness.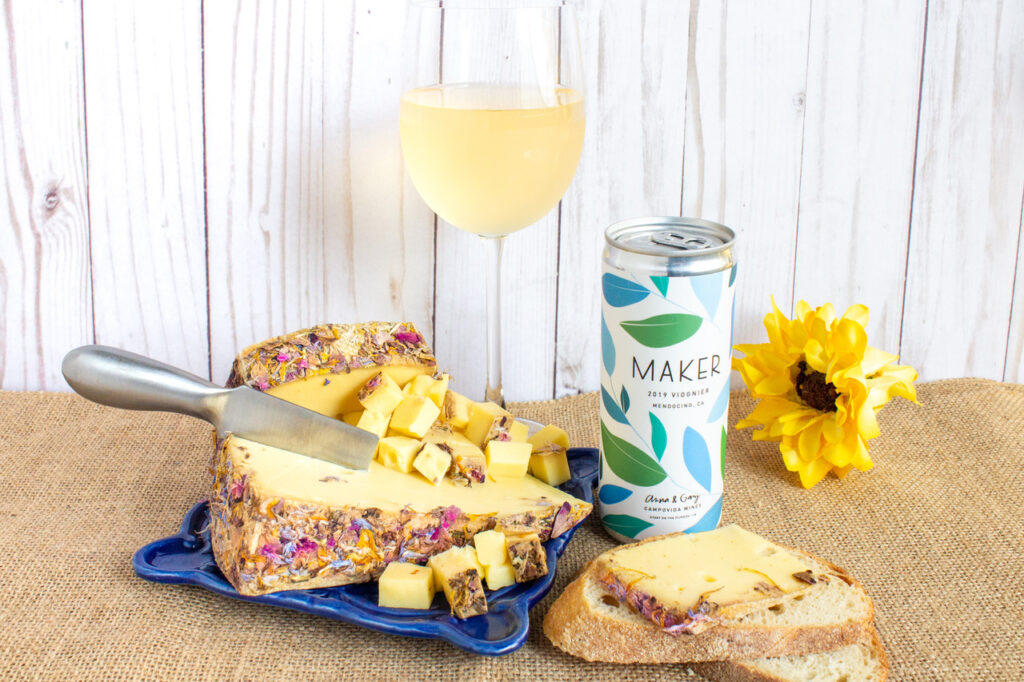 Enter canned wine.
Maker works with independent producers to showcase the diverse winemakers behind beautiful wines, creating an opportunity for the makers to tell their story and connect with others. Wine is more than just a bottle, a region and grapes – all the makers have a story, and it's the story which ultimately gives the wine character.
Canned wines are quickly becoming the hippest new packaging mode in the wine market. Each wine canned by Maker is from a small-batch, boutique wine producer, and is presented in a way that shines a light on the wine makers themselves.
Robiola + Maker Rosé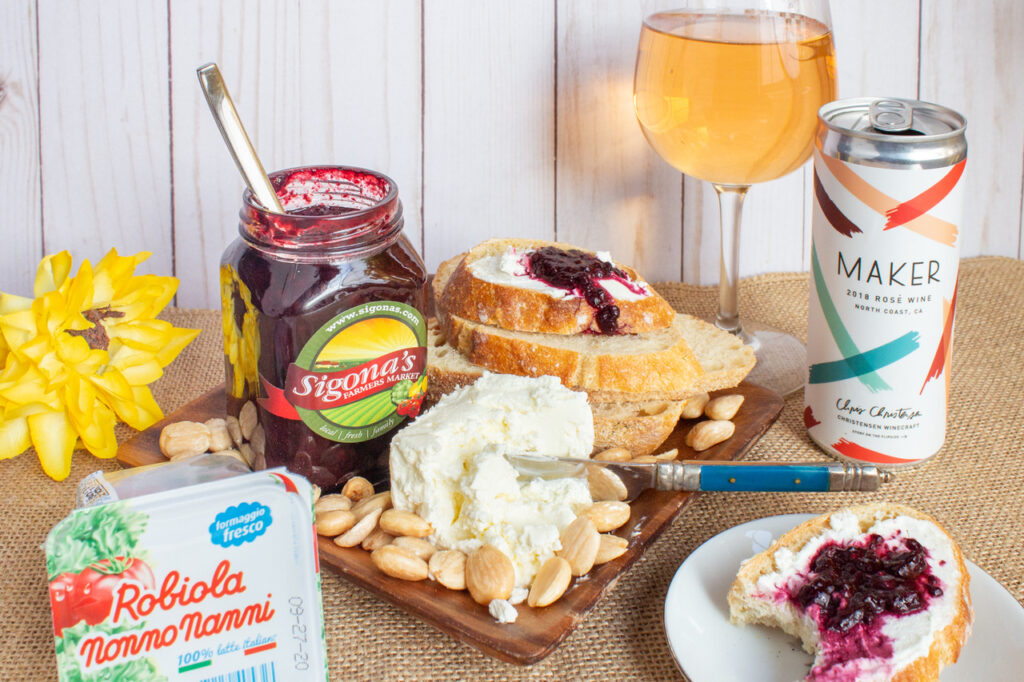 Nonno Nanni Robiola is a delicate, light, airy and very spreadable sheep & cow's milk cheese from Italy. It is mild and buttery, with subtle hints of mushroom and buttermilk, and is good for sweet or savory uses.
How to enjoy: Robiola is delightful when paired with fruit jams, such as Sigona's Olallieberry jam, and spread over a slice of crusty bread. Pair it with Maker Rosé, a dry, yet plush wine by Chris Christensen, described having notes of bright berries and citrus.
---
Alp Blossom Cheese + Maker Organic Viognier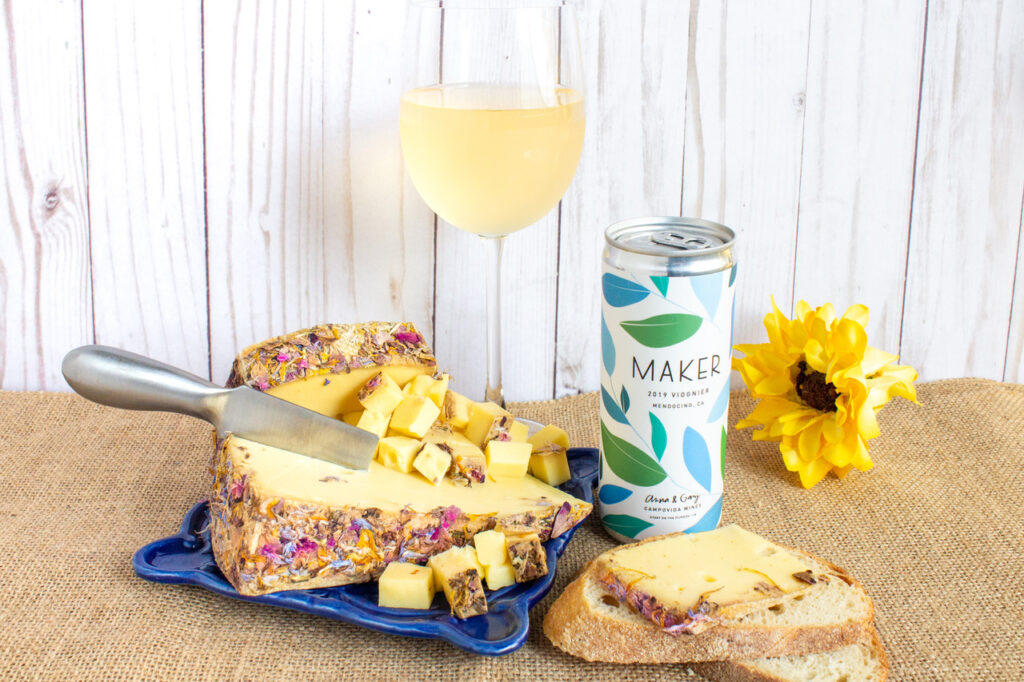 Alp Blossom is a one-of-a-kind cow's milk cheese made in Austria. It is aged in the caves of Bavaria where it's covered in dry edible flowers, hay and herbs from the surrounding Alpine meadows, giving it an herbaceous flavor and aroma, "similar to your favorite piece of pizza, especially near the crust," says John Nava.
Maker's organic Viognier, from Campovida Wines in Mendicino, Calif., features delicate florals and fresh fruit aromas, which only enhance the flavors of the Alp Blossom cheese.
How to enjoy: We recommend indulging in this wine and cheese pairing as simply as you can: Just place a slice or cubes atop a piece of crusty bread and sip the Viognier straight from the can.
---
Young Farmdal Gouda + Maker Pinot Noir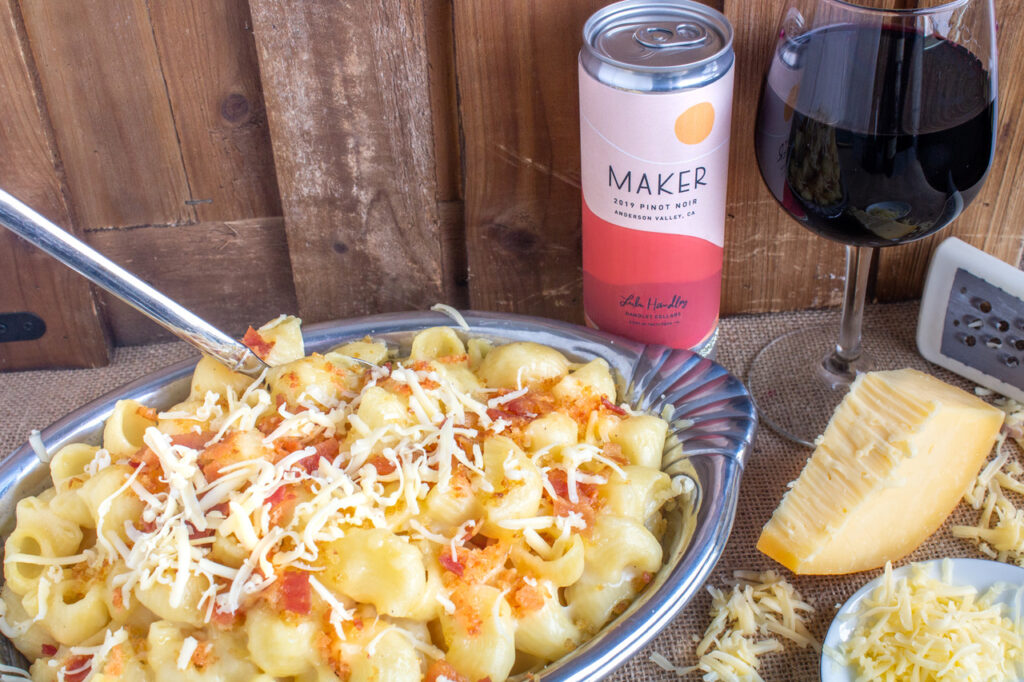 Young Farmdal is a Gouda aged just six to eight weeks. It's smooth and creamy, but is also complex with notes of sweet cream and vanilla. It's a beautiful melter! Sigona's Moo-Net is a California-style white cheddar made exclusively for Sigona's by Central Coast Creamery, the same that makes our Moo-Na Lisa cheese. It's flavorful and is also melts smoothly, making it ideal for mac & cheese or grilled cheese.
How to enjoy: Young Farmdal Gouda + Moo-Net is a match made in macaroni & cheese heaven. Serve the dish with Maker Pinot Noir by Handley Cellars in Anderson Valley, Calif.; the bright acid tones of the Pinot Noir compliment the creamy young Gouda.
Macaroni & Cheese with Young Farmdal Gouda and Sigona's Moo-Net White Cheddar, Topped with Toasted Panko and Crumbled Bacon
This might just become your new go-to comfort dish. Both the Gouda and Moo-Net cheeses melt beautifully and also bring delicious flavor to the pasta. Plus, who can resist something topped with crumbled bacon? Pair this with Maker Pinot Noir for a fantastic meal. Serves 6 to 8.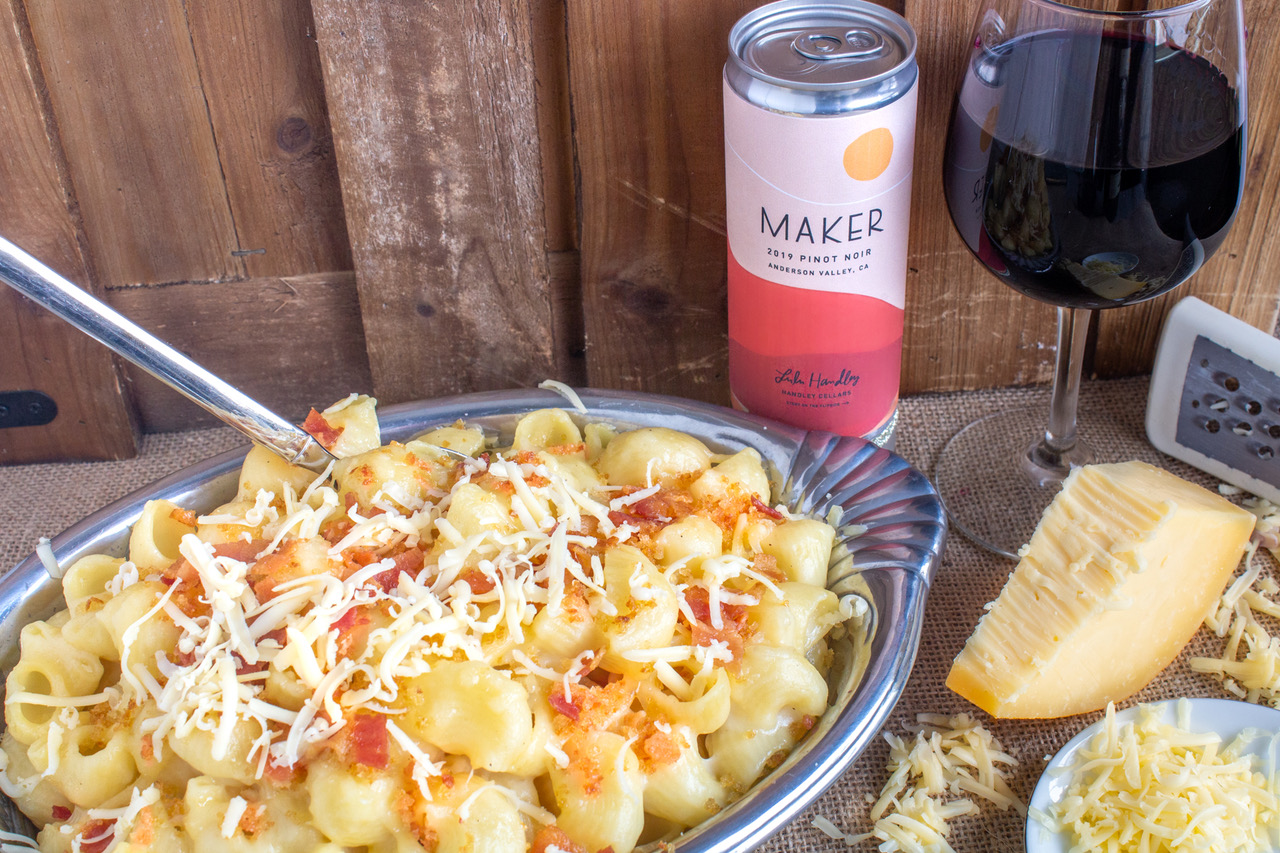 Ingredients:
16 oz. short-cut pasta, such as elbows
1/2 cup panko
2 Tbsp Sigona's Garlic Olive Oil
1 wedge (about 8 oz) Young Farmdal Gouda, plus more for topping, if desired, shredded
1 wedge (about 8 oz) Sigona's Moo-Net White Cheddar, shredded
1/4 cup butter
1/4 cup all-purpose flour
1 scant tsp ground mustard powder
Salt and pepper, to taste
2 cups milk
6 to 8 pieces cooked bacon, crumbled
Directions: Prepare pasta to al dente, according to package directions. Drain, transfer to large bowl or pot and set aside.
In a small sauté pan, heat the olive oil over medium heat. Add the panko and cook, stirring constantly, for about 3 to 4 minutes until they're fragrant and lightly toasted, be careful not to burn them. Remove from heat and set aside.
Meanwhile, in a medium saucepan, melt butter over medium to medium-low heat. Whisk in the flour, mustard powder, salt and pepper until it reaches a paste-like consistency. Slowly add the milk, whisking until smooth, thickened and heated through. Remove from heat and fold in the shredded cheeses. Stir until cheese is incorporated and melted.
Pour the cheese sauce over the drained macaroni. Stir to incorporate; transfer to a serving dish.
Sprinkle the top of the macaroni and cheese with the toasted panko and crumbled bacon. Top with additional shredded cheese, if desired.