Robbie's Produce Tips: Local Heirloom Apples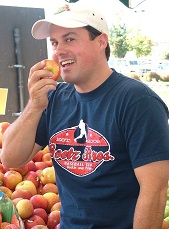 As the stone fruit winds down, I like to load up on apples at home, especially for my two sons.
The early California apple season is great! It's the best time to get Vince Gizdich's apples.
Sigona's has worked with Vince Gizdich, a small local farmer from Watsonville, CA for more than 35 years.
Vince Gizdich has a family farming history stretching back into the early 1930's. In his 67-acre ranch, Vince grows 14 heirloom apple varieties just as they originated; some of his trees are 100 years old, so they maintain their true qualities.
Everyone knows that Vince Gizdich's apples are superb. He grows some of the most amazingly crisp, sweet and aromatic heirloom apples you can find.
In fact, the Galas are tasting exceptional this year. They are crisp, sweet and juicy.
This week, from September 24-30, 2014, we've got you covered. We're offering you a free tote bag full of Gizdich Ranch's deliciously crisp, sweet and juicy Gala apples with your purchase of $30 or more.
Here's some tips for choosing and storing your heirloom apples:
Generally you would choose apples that are free of bruises and have a healthy shine to them; however, heirloom apples tend to have scaring and are not as "shelf pretty" but as just as good.
Store apples in the fridge for optimum shelf life and crispness.
California apples are just starting so it's best to get them soon as these are fresh picked.
Be gentle with Macintosh, Golden Delicious and Gravenstein apples as these bruise easier than other varieties.
The best apples to use for pies are the Pippin and the Granny Smith as these are firm and hold up well.-
Robbie Sigona is our produce buyer. He works with local farmers and scours the market for the very best in fresh fruits and vegetables – some of you won't find anywhere else.