Robbie's Produce Tips: Kent Mangoes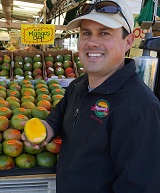 Kent mangos are a Sigona favorite. My boys always ask me 'when do the Kents start, Dad?' They like the Haden and the Atulfo (Manila), but love the Kents.
I'm not sure if it's the smooth texture or its sweetness, but the kents are just about everyone's favorite mango.
Kents can be tricky to pick out. They can be green outside, yet ripe and beautiful inside. As the season progresses the exterior color does get a little better.
Here's some tips:
choose mangoes that have a slight give to them. We'll always have one cut so you see the inside and will gladly sample for you.
If you purchase them firm or slightly breaking, leave them room temperature until they are ripe.
Refrigerate for a longer shelf life.
Robbie Sigona is our produce buyer. He works with local farmers and scours the market for the very best in fresh fruits and vegetables – some you won't find anywhere else.