In the Kitchen with Sigona's Featuring: Bartlett Pears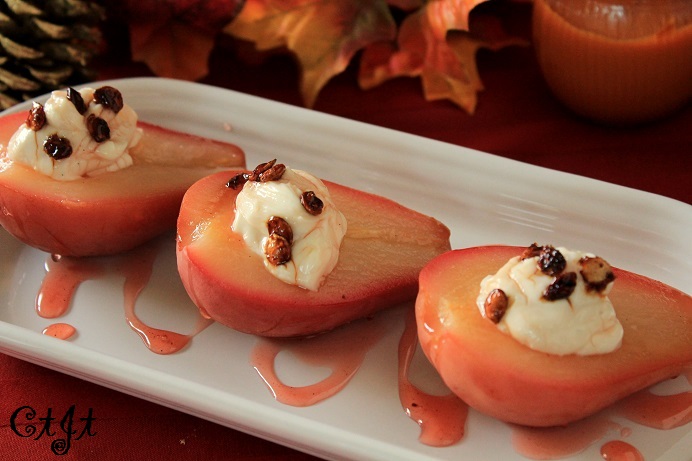 Paired with cheese, eaten out of hand, baked into a tart or sliced and added to a burger, pears have much to offer. Try some of these recipes:
Sweet Riesling Poached Bartlett Pears with Spicy Pepitas and Sweet Mascarpone
We generally see pears poached in red wine, but we loved the idea of using a sweet, late harvest white wine instead so we adapted this recipe from Sunset Magazine. If you want to skip the mascarpone, we suggest serving this dish with our vanilla bean gelato by Gelato Massimo. Serves about 8.
Note: the syrup in the accompanying photo has a red tint because we used Bartlett pears in our test kitchen.
For the pears:
3 to 3 1/2 lbs. ripe pears, such as Bartlett or Bosc, halved lengthwise and cored (about 4 pears)
3/4 cup Dark Muscovado Sugar (has a fine, moist texture with a high molasses content)
1 whole vanilla bean (not split)
1 cinnamon stick (about 3 in. long)
1 bottle (750 ml.) Gewürztraminer wine, such as Coastal Ridge (a sweet Riesling would also work)
1/2 cup water
For the spicy pepitas:
1/4 cup pepitas (pumpkin seeds)
1 1/2 teaspoons packed light brown sugar
Pinch cayenne or chili powder
1 3/4 cups (from a 16-oz. pkg.) mascarpone
Directions: Place pears in a very large saucepan or wide sauté pan with the granulated sugar, vanilla bean, cinnamon stick, wine, and 1/2 cup water. Simmer gently, covered, until pears are tender when pierced with a fork, 10 to 15 minutes.
Remove pears with a slotted spoon and set aside, loosely covered with plastic. Boil poaching liquid over medium heat until thick and reduced to about 1 cup, about 20-30 minutes (take care not to reduce the syrup too much). Chill until cool, at least 30 minutes.
Meanwhile, heat oil in a large frying pan over high heat. Add pepitas, brown sugar, and cayenne or chili powder. Cook, stirring often, until seeds are toasted and brown sugar has softened, about 3 minutes.
Mix 1/4 cup of the syrup with mascarpone. Arrange pears on a serving platter. Dollop mascarpone mixture on or beside pears, drizzle syrup over pears and mascarpone and sprinkle with pepitas mixture.
Caramelized Pears With Prosciutto And Balsamic Syrup
This recipe, courtesy of Luisa Ormonde of Luisa's Catering in San Carlos, pairs together flavors that only enhance each other when served together. Delicious! Serves 6, 30 minutes to make.
Ingredients:
3 cups Sigona's 6-12 year aged balsamic
6 ripe Bartlett ripe pears
1 fresh lemon, cut in half
kosher salt & Freshly ground black pepper
1/2 cup granulated sugar
3 tablespoons unsalted butter
24 slices of prosciutto d Parma (about 1/2 pound)
4 cups organic arugula, cleaned
3 tablespoons olive oil
6 ounces gorgonzola cheese (Mountain gorgonzola is my favorite but gorgonzola Dolce would be great as well)
Directions: Peel each pear, discarding the skin. Slice each pear into quarters and remove the core. Then slice each quarter in 2 (you should have 48 pieces). **While you are cutting the pears, place in a mixing bowl and toss with a squeeze of the fresh lemon juice. Season the pears with salt and black pepper. Add the sugar and toss well, coating each piece completely. In a large stainless steel pan, over medium-high heat, melt the butter. When the butter is hot, add the pears, sliced side down, cook until the pears start to caramelize, about 2 to 3 minutes, flip over and caramelize the other side. Remove the pears from the stove. Toss the arugula with olive oil salt and pepper.
In a medium-saucepan, over medium heat, add the balsamic vinegar. Bring to a boil and reduce to a simmer. Simmer until the liquid reduces by 3/4, about 30 minutes or until syrup-like consistency. Remove from the heat and cool completely (yields about 1/4 cup).
To serve, place a small mound of dressed arugula in the center of each plate. Place 2 pear slices on each slice of prosciutto and roll prosciutto around the pears. Place 2 or 3 prosciutto and pear bundles on/around each mound of arugula. Crumble the cheese over the pears or cut into long triangles. Drizzle each plate with some of the balsamic syrup.
Pear Puree for Baby
It's simple, it's healthy and it freezes beautifully. Whip up a batch for baby and freeze it in small portions.
What you need:
Two Bartlett pears, rinsed well and dried (make more if you like)
Water
A sauce pan
Food Processor or a food mill
Directions: Peel pears, then halve and remove the core (use a melon baller or spoon). Dice the pear into small chunks and place in the sauce pan. Cover with water by 1 inch.
Bring the pear mixture to a boil, and then reduce heat to a low simmer. Cover and cook, stirring occasionally, for about 7 minutes, or until the pear is quite tender.
Remove from heat and let sit for 5 minutes. Transfer mix to a food processor and blend until pureed (a smooth mixture with no chunks).
If serving right away: cool to a temperature ok for baby. Refrigerate the rest or freeze.
If freezing: spoon puree into a clean ice cube tray, cover with plastic wrap and freeze until frozen through or overnight. Transfer cubes to a freezer bag and keep in the freezer to thaw and use a needed. Will keep for up to 30 days. To thaw, either place a cube or two in a clean dish and let thaw on the counter or warm it slightly in the microwave, checking the temp before feeding baby.
French-style Moo-na Lisa & Pear Panini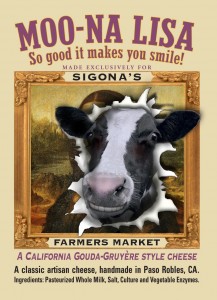 Moo-na Lisa is a cheese made exclusively for Sigona's by a local creamery. This recipe was developed by one of our Redwood City cheese specialists, specifically for this cheese as it pairs perfectly with pears. Enjoy! Serves 2.
Ingredients:
4 slices sourdough bread
2 TBL stone-ground Dijon mustard
1 ripe Bartlett pear (firm, but ripe), thinly sliced
2 oz. Sigona's Moo-na Lisa cheese, sliced
1-2 TBL Sigona's Fresh Press Extra Virgin Olive Oil
Freshly ground pepper
Directions: Preheat a Panini maker or griddle over medium to medium-high heat. Brush each side of the bread with olive oil. Layer slices of pear on 2 pieces of bread and sprinkle with a bit of pepper. Top with slices of Moo-na Lisa. Place the remaining oiled slices of bread on top of the dressed slices and place in the Panini maker or on the griddle.
Grill (flipping once if using a griddle) until nicely browned on both sides and the Moo-na Lisa is melted. Serve immediately.