In the Kitchen with Sigona's: Red Gold Saffron
Veggie Paella with Red Gold Saffron
This is not your ordinary Paella dish, but it is a delicious, healthy version that is simple to prepare. This recipe is so versatile, you can make it with a variety of in-season veggies. It can be a one-dish meal that is great for entertaining. Serves 6.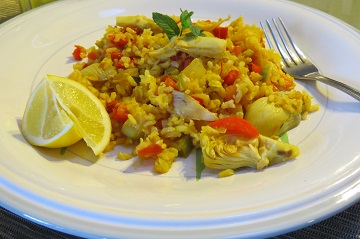 Ingredients:
1 small yellow onion, diced
4 cloves garlic, minced
1 Chayote squash, diced (optional)
1 medium red bell pepper, diced
6 ounces cremini mushrooms, quartered
2 cups vegetable broth, such as Pacific Natural Foods
Generous pinch Red Gold saffron
1 tsp ground paprika
1/2 tsp  Himalayan salt
1 bay leaf
1 1/2 cups brown rice, uncooked
2 fresh Roma tomatoes, diced
1 zucchini, cut into 1/2 inch cubes
2 jars artichoke hearts, quartered, such as Passport International Specialties (6.5 oz)
1 lemon (for garnish)
Directions: Add olive oil to a large sauté pan over medium heat. Add onion, garlic, bell pepper, mushrooms, chayote and sauté until onion is soft and mushrooms have given up most of their liquid, stirring often, 7 to 9 minutes. Remove from heat and set aside.
In a large saucepan, bring the broth to a simmer over medium-high heat. Stir in saffron, paprika, salt and bay leaf. Stir in onion mixture, rice, tomatoes, zucchini and artichoke hearts. Return to a simmer, cover, reduce heat, and cook until rice has absorbed liquid, about 25 minutes.
Remove from heat and discard bay leaf. Cover paella and let sit an additional 5 minutes before serving.
Garnish with lemon wedges if desired.

Red Gold Saffron Tea
Making your own saffron tea couldn't be easier. Simply steep and serve. Sweeten as you wish. Serves 1.
I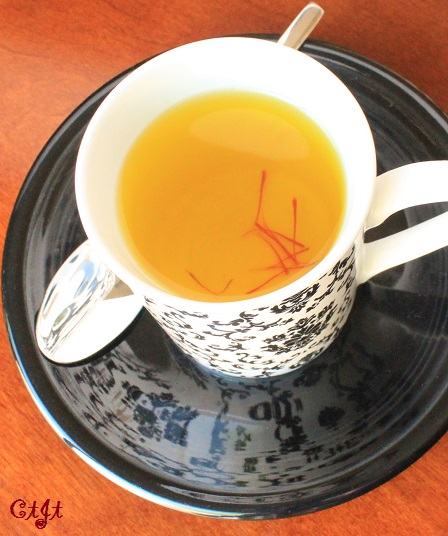 ngredients:
3 to 5 strands of Red Gold saffron, more or less depending on mug size or to suit your taste
Water, enough to fill your mug
Optional: Honey, such as Wildflower from Honey Hole Honey Co., available at Sigona's
Optional: A pinch or two of cinnamon
Directions: Bring water to a low boil; remove from heat. Add 3 to 5 strands of saffron to your mug, then pour the water over the strands and allow to steep for about 5 to 10 minutes. If using cinnamon, add a pinch or two and allow to steep as well.
If you wish, sweeten the saffron tea with honey. Enjoy on the couch with a good book.
Heirloom Apple & Pumpkin Soup with Red Gold Saffron
Blending this soup makes it seem creamy without the calories – that's the beauty of pumpkin! It's a delicious dish to serve on a crisp fall day, accompanying a salad, pork or chicken. Inspired by Clean Eating. Serves 4.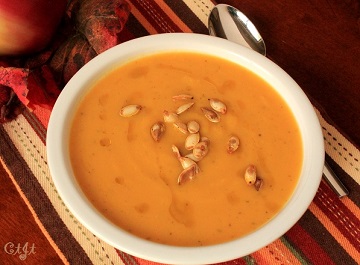 Ingredients:
1 Tbsp Sigona's Fresh Press Extra Virgin Olive Oil, plus more for drizzling
1 (about 2 lbs.) squash, such as pumpkin or butternut, peeled, seeded and cut into 1/2-inch cubes (about 4 cups)
1 local heirloom apple, such as Empire, Newton Pippin or Braeburn, cored and diced
1 small onion, diced
1 Tbsp finely chopped fresh sage leaves
1/8 to 1/4 tsp nutmeg, more or less to taste
A pinch Red Gold saffron
Salt and pepper, to taste
2 ½ to 3 cups chicken broth, more or less depending on thickness desired
Optional: Toasted pumpkin seeds, for garnish (recipe)
Directions: In a stock pot, heat oil over medium heat. Add the pumpkin, season with salt and pepper, and cook, stirring occasionally, for 3 minutes. Add onion and cook, stirring frequently, until onions are just softening, about 5 to 7 minutes. Stir in apple, sage, saffron and nutmeg. Cook, stirring occasionally, for another 4 minutes.
Deglaze the pan with the broth, scraping up any brown bits. Bring to a boil, reduce to a simmer and cook until pumpkin and apple are very tender, about 8 minutes.
Using a food processor, blender or an immersion blender, purée soup (working in batches if necessary).
Serve soup warm, garnished with a few toasted pumpkin seeds and a drizzle of olive oil.