In the Kitchen with Sigona's Featuring: Locally-made, Fresh Annabella Buffalo Mozzarella
Quick-Serve Suggestions for Ciliegine Mozzarella
Wrap a Ciliegine in a trimmed strip of prosciutto with a basil leaf tucked inside. Secure with a toothpick and serve.
Skewer on a cherry tomato, Ciliegine and basil leaf, drizzle with olive oil and balsamic, season with salt and pepper. Instant caprese on a stick! Add salami slices and Kalamata olives for a heartier offering.
Wrap a roasted pepper around a Ciliegine and serve skewered.

DIY Marinated Ciliegine Mozzarella with Fresh Herbs and Olive Oil
In need of a quick appetizer? Serve your own marinated mozzarella alongside an assortment of salami and olives from our olive bar.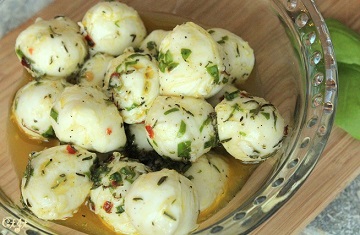 Ingredients:
3 Tbsp Sigona's Fresh Press Extra Virgin Olive Oil (Mix it up! Try Sigona's Garlic Oil, Sigona's Basil Oil or another infused variety for more flavor)
1 tsp chopped fresh basil or oregano, which ever pleases your palate
1 tsp fresh thyme
1/2 tsp minced fresh rosemary
1/4 to 1/2 tsp red pepper flakes, more or less to taste
Salt and pepper, to taste
1 (8 oz.) tub Annabella Ciliegine (cherry size) fresh mozzarella balls, drained
Directions: Combine oil, herbs, red pepper flakes, salt and pepper in a small bowl. Whisk well then add the drained mozzarella balls. Stir well to coat. Allow mozzarella to stand for at least 30 minutes, or up to an hour, stirring every 10 minutes, before serving to allow the flavors to develop.
Leek and Mushroom Pizza with Fresh Ciliegine Mozzarella
Make yourself a grown-up pizza with these simple ingredients. You'll simply love the flavor the corn meal crust brings to the party, too. Serves 2.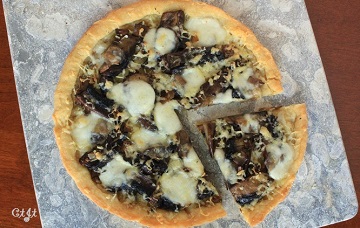 Ingredients:
2 Tbsp Sigona's Garlic Oil, plus more for brushing
1 leek (white and lightest green parts only), halved lengthwise and sliced*
A pinch of red pepper flakes
Salt and pepper, to taste
8 to 10 oz. chanterelle mushrooms, chopped  or 1 medium portobello mushroom, stemmed, halved and cut into 1/4 inch slices
1 Vicolo corn meal pizza crust, regular or gluten-free
2 to 3 oz. Ciliegene (cherry size) fresh mozzarella balls, drained and halved
2 to 3 oz. shredded Moo-na Lisa Cheese (a Gouda-Gruyere style cheese found only at Sigona's)
*A leek can have sand trapped between its layers, which, unremoved, can make for a gritty meal. To remove the sand, soak sliced leeks in a bowl of water and give it a good swizzle. Allow the leeks to sit for about a couple minutes to allow the sand settle at the bottom of the bowl. Skim the leeks from the top of the bowl and pat dry.
Directions: Heat 2 tablespoons oil in a medium skillet over medium-low heat. Add the leeks and sauté until softened, about 3 to 4 minutes. Add a pinch of red pepper flakes, the mushrooms, salt and pepper. Cook, stirring occasionally, until the mushrooms are softened and golden, about 4 to 6 minutes.
Lightly brush the pizza crust with olive oil. Add on the leek and mushroom mixture, dot with the halved mozzarella and top with shredded Moo-na Lisa.
Bake according to crust package directions or until the Moo-na Lisa cheese is melted (the mozzarella will not get as melty).