In the Kitchen with Sigona's Featuring: Strawberries
Chocolate Dipped Strawberries
Sure, you can buy these, but why not make your own? That way you're in charge of quality control so you know each berry will be absolutely delicious. Add sprinkles if you wish. These are best made within 2 hours of serving.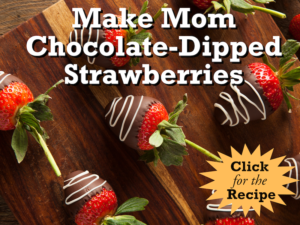 What you need:
4 to 6 fresh long-stem strawberries, more or less depending on the size
At least 5 oz. Guittard chocolate,** (we carry bulk chunks, perfect for melting)
2 to 3 oz. Guittard white chocolate** (we carry bulk chunks, perfect for melting)
melted white chocolate or sprinkles for decorating
Directions: Rinse the strawberries and pat dry. Place in the fridge for at least 30 minutes.
You may use a double-boiler method to melt the chocolate, or simply use the microwave: place the regular chocolate in a (preferably tall and skinny) coffee mug and microwave for 20 second increments, stirring in between sessions, until chocolate is melted and smooth (about 1 minute total).
Once melted, hold a strawberry by the stem and dip one at a time into the chocolate, rotating and tilting the mug as necessary to coat the entire strawberry. Working quickly, lay the strawberry on a parchment-lined plate. Repeat with remaining strawberries.
Chill in the fridge for about 10 minutes.
In another mug or small bowl, melt the white chocolate using the microwave method. Either use a spoon to drizzle the white chocolate on the berries, or dip the tip of the strawberries, one at a time in the white chocolate and place back on the parchment, garnishing each with sprinkles as you go, if desired.
Store the strawberries in the fridge until ready to serve.
**You'll have some chocolate left over, depending on the size of strawberries. Either make more or eat the leftover chocolate with a spoon. It'll be our secret.
Strawberry and Honey Breakfast Muffins
Creaming together the butter and sugar makes for incredibly light and fluffy muffins. You'll love the extra hint of sweet provided by the honey yogurt, if you choose to use it. Make a batch of these to enjoy with your sweetie Valentine's Day morning. Adapted from Barefoot Contessa. Makes about 8 to 12 muffins.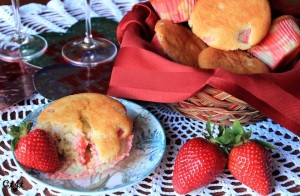 Ingredients:
6 Tbsp unsalted butter, at room temperature
3/4 cup sugar
2 large eggs, at room temperature
1/2 cup (4 oz.) honey-flavored Greek yogurt, such as Fage (vanilla would also work)
2 Tbsp milk
1 ¼ cup all-purpose flour
1 tsp baking powder
1/4 tsp baking soda
1/4 tsp kosher salt
1 heaping cup diced fresh strawberries
Directions: Preheat the oven to 350°F. Place 8 to 12 paper liners in a muffin pan.
In the bowl of an electric mixer fitted with the paddle attachment, cream the butter and sugar until light and fluffy, about 5 minutes. With the mixer on low, add the eggs one at a time, then add the honey yogurt and milk.
In a separate bowl, sift together the flour, baking powder, baking soda and salt. With the mixer on low, add the flour mixture to the batter and beat until just mixed. Fold in the diced strawberries with a spatula and be sure the batter is completely mixed.
Scoop the batter into the prepared muffin pan, filling each cup just over the top. Bake for 25 to 30 minutes, until the muffins are lightly browned on top and a cake tester comes out clean.
Champagne and Strawberries for Two
The best part about this simple delight is the champagne-soaked strawberries you can savor as you begin, enjoy or finish your drink. Find the cute chalkboard signposts at a craft store near you.
What you need:
4 fresh strawberries
Chilled champagne, such as JFJ California Champagne
2 small chalkboard signposts, optional
Directions: Rinse the strawberries and pat dry. Using a paring knife, cut an angled divot around each strawberry stem and remove.
If using signposts, slide two strawberries onto each stick and place the posts in the glasses. If not using posts, simply place two strawberries in each glass.
Slowly pour champagne into the glasses, clink them together in a toast to your sweetheart and enjoy.