Tips for Healthy Living Featuring: Local Artichokes from Castroville
 All Choked UP!
By: Sharon Stewart, Registered Dietitian Nutritionist
Did you know that artichokes are actually budding flowers? Descended from thistles, artichokes as we know them today originated in the Mediterranean region. Not surprisingly, they do exceptionally well in the central California coastal climate, which is quite similar.  In fact, most of the artichokes we get in California come right over the hill in coastal Monterey County, with Castroville billing itself as the Artichoke Capital of the World (though as it turns out, at least according to the Agricultural Issues Center at the University of California, the world's largest artichoke producer is Italy!).
One of the nice things about preparing artichokes is that it's so simple.
Here's the prep:  cut across the top of the artichoke (about an inch for a medium-to-large artichoke); then trim the thorny end of each petal if you like (you don't have to, except for aesthetics: the thorns tend to soften during cooking).
The stem is really a continuation of the artichoke heart; for many people, that flavor is the reward for all that peeling of outer petals! So don't cut off the stem unless you have to; just trim it. Check out our blog for a step-by-step demonstration.
How to cook them:
Boiling:  bring a pot of water to a rolling boil and put in the artichokes. They will float.  Cover the pot and let them simmer until the outer petals pull off easily (25-45 minutes, depending on the size of the artichoke).  Using a long-handled set of tongs for this step is a nice way to keep from steaming your fingertips!
Chef's tip from the Sigona's kitchen:  Another way to test for doneness:  a sharp knife should slice through the base of the artichoke easily.
Steaming: fill the pot with enough water to reach just below the steamer basket.  Bring it to a boil, add the artichokes, and cook as above.
Chef's tip from the Sigona's kitchen:  Adding a bit of lemon juice or vinegar will minimize browning. 
In the microwave:  put your artichokes in a microwave-safe bowl and cover it with waxed paper, the casserole lid, or vented plastic wrap. Microwave on high till the artichokes are tender, about 6-8 minutes (depending on wattage and the size of the artichokes).
And there are other ways to cook them:  you can bake them, stuff them, or cook them in a pressure cooker or in a crockpot.  One of our favorite methods is on the grill.
On the grill:  This is really a finishing technique.  Cook a number of artichokes in advance; they'll store nicely in the fridge for several days.  When you're ready to grill, pull out as many as you need; brush them with some Sigona's Fresh Press Olive Oil, add a little salt (we like large crystal salt for a burst of flavor) and grill to smoky perfection.  Prepared this way, they make a great foil for a sharply savory or mildly sweet dipping sauce.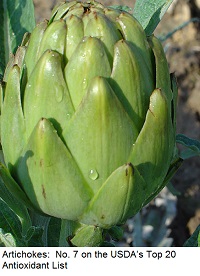 To eat an artichoke:  It's not intimidating, once you know how!  Take off individual leaves one at a time, and scrape off the fleshy base with your teeth.  If you want to keep the calorie count in check, dip them in a yogurt balsamic vinegar sauce rather than melted butter or mayonnaise.  At the middle rests the best part, the heart.  Here, you get the gold mine of what makes this vegetable so enjoyable.
Nutritionally, artichokes are low in calories and fat, like most vegetables.  They are a rich source of fiber and antioxidants.  They also contain compounds that inhibit cholesterol production as well as enhance its excretion. They are a delicious way to get other nutrients that are often lacking in the diet – vitamin C, magnesium and potassium.
Enjoy these flowering buds at their peak for best flavor.
Sharon Stewart is our latest and greatest Tips for Healthy Living writer. Sharon Stewart is a Registered Dietitian Nutritionist (RDN). She offers personalized, one-on-one nutrition counseling in the Palo Alto area. She specializes in clients with obesity, diabetes, heart disease, and gastrointestinal disorders as well as nutrition check-ups for general well-being. She also works for Plus Health Management, providing nutrition counseling to the employees on the Facebook campus in Menlo Park.  Feel free to contact her over at Sharon Stewart, R.D. Nutrition Consulting.