In the Kitchen with Sigona's Featuring: Sautéed Organic Rainbow Chard with Garlic and Feta
Sautéed Organic Rainbow Chard with Garlic and Feta
This side dish comes together in minutes. It's perfect for serving with any proteins, especially chicken, pork or turkey. Adapted from Cooking Light. Serves 2 to 4.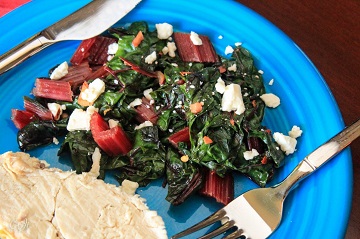 Ingredients:
1 bunch organic rainbow chard
1 Tbsp. Sigona's Fresh Press Arbequina Extra Virgin Olive Oil from Chile
2 cloves garlic, minced
A pinch or two red pepper flakes, to taste
Ground black pepper, to taste
Crumbled Feta or goat cheese, for sprinkling (a couple tablespoons)
Directions: Rinse and pat dry the chard. Remove the leaves from the stems; thinly slice the stems and chop the leaves, keeping stems and leaves separated.
In a large skillet, heat the olive oil over medium-high. Add the garlic, red pepper flakes and chard stems. Season with pepper and sauté, stirring occasionally, for about 3 minutes. Add the chopped chard leaves and sauté, stirring frequently, for about 2 more minutes or until the leaves are wilted down.
Remove from heat and sprinkle with cheese. Serve warm.