Recipe Roundup: Sigona's Blenheim Apricot White Balsamic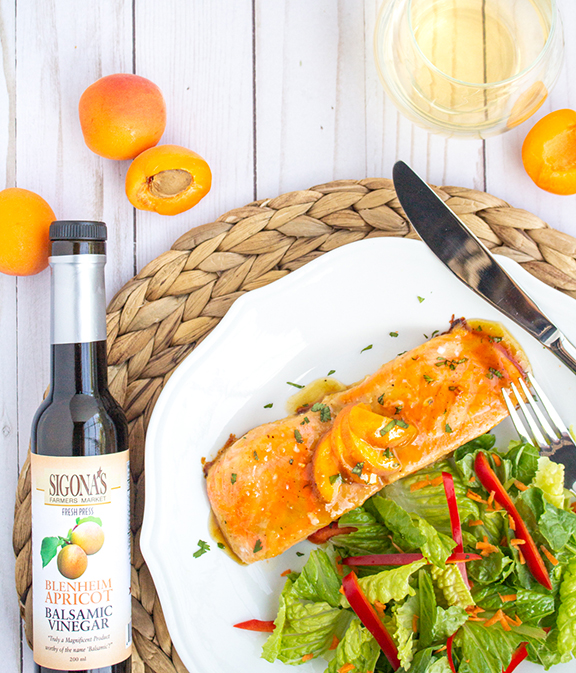 Apricot Balsamic & Ginger Glazed Salmon
This is a quick and easy way to add incredible sweet & savory seasoning to salmon. Serve it alongside a green salad or oven-roasted broccolini. Serves 2.
Ingredients:
Directions: Preheat oven to 400°F. Line a rimmed baking sheet with aluminum foil; grease foil with desired oil or cooking spray.
Heat the garlic oil in a small skillet over medium heat. Add the ginger and cook, stirring, until fragrant. Add the balsamic and Dijon; cook, stirring occasionally, until it thickens and reduces a little, about 4 to 5 minutes. Turn off the heat.
Season salmon with salt and pepper. Place salmon skin-side-down on the baking sheet and liberally brush with about half of the glaze. Bake for 8 minutes then brush again with remaining glaze. Bake for another 6 to 8 minutes or until fish is cooked through (internal temp of 145°F).
Serve salmon immediately garnished with fresh apricot slices and minced herbs.

---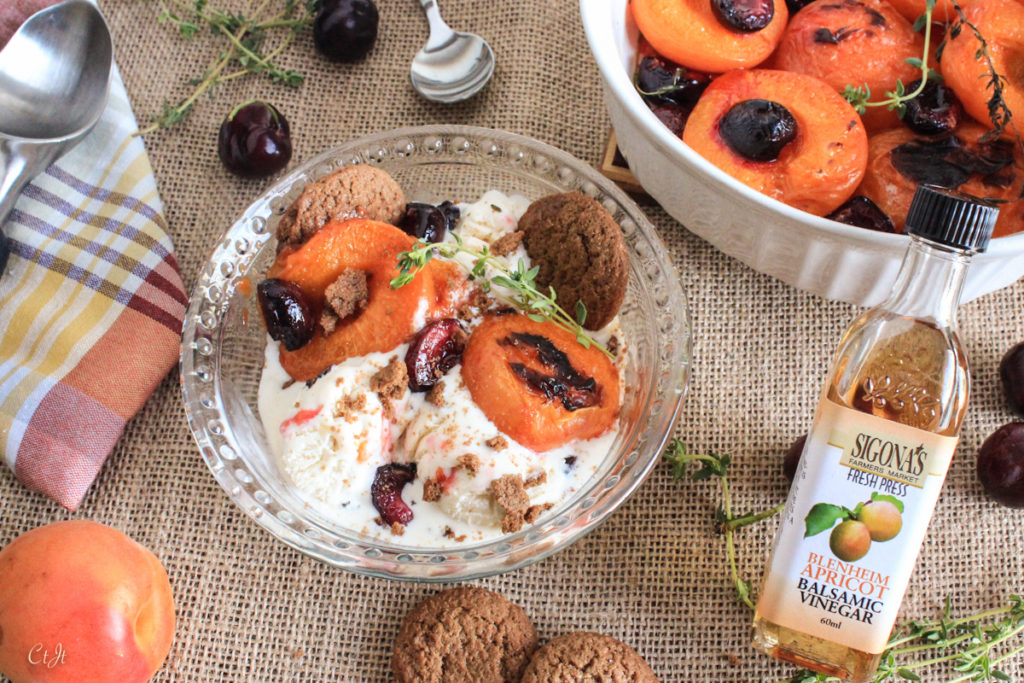 Broiled Stone Fruit with Blenheim Apricot White Balsamic and Thyme over Vanilla Gelato with a Crumbled Cookie Topping
While stone fruits are perfect raw and out of hand, grilling or broiling them caramelizes their natural sugars, giving them a depth of flavor only heat and Mother Nature can create. Adding our Blenheim Apricot White Balsamic enhances the fruits syrupy-sweetness and will definitely please your summer dinner guests. Use any stone fruits you like; we think the color contrast of apricots and cherries is gorgeous. Plan for one apricot and 2 or three cherries per guest. Serves about 6.
What you need:
Directions: Preheat oven to 350°F.
In a large bowl whisk together the olive oil, balsamic and salt. Add the stone fruit and thyme, toss to coat. Transfer to a rimmed baking dish and bake for 15 to 20 minutes or until the juices are bubbling and the fruit has started to soften a little.
Place the fruit under a low broiler for about 5 to 7 minutes or until the fruit takes on a little brown color.
Scoop gelato or ice cream into six individual serving bowls. Add two apricot halves and a few cherry halves to each bowl. Finish each serving with one whole cookie and some cookie crumbles.
---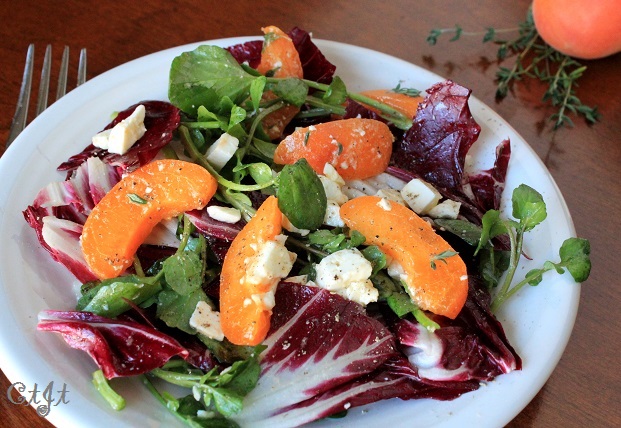 Radicchio, Watercress & Apricot Salad
The gorgeous colors of this dish are just as delicious as the fantastic flavors of this simple dish. Adapted from Every Day with Rachael Ray. Serves 4 to 6.
Ingredients:
Directions: In bowl, toss radicchio, watercress, apricots and cheese. In small bowl, whisk remaining ingredients; season. Toss salad with dressing and serve.
---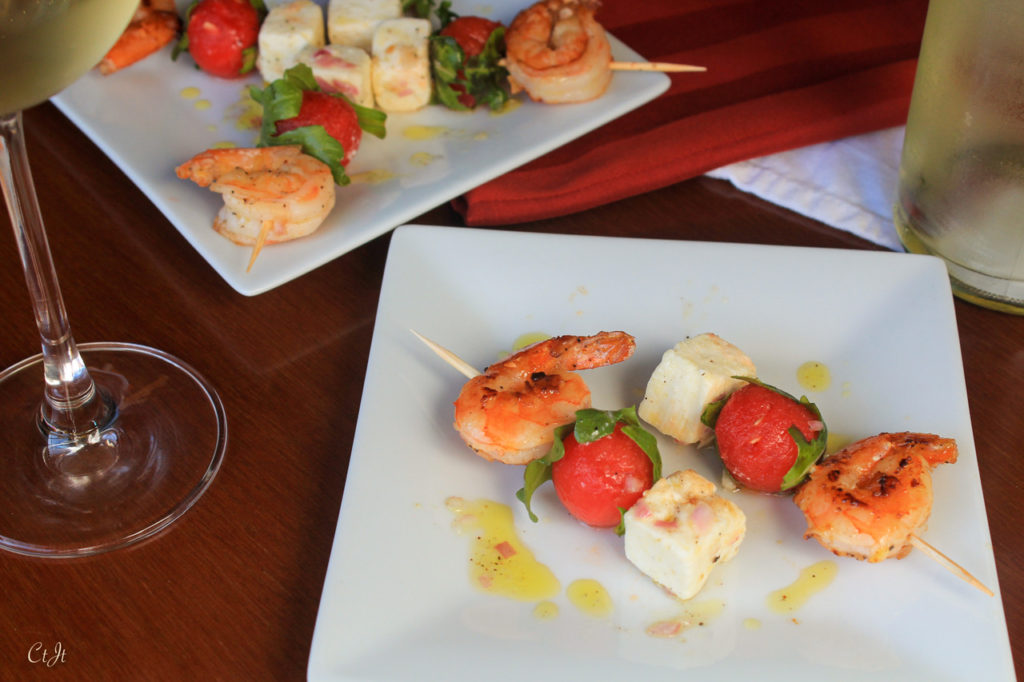 Shrimp, Watermelon and Feta Skewers with a Blenheim Apricot and Blood Orange Vinaigrette
Watermelon and Feta are a delicious combination; the sweet and salty pair also plays well with shrimp and arugula. The combination of all these flavors, topped with our Blenheim apricot and blood orange vinaigrette, would make a nice salad, but we love this skewer presentation. Skewering guarantees all the flavors are together in one perfect bite. Makes 12 skewers, serves 6.
Ingredients:
Directions: In a small bowl, whisk together the balsamic, shallot, salt and pepper. While whisking, drizzle in the olive oil to emulsify the mixture.
Place the feta cubes in a shallow bowl and top with about 1/3 of the vinaigrette. Gently toss to coat well. Set aside to allow the cheese to marinate while preparing the rest of the ingredients.
Place the shrimp in a shallow bowl and top with about 1/3 of the vinaigrette. Gently toss to coat well.
Heat a medium skillet over medium-low. Pour in the shrimp their marinade, cooking the shrimp until pink and cooked through, about 5 minutes total, turning once. Remove the shrimp to a plate and allow to cool to the touch.
Meanwhile, wash off and slice open the melon. Use a melon baller to scoop out 12 balls of watermelon, about 1" in diameter. Alternately, slice the melon into 1" cubes. Save remaining watermelon for another purpose.
When ready to skewer the ingredients, begin by threading on a shrimp. Next, gently wrap an arugula leaf around a melon ball/cube and thread it on the skewer, piercing the arugula on the top and bottom. Complete the skewer with a cube of the feta.
Place the skewers on a serving tray (either standing or laying flat), drizzle lightly with some of the remaining vinaigrette and serve. Any remaining vinaigrette can be served on the side or saved for another purpose.
---