July 2021 Olive Oil & Balsamic Sale Recipes
A new set of infused olive oils and balsamics go on sale the first Wednesday of each month so you get a chance to try something new at a great price. Featured this July are our Heirloom Blenheim Apricot White Balsamic, Basil Oil and Coconut White Balsamic. Below are some recipes for you to try! The sale runs through July 31, 2021.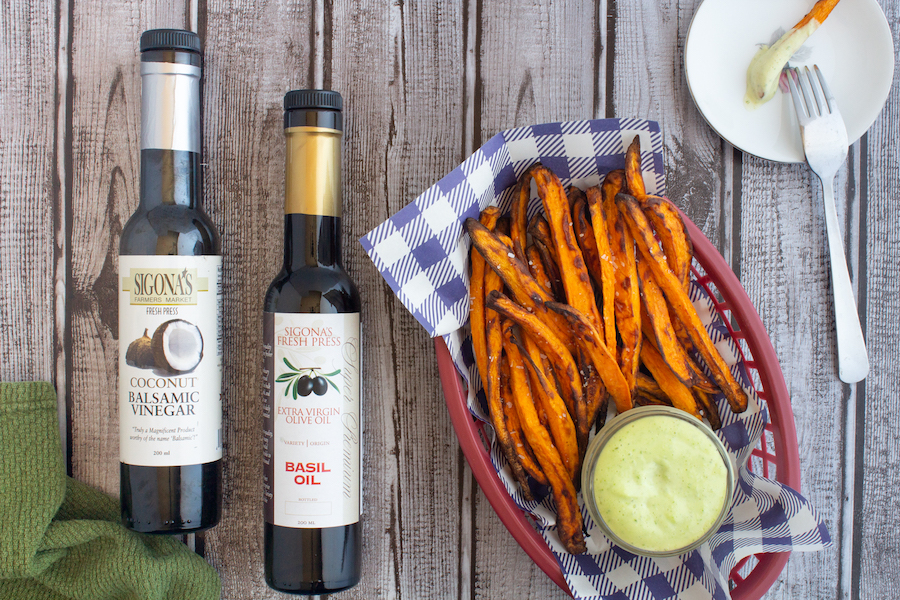 Air Fryer Caribbean-Seasoned Sweet Potato Fries with Basil Aioli
Take your tastebuds on vacation with Sigona's Coconut Balsamic and Sigona's Basil Oil! The coconut balsamic on the fries gives a subtle yet tangy and sweet tropical flavor that pairs deliciously with the aioli made by blending the ingredients with our basil oil (it's also great on sandwiches or as a veggie dip). The air fryer makes the process quick and doesn't heat up the kitchen! Serves 2 to 4.
For the aioli:
1 egg
1 Tbsp lemon juice
2 to 3 cloves garlic, chopped
1/2 tsp Dijon
1/2 cup Sigona's Basil Oil
About 2 Tbsp fresh basil, more or less to taste
Salt and pepper, to taste
For the fries:
2 sweet potatoes (Garnet yams work wonderfully)
1 tsp Sigona's Basil Oil
2 tsp Sigona's Coconut Balsamic
Salt and pepper, to taste
Directions: Peel potatoes, slice in half lengthwise then slice into ~1/2-inch planks. Place the fries in bowl filled with cold water; allow them to soak in the water for at least 30 minutes; this makes the fries more crispy when cooked as it removes some of the starch.
While the fries soak, prepare the aioli: Add the egg, lemon juice, garlic, Dijon, olive oil and basil leaves to the bowl of a food processor or the pitcher of an immersion blender. Process until the mixture emulsifies, becoming thick and creamy. Season to taste with salt and pepper. Transfer mixture to a small bowl and refrigerate until ready for use, to allow the flavors to meld.
Drain and pat dry the fries. In a large bowl, toss the fries with the olive oil, balsamic, salt and pepper.
Preheat an air fryer to 400°F. Working in batches, lay out the fries in a single layer in the fryer. Cook for about 8 minutes then remove basket and gently toss/flip the fries; cook another 4 to 6 minutes or until they've browned and crisped. Remove from the basket and sprinkle with salt. Repeat with remaining fries.
Serve warm fries with the basil aioli.
---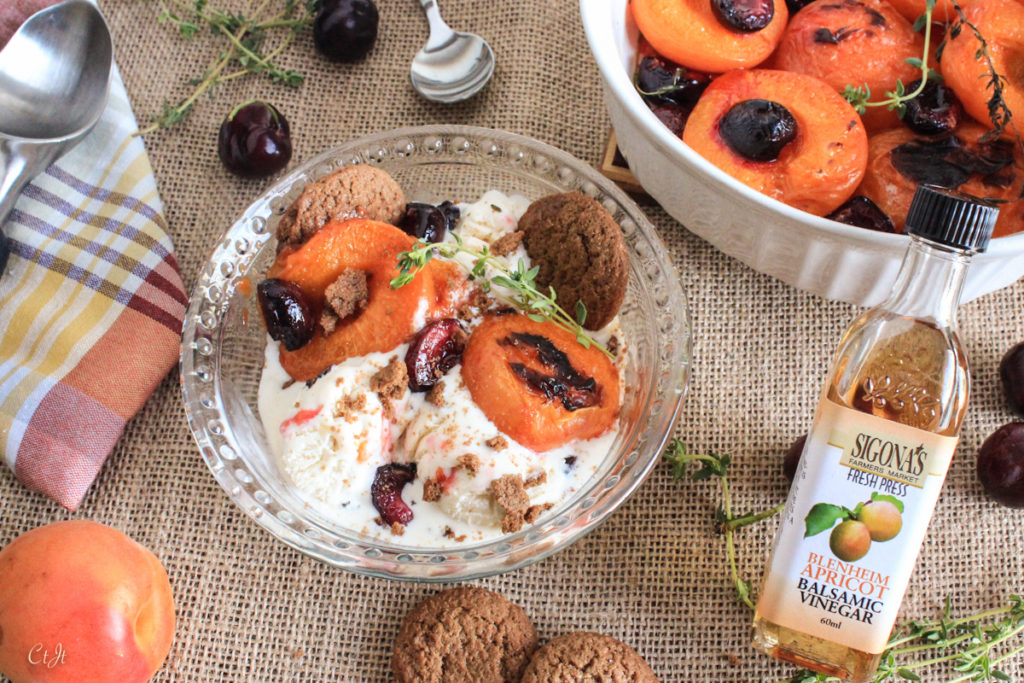 Broiled Stone Fruit with Blenheim Apricot White Balsamic and Thyme over Vanilla Gelato with a Crumbled Cookie Topping
While stone fruits are perfect raw and out of hand, grilling or broiling them caramelizes their natural sugars, giving them a depth of flavor only heat and Mother Nature can create. Adding our Blenheim Apricot White Balsamic enhances the fruits syrupy-sweetness and will definitely please your summer dinner guests. Use any stone fruits you like; we think the color contrast of apricots and cherries is gorgeous. Plan for one apricot and 2 or three cherries per guest. Serves about 6.
What you need:
6 locally grown Blenheim apricots, halved and pitted
At least 12 to 18 cherries, halved and pitted
2 Tbsp Sigona's Fresh Press Extra Virgin Olive Oil
3 tsp. Sigona's Blenheim Apricot White Balsamic
1/4 tsp. kosher salt
A few sprigs fresh thyme
About 12 gingersnap or amaretti cookies, half of them roughly crumbled or chopped
Vanilla bean gelato or ice cream
Directions: Preheat oven to 350°F.
In a large bowl whisk together the olive oil, balsamic and salt. Add the stone fruit and thyme, toss to coat. Transfer to a rimmed baking dish and bake for 15 to 20 minutes or until the juices are bubbling and the fruit has started to soften a little.
Place the fruit under a low broiler for about 5 to 7 minutes or until the fruit takes on a little brown color.
Scoop gelato or ice cream into six individual serving bowls. Add two apricot halves and a few cherry halves to each bowl. Finish each serving with one whole cookie and some cookie crumbles.
Additional Recipe Inspiration:
---
Apricot Balsamic & Ginger Glazed Salmon
This is a quick and easy way to add incredible sweet & savory seasoning to salmon. Serve it alongside a green salad or oven-roasted broccolini. Serves 2.
Ingredients:
2 tsp Sigona's Garlic Oil
1 tsp freshly grated ginger (add a little more if desired)
2 tsp Dijon mustard
2 salmon fillets (or one large enough for two servings)
Salt and ground pepper, to taste
For Garnish: sliced fresh apricots, minced fresh herbs (parsley, basil, cilantro, etc.)
Directions: Preheat oven to 400°F. Line a rimmed baking sheet with aluminum foil; grease foil with desired oil or cooking spray.
Heat the garlic oil in a small skillet over medium heat. Add the ginger and cook, stirring, until fragrant. Add the balsamic and Dijon; cook, stirring occasionally, until it thickens and reduces a little, about 4 to 5 minutes. Turn off the heat.
Season salmon with salt and pepper. Place salmon skin-side-down on the baking sheet and liberally brush with about half of the glaze. Bake for 8 minutes then brush again with remaining glaze. Bake for another 6 to 8 minutes or until fish is cooked through (internal temp of 145°F).
Serve salmon immediately garnished with fresh apricot slices and minced herbs.
---