Old World Favorites Gift Set Recipes
We Sicilians take our ingredients and flavors seriously. Basil, Tuscan herbs, garlic, traditional balsamic…these flavors and more are what make our dishes family favorites. You can find these gift sets in our stores or buy it online: www.sigonas.com
60ml bottles included in this gift set:
Wild Rosemary Olive Oil
Traditional 12-Year Aged Balsamic
Tuscan Herb Oil
Strawberry Balsamic
Basil Oil
Garlic Oil
Wild Rosemary Oil & Herb Roasted Baby Heirloom Tomatoes
Roasting tomatoes bring out their natural sweetness, and roasting them with an herbaceous infused olive oil gives them an intense flavor unmatched by only adding herbs to the roasting process. These burst tomatoes are simply fantastic on fish, gyros or simply served with ricotta and flatbread or crackers. Serves about 4 to 6.
Ingredients:
1 pint locally grown, organic, baby heirloom tomatoes
2 Tbsp Sigona's Wild Rosemary Olive Oil, plus more for drizzling
2 cloves garlic, minced
3 Tbsp chopped fresh basil, divided
Salt and pepper, to taste
Serving options:
Pan-seared fish
Ricotta and seasoned crackers or flatbread
Mediterranean gyros with tzatziki
Directions: Preheat oven to 400°F.
Place tomatoes in a 9×13 glass roasting dish. Drizzle with olive oil, add the garlic, half the basil, salt and pepper. Gently mix ingredients together in the dish by simply swishing the dish from side to side, moving the ingredients around until well coated.
Roast for 15 to 20 minutes or until the tomatoes have wrinkled and the skin has popped. Remove from oven and transfer to a serving dish, juices and all. Top with remaining basil and, if desired, more olive oil. Serve warm.
---
Fresh Strawberry, Kale and Orzo Salad with a Balsamic Vinaigrette
This hearty salad serves nicely as a side or as a main dish, and is just lovely with any fresh berry. If you go with blueberries, try our blueberry balsamic in the vinaigrette. Instead of orzo, you can use farro, an ancient grain, if you'd like. Enjoy! Serves 3 to 4.
For the Salad:
3/4 cup uncooked orzo
1 cup chopped fresh strawberries
1/4 cup chopped walnuts or pecans (look for some of our glazed varieties at Sigona's)
1/3 cup cubed or crumbled Feta or goat cheese
2 cups shredded kale
2 Tbsp minced basil, optional
For the Vinaigrette:
1 garlic clove, minced
1 Tbsp minced shallot
2 tsp honey, such as Orange or Eucalyptus from Honey Hole Honey, Co. (available at Sigona's)
2 tsp fresh lemon zest
1 Tbsp fresh lemon juice
2 Tbsp Sigona's Strawberry Balsamic
1/4 cup Sigona's Fresh Press Extra Virgin Olive Oil (Mix it up! Try Sigona's Basil Oil for more flavor!)
Salt and pepper, to taste
Directions: Cook the orzo just to al dente, according to package directions. Fluff and allow to cool in the fridge for about 20 minutes, stirring once.
Meanwhile, in a small bowl, whisk together the garlic, shallot, honey, lemon zest, lemon juice and the balsamic. While whisking briskly, drizzle in the olive oil and mix well to emulsify the mixture. Season with salt and pepper. Set aside.
In a large bowl, gently mix together the cooked and cooled orzo, the strawberries, nuts, cheese, shredded kale and basil, if using. Drizzle the vinaigrette over the top and toss to incorporate. Season with salt and pepper.
Serve chilled or at room temperature.
---
Sicilian-Style Local Strawberries in a Balsamic Reduction over Vanilla Bean Gelato
A good balsamic is already sweet due to the aging process, and our infused balsamics, such as the espresso, vanilla or strawberry balsamic, are the perfect combination of sweet & tangy. Serves 2.
Ingredients:
1 cup strawberries, stem removed, sliced
1 1/2 Tbsp. Sigona's 12-Year Aged Traditional Balsamic Condimento Tradizionale
A generous scoop (or two!) of Massimo's Vanilla Bean Gelato (it's locally made in Watsonville)
Get fancy! Add a small sprig of mint or basil as garnish
Directions: Place the berries and balsamic into a saucepan and warm over medium heat. Bring it to a slow simmer; let reduce for only about a minute. The balsamic will continue to reduce from residual heat, so don't let it get too thick over direct heat.
Scoop gelato into two bowls and evenly pour the reduction directly over the top of each serving. Garnish with a mint sprig and serve.
---
Parmesan & Panko Roasted Asparagus Fries with Basil Aioli
Everyone! Get excited about local asparagus being in season! Our basil oil is a top seller, and pairs incredibly well with vegetables, both fresh or roasted. You'll absolutely love this aioli, and you can use what's left over as a sandwich or burger spread, or use it on seafood, such as salmon or shrimp. The asparagus can easily be made gluten-free by carefully selecting your panko. Makes about 2/3 cup aioli.
For the asparagus:
2 egg whites
1 cup panko-style breadcrumbs (look for gluten-free if you desire)
1/2 cup grated parmesan
Salt and pepper, to taste
1 bunch asparagus, ends trimmed
For the aioli:
1 egg
1 Tbsp lemon juice
2 to 3 cloves garlic
1/2 tsp Dijon
1/4 cup Sigona's Fresh Press Extra Virgin Olive Oil, such as Spanish Arbosana
1/4 cup Sigona's Basil Oil
About 2 Tbsp fresh basil, more or less to taste
Salt and pepper, to taste
For the aioli: Add the egg, lemon juice, garlic and Dijon to the bowl of a food processor or the pitcher of a blender. Run for about 30 seconds to combine the ingredients.
With the blade running, slowly (very, very slowly), drizzle in the olive oil so the mixture emulsifies and becomes thick and creamy. Season with salt and pepper. Add the basil leaves a couple at a time; taste and adjust seasoning or add more basil as needed. Transfer mixture to a small bowl and refrigerate until ready for use.
For the asparagus: Preheat the oven to 425°F. and line a baking sheet with parchment paper.
Whisk together the egg whites and pour them onto a shallow plate. On a second plate, stir together the panko, parmesan, salt and pepper.
Working with one or two spears at a time, roll the spears around in the egg whites then transfer to the panko mixture, coating and patting to ensure the mixture sticks. Transfer the coated spears to the prepared baking sheet.
Roast for 12 to 15 minutes or until the panko has a lovely toasted, golden color. Transfer to a platter and serve immediately with the aioli.
---
Romano Beans with Burrata, Roasted Eggplant, Fresh Basil and Sigona's Garlic Oil
The flavors of the roasted eggplant with the crunch of the peppers and bright Romanos, combined with the briny burst of the capers, all paired with the creamy burrata — a semi-soft Italian cheese made from fresh mozzarella and cream — is almost too amazing to detail. This is fantastic when paired with toasted naan bread or as a side to roasted meat. Adapted from The New York Times. Serves 4 to 6.
Ingredients:
One large eggplant, about 1 ¼pounds, diced into 1-inch pieces
Kosher salt, to taste, plus more for cooking beans
2/3cup Sigona's Fresh Press Garlic Oil, more as needed for drizzling
About 3/4 cup cherry tomatoes, halved
3/4 cup sweet mini peppers, about 5 or 6 peppers, halved, seeded and chopped
1pound Romano beans, sliced on the bias into 1- to 2-inch pieces; ends discarded
1Tbsp capers, drained
1/4cup torn fresh basil
2 red wine vinegar
Sea salt, to taste
Black pepper, to taste
8 ball of burrata, such as Belgioioso
Warmed or toasted naan bread, for serving
Directions: Preheat oven to 450°F.
Place the diced eggplant in a colander and set in the sink. Sprinkle with about 1/2 teaspoon salt and let stand for 20 minutes, tossing occasionally.
Dump eggplant out onto a clean kitchen towel. Pat the pieces dry; if quite damp, wrap the eggplant in the towel and squeeze out as much liquid as possible.
On a rimmed baking sheet, two if necessary, toss eggplant with 1/3 cup garlic olive oil and spread out in a single layer so no pieces are touching. Place in the oven to roast, flipping twice, until pieces are golden brown and skin has crisped slightly, about 20 minutes.
Meanwhile, bring a large pot of salted water to a boil; add the Romano beans and cook for 3 to 6 minutes until just tender. Drain well and immediately pop into an ice bath. Once cooled to the touch, slice the beans at an angle into 1-inch pieces and place in a large bowl with the tomatoes, peppers and 3 tablespoons garlic olive oil.
Add roasted eggplant and 2 more tablespoons garlic oil to the bowl; stir to combine. Add the capers, basil and vinegar. Season with salt and pepper, to taste.
When ready to serve, set the ball of burrata in the center of a large serving dish. Scoop the salad into a ring around the cheese and drizzle the whole dish with a little more garlic olive oil. Slice open the burrata and serve the dish with warm or toasted naan bread. Spread some of the burrata on the naan and top with the vegetables. Pair with a pinot noir, Syrah or Chianti.
---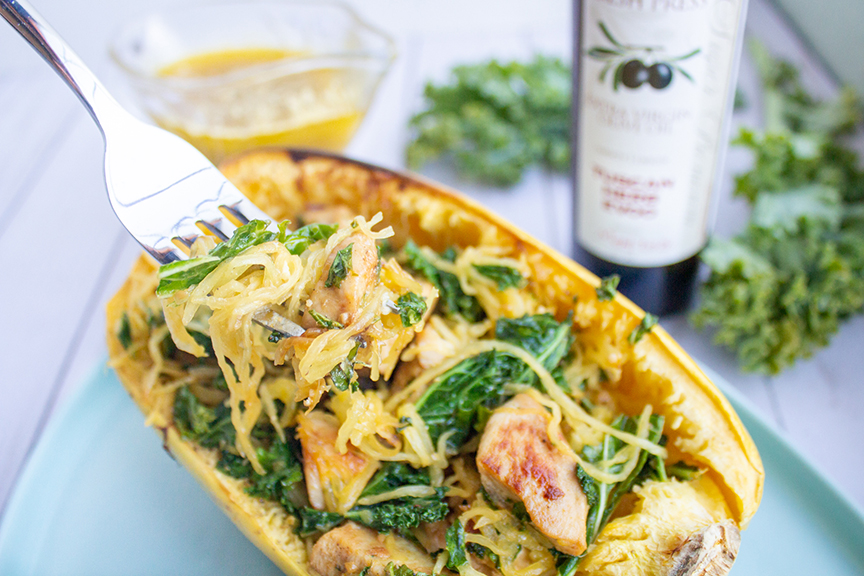 Kale & Chicken Spaghetti Squash Boats with a DIY Tuscan Herb Caesar Dressing
Kale, Tuscan herbs and a spaghetti squash…could you get any more Sicilian (ok, or Italian) than that? Our Tuscan herb olive oil, paired with our Sicilian lemon balsamic, makes an absolutely delicious DIY Caesar dressing. Squash inspired by Eat the Grains. Serves 2 to 4.
Ingredients:
1 spaghetti squash
Salt and pepper, to taste
1/2 cup diced onion
2 to 3 cloves garlic, minced
1 large chicken breast, cubed
1/2 a bunch of kale, leaves stripped from stem and chopped
3 Tbsp DIY Tuscan Herb Caesar Dressing (Scroll down for recipe), plus more as needed
2 Tbsp lemon juice, divided
Directions: Preheat oven to 400°F. Slice squash in half, season inside with salt and pepper, to taste. Place cut-side-down on a parchment-lined baking sheet. Roast for 40 minutes then remove from oven and set aside.
Meanwhile, prepare the chicken mixture. Heat olive oil over medium-high heat. Add the onion and cook for 2 minutes, stirring. Add the chicken and cook for about 8 minutes, stirring frequently, until cooked through (165°F and pink gone). Add the garlic and cook for another minute or until fragrant; add the kale and sauté for about 2 to 3 minutes until slightly wilted and bright green. Remove from heat.
Leaving the shell boats intact, use a fork to scrape out and remove the squash. Place the squash in a large bowl and add the chicken mixture. Gently toss mixture with 3 tablespoons of the Caesar dressing, then even divide and return to the squash boats.
Drizzle 1 tablespoon of lemon juice over the top of each boat and serve immediately. If they need to be reheated before serving, pop them back in a 400°F oven for about 5 minutes. Serve extra Tuscan Herb Caesar dressing on the side.
---
DIY Tuscan Herb Caesar Dressing
The flavors of the Tuscan herb olive oil add the perfect seasoning to this easy, do-it-yourself Caesar dressing. Inspired by The Olive Oil & Vinegar Lover's Cookbook. Makes about 3/4 cup.
2 cloves minced garlic
1 egg yolk, lightly beaten
1/2 cup Sigona's Tuscan Herb Olive Oil
1 tsp Worcestershire sauce
1/2 tsp each salt and freshly ground black pepper
1/4 tsp Dijon mustard
Directions: Add all ingredients together in a jar with a lid. Screw on the lid and shake the jar until all ingredients are incorporated and the mixture is emulsified (thickened). Use immediately.