September Olive Oil & Balsamic Sale Recipes
We feature each month a select few of our olive oils and balsamics to offer at a special price. This month we're highlighting our Basil Olive Oil, Honey Ginger Balsamic and our Pomegranate Balsamic. Stock up now in the store or order them online!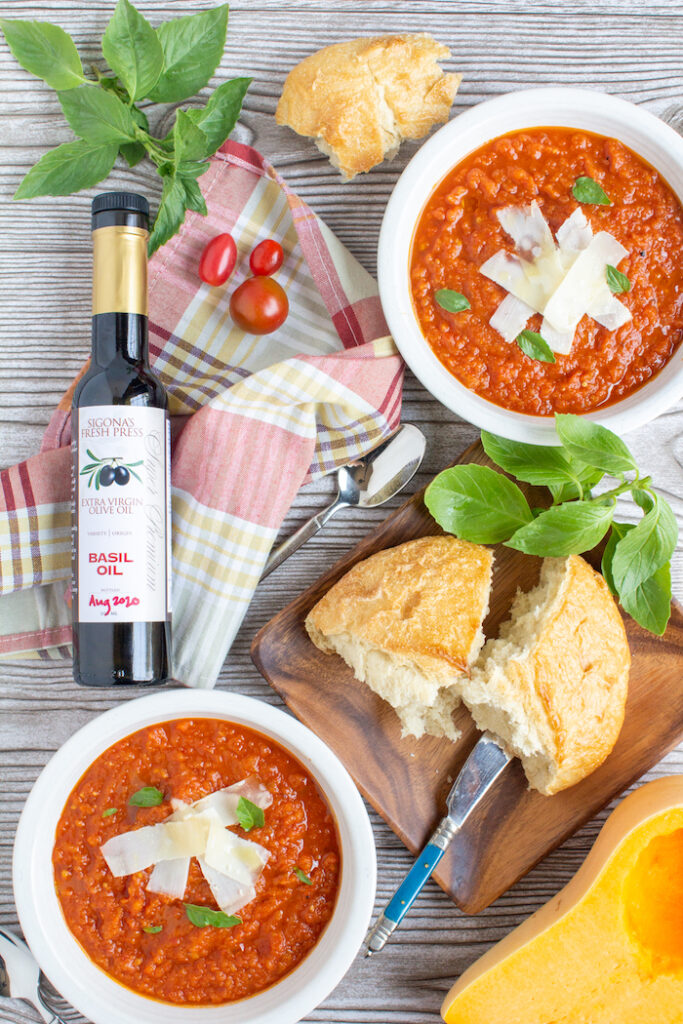 Fire-Roasted Tomato & Roasted Butternut Squash Soup with Basil Oil
Fall is coming, ya'll! Time to bust out the comfort clothes and recipes. It's simple to fire-roast your own tomatoes, but if you run out of time, you can pick up a can of Muir Glen crushed or diced fire-roasted tomatoes, available at Sigona's! This soup is perfect with a chunk of crusty bread. You can even use this as a pizza or marinara sauce, if you'd like! Serves 4.
Ingredients:
Half of a 2 1/2 to 3 lb. butternut squash, seeded
2 Tbsp Sigona's Basil Oil, plus more for drizzling
Flaky salt, to taste
Black pepper, to taste
About 1/8 tsp cinnamon
About 1/8 tsp chili powder
Half a large yellow onion, diced
2 to 3 cloves garlic, minced
18 to 20 Roma tomatoes (or about 2 lb. of another variety), or a 28 oz. can of crushed, fire-roasted tomatoes
1 1/2 to 2 cups vegetable broth
For serving:
Shaved Parmigiano Reggiano
Crusty bread, such as a locally made loaf by Midwife & The Baker
Directions: Preheat the oven to 375°F. With a fork, poke holes in the cut side of the squash. Brush the cut side with 1 tablespoon of the basil oil. Sprinkle with salt, pepper, cinnamon and chili powder. Place on a baking tray, cut side up, and roast for 45 minutes to an hour, or until the center of the squash is fork tender. Allow to cool to about room temperature.
If fire-roasting your own tomatoes, preheat an outdoor grill over medium heat. Brush the grates with oil and add the tomatoes. Grill, covered, over medium heat, rotating the tomatoes every 8 to 9 minutes or until all sides are charred and roasted. Remove to a bowl and cover with foil for about 5 to 10 minutes. Remove the skins and discard. Set tomatoes aside.
Heat remaining olive oil in a large soup pot over medium heat. Add onions and sauté until translucent. Add garlic and cook until fragrant, about 30 seconds. Place the onion mixture along with the tomatoes, canned or DIY, in a food processor (working in batches if necessary) and puree until smooth (a little chunky is ok). Return mixture to the soup pot over low heat.
Scoop butternut squash out from its shell. Add squash and 1/2 cup of broth in a food processor and process until smooth (add a little more broth if necessary). Add squash puree and remaining broth to the soup pot.
Bring mixture to a boil over high heat; reduce to a simmer. Cover and simmer for 20 minutes, stirring occasionally. Add more broth if desired.
To serve, ladle into bowls, drizzle each individual serving with a teaspoon of basil oil and top with shaved parmesan. Serve with crusty bread for dipping.
---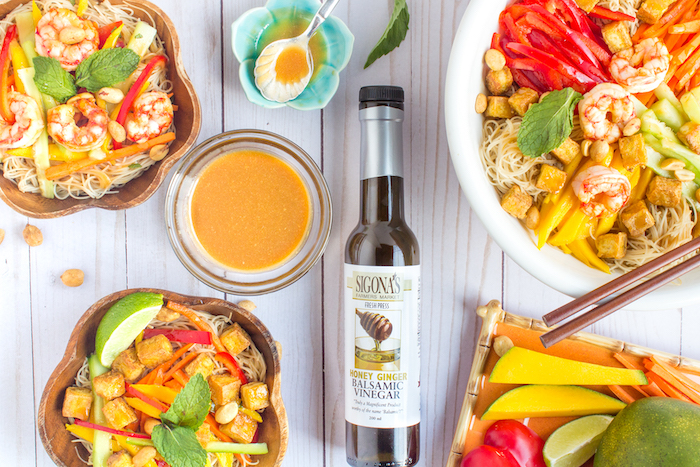 Rice Noodle Salad with Red Argentine Shrimp (or Tofu) and a Honey Ginger & Basil Vinaigrette
This salad is simply bursting with flavors and color. If you want to go the vegetarian route, use tofu and up the measurements of the veggies and fruits. Red Argentine shrimp are fantastic – they have a lobster-like texture and cook up in just minutes. Adapted from The Olive Oil & Vinegar Lover's Cookbook. Serves 4 to 6.
Ingredients:
2/3 cup Sigona's Basil Oil, divided
2 limes; one zested and juiced, the other sliced into wedges
A pinch of red pepper flakes
20 to 24 red Argentine shrimp, shelled and deveined OR about 14 oz. extra firm tofu, cubed*
**Cornstarch, if using tofu
1 large carrot, cut into 3" long matchsticks
About half a red bell pepper, seeded and cut into 3" long matchsticks
Half a cucumber, halved, seeded and sliced into 3" long matchsticks
Half a large mango, peeled and sliced into 3" long matchsticks
2 Tbsp smooth peanut butter
2 tsp soy sauce or aminos
1 to 2 tsp Sriracha or similar chili sauce
Salt, to taste
8 oz. thin rice noodles, such as Annie Chun's Maifun brown rice noodles, available at Sigona's
Fresh mint leaves, slivered and whole, for garnish
1/3 cup peanuts
Directions: In a large bowl, whisk together 1/4 cup of the basil oil, the lime zest and juice and the red pepper flakes. Add the prawns or tofu and toss to coat. Marinate in the fridge for at least 15 to 30 minutes, tossing occasionally.
In a medium bowl, whisk together the honey ginger balsamic, peanut butter, soy sauce, sriracha and salt, to taste.
Meanwhile, prepare rice noodles according to package, rinse with cool water and fluff with a fork. Gently toss the noodles with about 1/4 cup of the honey ginger vinaigrette. Set aside.
If using shrimp, heat a medium skillet over medium-high heat. Add shrimp and marinade to the skillet; sauté for 1 to 2 minutes a side until the shrimp are curled and pink (be careful not to overcook). Remove and set aside.
If using tofu, remove the cubes from the marinade and carefully toss with cornstarch. Add 2 tablespoon of the marinade to a skillet over medium-high heat. When hot, add the tofu cubes and sauté for about 1 to 2 minutes per side until all sides are nicely browned and toasted. Add remaining marinade for the last minute of cooking; toss to coat. Set tofu aside.
Transfer the noodles to a serving dish. Top with the veggies, fruits and shrimp/tofu. Garnish with mint and peanuts. Add one lime wedge per guest. Drizzle with a tablespoon of the vinaigrette and toss to incorporate all ingredients. Serve remaining on the side.
*Tofu is often very watery and should be drained and pressed so it cooks properly and retains its shape. Before or after cubing, place the tofu on a few layers of paper towels, cover with another layer of paper towels and then set something heavy on top, such as a skillet with a bag of rice or a large food can set in it. Allow the tofu to drain this way for at least 30 minutes.
**To help get a nicely browned and crisp tofu, toss the cubes in about 1 to 2 tablespoons of cornstarch before pan frying.
---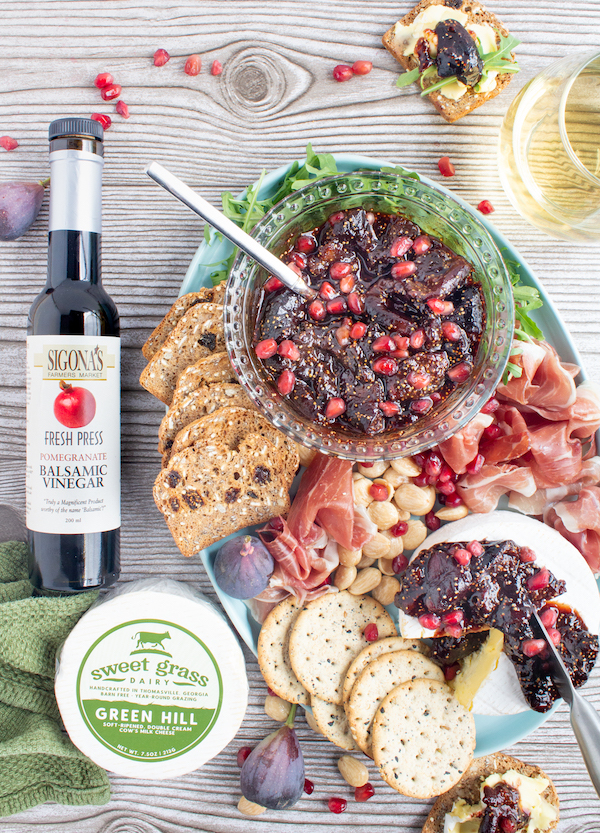 Pomegranate Balsamic Stewed Figs
Why not stew figs with fig balsamic? Well, you could, but the pomegranate adds just the right of tart, to help temper the sometimes surprisingly strong sweetness of the figs, and it also brings another layer of flavor to this simple but delectable spread. Serve this on a charcuterie board along with Sweet Grass Dairy's Green Hill cheese, dollop it on ice cream or pair it with a grilled pork chop. Inspired by The Oil & Vinegar Lover's Handbook. Makes about 2 cups.
Ingredients:
1 lb. fresh figs, preferably Black mission figs (if you can't find fresh figs, you can use dried figs using this conversion chart. Reconstitute in hot water.
1/4 cup Sigona's Pomegranate Balsamic
2 Tbsp honey, such as raw, local Honey Hole Honey Co. honey found only at Sigona's
2 Tbsp water
Directions: Rinse and pat dry the figs. Remove the stems and quarter the fruit. Add figs to a heavy-bottomed saucepan along with the balsamic, honey and water. Use a wooden spoon to gently mush the figs a bit to release some of their seeds and juices.
Bring to a simmer over low/medium-low heat. Continue to simmer, stirring frequently, for 20 minutes. The finished mixture should be thicker with a syrup-like consistency.
Allow to cool to room temperature before serving. Store in an airtight container in the fridge for up to 1 month.