In the Kitchen: Spooky Halloween Delights
Stuffed Jack-O-Peppers: Beef & Wild Rice Stuffed Bell Peppers

Stuffed peppers are a classic comfort food, but there is no reason not to put a fun twist on the dish every now and then. Inspired by Pinterest, adapted from CitronLimette.com. Serves 4.
Ingredients:
1 1/2 cups cooked rice (we recommend wild or brown)
4 orange bell peppers
3/4 lb. grass-fed ground beef
1 cup chopped onion
1/2 cup chopped fresh parsley
1 tsp. paprika
1/2 teaspoon salt
1/8 teaspoon ground allspice
1 cup Sigona's marinara, divided
1/2 cup freshly grated Parmigiano-Reggiano
1/2 cup chicken broth
Directions: Preheat oven to 350F.
Slice off the top 1/2 inch of the peppers. Use a spoon to scrape out the seeds and white membrane. With a small paring knife, carefully cut out a simple jack-o-lantern face on the front side of the pepper. Keeping it simple will help the pepper maintain its shape when baked. Set prepped peppers aside.
Heat a large skillet over medium-high heat. Add beef, onion, parsley, paprika, salt and allspice. Cook about 4 minutes or until the beef is lightly browned and stirring to crumble. Remove from heat. Add the rice, 1/2 cup of Sigona's marinara and the Parmigiano-Reggiano. Stir well to combine. Set aside.
In a small saucepan, bring the remaining 1/2 cup marinara and broth to a boil.
Meanwhile, spoon about 3/4 cup of the beef mixture into each pepper. Replace the tops of the peppers and set the stuffed peppers in a greased 2-quart baking dish. Pour the marinara and broth mixture into the dish so it settles around the peppers (not on top of the peppers).
Cover with foil and bake for 35-40 minutes. Remove foil and bake an additional 5 minutes.
Let cook about 5 minutes before serving. Make sure you take a picture before you chow down…these suckers are cute!
Mini Pumpkin Patch: Parsley-topped Carrots in Spinach & Avocado Hummus
Picking a pumpkin out of this patch will satisfy your afternoon munchies. You can scatter the "pumpkins" around or lay them out in lines so it looks like rows of pumpkins. Inspired by Pinterest.
Pumpkins:
3 large carrots, peeled and sliced into 1/2-inch thick rounds
A handful of parsley leaves
Toothpicks
Green Hummus (The Patch):
1 can (15 oz.) garbanzo or cannellini beans, drained and rinsed
Half a large, ripe avocado, cubed
1 cup loosely packed fresh spinach
2 TBL freshly squeezed lemon juice
2 cloves garlic
Salt & pepper, to taste
Start with the Hummus: Simply place all the ingredients in a food processor and blend until smooth.
Spread the hummus dip out on a large serving plate, or use two smaller plates, so the layer of hummus is about 1/4- to 1/2-inch thick.
To make the pumpkins: Stand a slice of carrot on its side (so it would roll like a wheel). Find a nice leaf or two of parsley and secure the leaves with a toothpick to the top of the carrot slice. Repeat with remaining carrots and parsley.
Stand the carrot pumpkins up in the hummus, either in rows or at random, to give the dish a pumpkin-patch feel. You can even run a toothpick through the hummus to create lines, making more of a row look.
Spicy Spider Eggs: Olive-topped Deviled Eggs with a Kick
You can add more or less sriracha to this recipe, depending on just how devilish you want these to be. If you have your own favorite deviled egg recipe, go ahead and use it, then top with the olive spiders. Inspired by Pinterest. Serves 6-12.
Ingredients:
6 hard-boiled eggs
1/4 cup mayonnaise or preferred mayo alternative
1 tsp. yellow mustard or Dijon, your choice
1/2 tsp. white wine vinegar
About 1 1/2 tsp. Sriracha sauce (more or less based on heat tolerance)
18 black olives (find them in Sigona's olive bar), halved
Directions: Peel the eggs and halve them lengthwise. Scoop out the yolks, leaving whites intact. Add the yolks to a bowl with the mayo, mustard, white wine vinegar and sriracha. Mash the mixture together until about smooth.
Scoop the spicy yolk mixture back into the hollowed egg whites.
Place one half of an olive lengthwise in the center of each yolk mound. Slice the remaining olive halves lengthwise into 4 slices each. Arrange four olive slivers perpendicularly to each side of the olive half sitting on the yolk so they appear as eight legs, completing the olive "spider."
Arrange completed spicy spider eggs on a platter. Serve and spook immediately or chill until party time.
Green Goblin Grins: Green Apple with Peanut Butter and Almond Slices
You can use red apples here too, but we think "Green Goblin Grins" sounds more exciting, don't you? Inspired by Pinterest. Serves 2-4.
Ingredients:
1 Granny Smith apple
A palm-full of blanched, sliced almond (they don't need to be perfect)
About 3-4 TBL peanut butter or almond butter, divided
1-2 TBL honey, for drizzling, optional (try our Honey Hole Honey Co. raw honey)
Directions: Quarter the apples and carefully remove the core. Cut a wedge out of the skin side of each quarter, being careful not to cut all the way through. Fill each wedge with about 1 ½ tsp. – 1 TBL of peanut or almond butter. For the teeth, gently slide one end of the sliced almond lengthwise into the peanut butter near the "upper lip" of the goblin grin, close to where the apple flesh meets the skin.
Arrange completed grins on a serving platter and then drizzle the dish with a bit of honey, if desired. Call it goblin drool, if you will.
Boo-nana Ghosts

Though these treats are dipped in melted white cholate, bananas make for a healthier option than ice cream. You can do the same with strawberries too. Makes 4 ghosts.
What you need:
2 bananas
4 popsicle sticks
About 10 to 12 oz.** Guittard white chocolate, for melting (available in bulk at Sigona's)
8 to 12 mini chocolate chips
Coffee mug
Directions: Cut the bananas in half and insert a popsicle stick in the cut end. Place cut bananas in the freezer for at least an hour or up to one day.
Place the chocolate in a (preferably tall and skinny) coffee mug and microwave for 30 second increments, stirring in between sessions, until chocolate is melted.
Once melted, dip the frozen banana halves, one at a time, into the white chocolate, rotating the mug as necessary to coat the entire banana. Working quickly, lay the banana on a parchment-lined plate and add two chocolate chips for eyes and one for a mouth, if desired.
Place the bananas back in the freezer until ready to serve.
**You'll have some chocolate left over, depending on the size of bananas. Either make more banana ghosts or use remaining chocolate for making frozen strawberry ghosts, following the same instructions. You can always eat the leftover chocolate with a spoon, too. It'll be our secret.
Yam-o'-Lanterns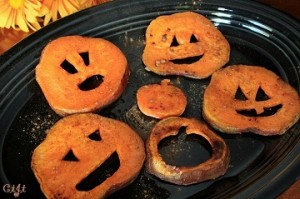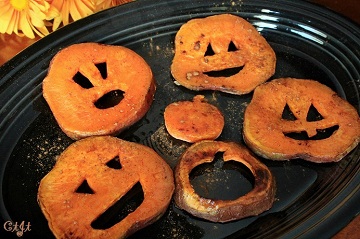 Cute, fun to make and healthy to boot, these little Jack-o'-lanterns, made from garnet yams (sometimes referred to as sweet potatoes), will appeal to kids and grown-ups alike. The beautiful deep orange color of Garnet yams works perfectly for imitating pumpkins.  
What you need:
Large garnet yams, the fatter the better
Sigona's Fresh Press Extra Virgin Olive Oil, for brushing
Salt and pepper, to taste
Seasoning of choice, for sprinkling (Some suggestions: 1). Chili powder, cumin & garlic. 2). Pumpkin Pie Spice. 3). Cinnamon. 4). Mace
Optional: Sigona's Dark Maple Balsamic or maple syrup, for drizzling
Directions: Rinse and scrub the yams (no need to peel). Slice into medallions at least 1/4 inch thick.
Using small cookie cutters or a knife, cut or slice designs into the yam slices. Place the yams on a parchment-lined baking sheet. Brush yams lightly with olive oil and sprinkle on a bit of seasoning of choice. Bake at 400°F for 18-20 minutes or until tender.
Arrange slices, underside up, on a serving dish. Sprinkle with a bit more seasoning and drizzle with Sigona's Dark Maple Balsamic or maple syrup, if the flavor pairs well with your selected seasoning.
Candy Corn Fruit Cocktail: Pineapple & Cantaloupe Fruit Salad
These make fun breakfast treats or an after-dinner something sweet. Use your creativity and find other yellow fruits for the bottom layer or other orange fruits for the middle layer to make them your own. Inspired by Pinterest. Serves 4.
Ingredients:
2 cups fresh pineapple tidbits or bite-sized chunks
2 cups cubed cantaloupe (1/2- inch cubes)
1 1/3 cottage cheese OR vanilla Greek yogurt
Directions: In a short juice glass or similar container (a wine glass is nice too), add a 1/2 cup of pineapple tidbits. Top that with a 1/2 cup cubed cantaloupe. Top the cantaloupe with a 1/3 cup of cottage cheese or yogurt. Repeat the steps for the three other glasses. Serve chilled.