Recipe Roundup: Elderberry Balsamic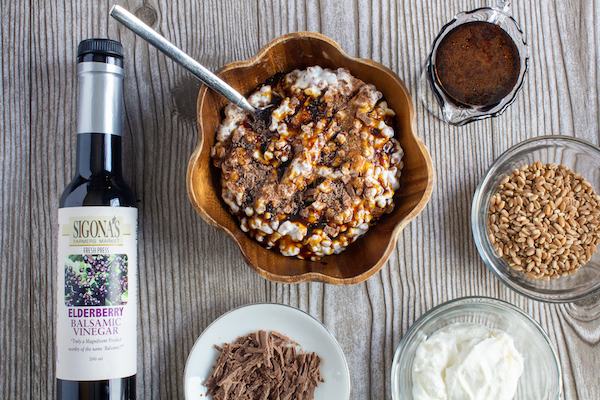 Cuccia – Sicilian Wheat Berry & Ricotta Pudding with an Elderberry Balsamic Reduction
Cuccia, or Cuccia Con Ricotta, is a traditional Sicilian dessert served on St. Lucy's Day, which falls on December 13. It can be found topped with candied fruit, but we think a balsamic reduction adds just the right amount of sweetness and gives just the right amount of tart to cut the richness of the ricotta. It's perfection with shaved chocolate and cinnamon on top. Serves about 4.
Ingredients:
1 cup dried wheat berries, such as Jovial
1/4 tsp kosher salt
13 oz (1 1/2 cups) fresh whole-milk ricotta
2 TBSP sugar
1/8 tsp vanilla extract
200 ml Sigona's Elderberry Balsamic (new!)
A few shakes of ground cinnamon, for garnish
Dark chocolate, shaved with a knife, vegetable peeper or microplane, for garnish
Directions: Place wheat berries in a medium saucepan and cover with water by 2 to 3 inches. Stir in salt and bring the mixture to a boil over high, then reduce to a simmer. Cook, uncovered, for about 50 to 60 minutes or until wheat berries are tender. Strain the berries using a fine-mesh strainer and then rinse with cool water to chill. Set the strainer in a large bowl and set aside so they continue to drain as you prepare the rest of the ingredients.
Add the balsamic to a small saucepan and bring to a boil over medium-high heat. Once boiling, reduce heat to a simmer and cook, stirring occasionally, for about 5 to 10 minutes or until the balsamic has reduced by about half. Remove from heat and allow to cool for about 10 to 15 minutes or until it thickens to a desired consistency (somewhat like a thick chocolate syrup). Keep in mind it will continue to thicken when removed from heat.
Meanwhile, in a blender or other processor, whip together the ricotta, sugar and vanilla until smooth. Transfer to a medium bowl and stir in the cooled wheat berries.
To serve, add servings to individual bowls. Use a vegetable peeler or grater to shave some chocolate over the top of each dish. Sprinkle with a little cinnamon and finish with a drizzle of the balsamic reduction.
It's meant to be served chilled or at room temperature, similar to a rice pudding.