July 2022 Olive Oil and Balsamic Sale Recipes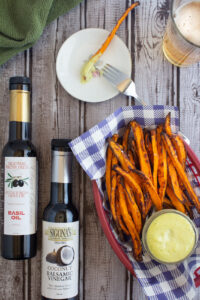 Each month we feature a new set of infused olive oils and balsamics so everyone gets a chance to try something new from our wide variety.
On sale this month:
Herbes de Provence Infused Olive Oil
Coconut Balsamic
Garlic Infused Olive Oil
Blenheim Apricot White Balsamic
Raspberry Balsamic
Our garlic oil is one of our customer favorites for cooking!
We have many recipes for each of these infusions on our blog, but here is a quick round up of our favorites this month. The apricot salmon is especially delicious this time of year as local apricots are also in season!
This sale is valid in our markets from July 6 – 31, 2022 and online from July 1-31, 2022.
Grilled Cantaloupe with Prosciutto, Tarragon and Torn Mozzarella
We usually prefer to keep our fruit raw, but sometimes you just can't go through a summer without tossing some fruit on the grill! Grilling cantaloupe brings out a warm, brown-sugary sweetness that pairs even more deliciously with salty prosciutto. Our Herbes de Provence oil and fresh tarragon give this dish a perfect finish. 
CLICK HERE for the recipe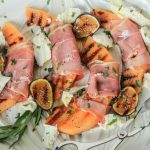 See also: Other uses for Sigona's Herbes de Provence infused olive oil
Air Fryer Caribbean-Seasoned Sweet Potato Fries with Basil Aioli
Take your tastebuds on vacation with Sigona's Coconut Balsamic and Sigona's Basil Oil! The coconut balsamic on the fries gives a subtle yet tangy and sweet tropical flavor that pairs deliciously with the aioli made by blending the ingredients with our basil oil (it's also great on sandwiches or as a veggie dip). The air fryer makes the process quick and doesn't heat up the kitchen!
CLICK HERE for the recipe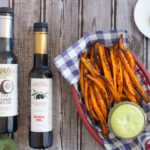 See also: Other uses for Sigona's Coconut Balsamic
Chicago-Style Giardiniera with Sigona's Garlic Oil
This spicy, crunchy, flavorful, marinated condiment is a favorite among those from Chicago and Italy alike. Use it to top your Italian beef sandwiches, a hot dog, burgers…the list goes on and on! The biggest difference between Chicago-style and Italian giardiniera is the brine and marinade; Chicago-style is made with a mix of oil and vinegar, while Italian uses vinegar only. We love using our Garlic Olive Oil to add an extra layer of flavor – just note that olive oil congeals (becomes firm) when refrigerated, so allow the giardiniera to come to room temperature for about 30 minutes before serving so the oil becomes a liquid again. 
CLICK HERE for the recipe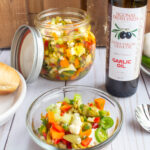 See also: Other uses for Sigona's Garlic Oil
Apricot Balsamic & Ginger Glazed Salmon
This is a quick and easy way to add incredible sweet & savory seasoning to salmon. Serve it alongside a green salad or oven-roasted broccolini. 
CLICK HERE for the recipe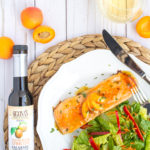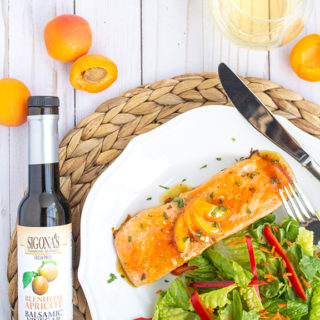 See also: Other uses for Sigona's Blenheim Apricot White Balsamic
Three Layer Raspberry, Blood Orange & Chocolate Cookie Bars
These are a cross between cookie bars and brownies, but the consensus says it's more of a cookie bar. The bottom is a chocolate and blood orange infused cookie-like layer, followed by a jammy-balsamic layer and a sweet crumble topping. They're sweet and a little tart, and best served with after-dinner coffee or tea. 
CLICK HERE for the recipe