Balsamic-Roasted Strawberries with Pistachios and Honeyed Mascarpone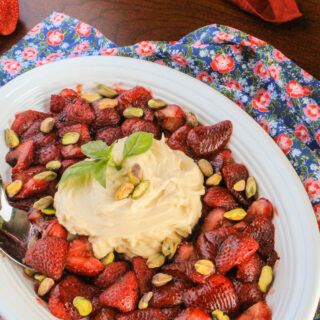 Balsamic-Roasted Strawberries with Pistachios and Honeyed Mascarpone
Roasted strawberries soften a little as their natural sugars caramelize, creating a flavor that is matched well by our balsamic, whose flavor also intensifies as it reduces in the oven. A scoop of honeyed mascarpone served with a spoonful of these balsamic-roasted strawberries makes for a lovely, easy dessert. Serves about 4 to 6.
Ingredients
Balsamic Strawberries:
1 1/2

lbs.

strawberries

rinsed, patted dry, stemmed, hulled and halved (large berries quartered)

3

Tbsp

Sigona's 12-year aged Tradizionale Balsamico

or Sigona's strawberry balsamic (SEE NOTE)
Honeyed Mascarpone:
1

cup

mascarpone

1/4

cup

honey

such as local, raw & unfiltered orange blossom honey from Honey Hole Honey Co., available only at Sigona's

1/2

tsp

vanilla extract

optional
Optional garnishes:
1/2

cup

shelled

raw pistachios

Fresh basil or mint

julienned, depending on flavor preferences
Instructions
Preheat oven to 400°F. Line a rimmed baking sheet with parchment paper.

In a large bowl, toss the strawberries with the balsamic until well coated. Dump out the berries and balsamic onto the prepared baking sheet and spread out in a single layer. Roast for 12 to 15 minutes, shaking pan once.

Meanwhile, in a medium bowl, whip together the mascarpone and honey until well combined.

Serving options:

A). Scoop the mascarpone onto the center of a serving tray. Surround the mascarpone with the berries, top with pistachios and/or other desired garnish and serve.

B). Scoop a couple tablespoons of the mascarpone into individual serving dishes. Top each serving with some of the strawberries, finishing with desired garnish. Serve & enjoy!